Hard work and dedication are the precursors of our brand and have led to the new line created by Blimburn Seeds.
We understand that growers are looking for faster flowering strains every day. It is also important that they keep their flavors, effects, and genetic qualities in tact. Fast Blooming is our new line of super fast flowering strains.
Below, we present you with our new catalog. As growers and breeders, we are very proud to present you with these five strains that are revolutionizing the cannabis market.
Gelato Fast Blooming
We developed this version of Gelato with high-quality and super-fast in mind.
Gelato is one of the most popular varieties at the moment which is why we wanted to give gardeners a Fast Blooming Gelato so they can enjoy its quality fruits.
Gelato Fast Blooming resulted from the crossing of Thin Mint x Girl Scout Cookies x Sunset Sherbert. With this, we seek to balance the effects, providing users with equal feelings of relaxation, fun, and creativity.
Our Fast Blooming Gelato delivers exotic plants which, when ripe, will take on purple colors in their leaves. The flavor of the fruits is sweet with citrus touches and the aroma is intensely fresh and extra sugary.
The potency of Gelato Fast Blooming reaches 22% THC and its flowering process takes just 55 days. You can harvest up to 550 g / m2 indoors and up to 600 g /plant outdoors.
Mamba Negra Fast Blooming
Mamba Negra is our most respected and acclaimed strain and now has its own Fast Blooming version.
Mamba Negra now blooms at the speed of light in just 50 days, thanks to the Mamba Negra Fast Blooming, which maintains the high production levels of its feminized version, delivering up to 600g / plant in outdoor crops or 500 gr / m2 in indoor crops.
This fast blooming from Mamba Negra continues to maintain its mostly indica trend as well as its relaxing and sedative effect with THC levels ranging from 15% to 19%.
If you are looking for high production in your garden with citrus, wood, and fruit flavors, Mamba Negra Fast Blooming meets all of the requirements.
Bruce Banner Fast Blooming
Our Bruce Banner has become a success with gardeners rewarding it by growing this strain in large quantities.
As a thank you to all growers, we decided to make this Fast Blooming version of our Bruce Banner so you can enjoy amazing genetics in a shorter growing time.
Bruce Banner Fast Blooming is a magnificent cross of only field varieties such as OG Kush and Strawberry Diesel. We then decided to cross it with a secret hybrid to accelerate its flowering time to a maximum of 60 days indoors.
If you are looking for high yields in a short time, then Bruce Banner Fast Blooming is for you as you can get up to 500gr/m2 indoors and 500g/plant outdoors of flowers that will take you on a journey of balanced, cerebral, euphoric, and creative effects thanks to its high THC levels, reaching up to 23%.
Santa Muerte Fast Blooming
One of our favorite sativas is Santa Muerte, a strain that has Mexican ancestry and has earned the respect of cannabis fans.
We want to present you with a new version, Santa Muerte Fast Blooming, a variety that originates from the crossing of our Santa Muerte with a secret hybrid that gives a unique vigor to this new strain.
Santa Muerte Fast Blooming is probably one of the fastest sativa varieties on the planet because it only needs 55 days of flowering indoors. For outdoors, it will be ready at the end of September in the northern hemisphere and at the end of April in the southern hemisphere.
High production is maintained with Santa Muerte Fast Blooming as gardeners will be able to harvest up to 450g / m2 indoors and up to 550g / plant outdoors. Also, it maintains its sativa traits with euphoric, social, and cerebral effects.
The THC level of this variety is high, ranging from 17% to 20%, delivering flowers with fruit, herbal, and wood flavors.
Why waste more time? Grow one of the best and fastest sativas on the market, Santa Muerte Fast Blooming.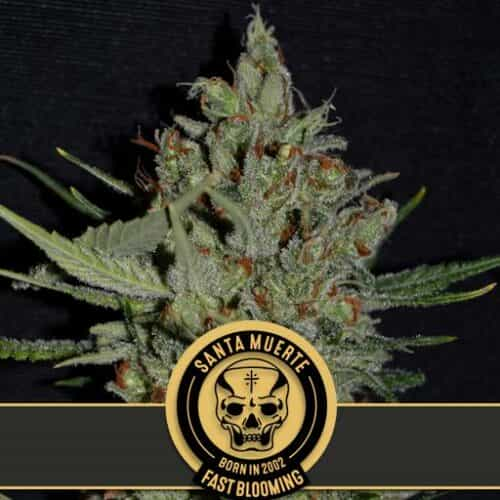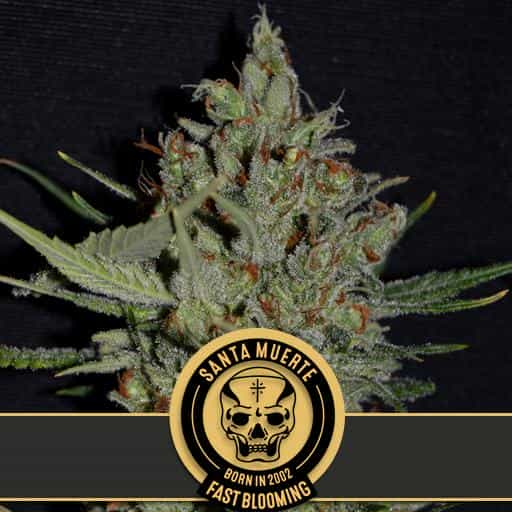 Gorilla G4 Fast Blooming
We respect the legacy of the jungle and for this reason, we've created a new version of Gorilla Glue 4 Fast Blooming that maintains its sativa power and delivers yields of 600 g / m2 indoors and 550 g / plant outdoors.
This beautiful Gorilla Glue 4 Fast Blooming blooms in a record time of just 55 days and contains THC levels of 19% to 22%. The flowers of this variety will take your mind on a walk between euphoria and creativity.
To achieve these wonderful genetics, we take our Gorilla Glue 4 and cross it with a secret hybrid that gives all the speed to a plant that retains its original characteristics. These qualities include its low level of CBD that is only 0.8% and the delicious flavor of humid land.
In your next crop, you should include Gorilla Glue 4 Fast Blooming. You won't be disappointed!