We are going to navigate between the varieties that are the best to be grown outdoors. This can be determined by different qualities such as their production levels, resistance to outdoor cultivation, adaptability, and speed, among other factors. When growing, there is no more important detail than the selection of a good strain of cannabis which is why this list of varieties that we offer is essential for determining which cannabis genetics you should grow in your next crop.
That is why, in this strain selection, you can find autoflowering or fast version varieties for places with shorter summer seasons or with more humid climates. You can see regular or feminized genetics for places with longer summers and Mediterranean-style climates that are drier. Now, let's get to know these varieties!
Black Hulk
Black Hulk is a large hybrid variety that shows exuberant potential outdoors with colas that fill with flowers that are usually very sticky because it produces excellent resin. This is a cross between Black Afghani x Bruce Banner that produces up to 600 gr/plant if you grow it outdoors where you can apply vertical cultivation techniques such as LST or SCROG to guide and support the lateral branches that are full of buds.
When you grow Black Hulk indoors, you can collect between 450-500 gr/m2 and you can use pruning, SCROG, and LST as cultivation techniques to obtain heavy colas with compact and fragrant buds that give off very sweet fruity flavors with earthy notes. The buds have a potency of 15%-18% THC and generate active and cerebral effects in their users with a more relaxing and bearable drop at the body level.
Blueberry x Mazar Auto
Autoflowering strains are perfect for outdoor cultivation in places where summer is short or the first autumn rains arrive early which is why we recommend Blueberry x Mazar Auto, an autoflowering variety that only takes between 53-65 days from when it is sown until harvest thanks to the fact that it is a mostly indica strain. To have the maximum yield outdoors, which can range from 60-100 gr/plant, you only need to make a crop with a good number of plants in 1 square meter. It is recommended to use 10L pots and cultivate at least 20 plants of this Blueberry x Mazar Auto.
If you grow indoors, you will collect between 100-150 gr/m2 of buds that have flavors of sweet fruit with berry and earthy notes. We recommend using techniques such as LST for this autoflowering strain and a substrate loaded with nutrients as well as fertilizers and organic stimulants because it is the best for automatic varieties.
Bud Mint
If the climate in the growing season is dry or mediterranean with long days of sun and medium to low humidity in your territory, then Budmint is perfect for you to grow outdoors because this variety mostly loves to be exposed to the sun for long days, rewarding you with great yields of up to 600 gr/plant.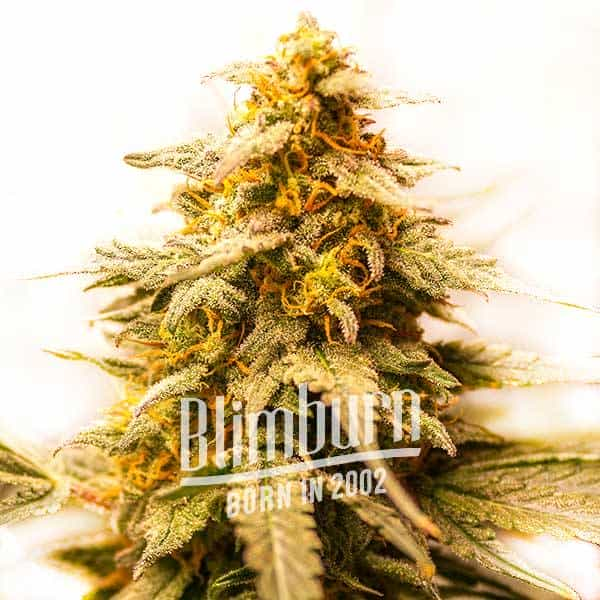 Budmint buds are usually compact and rock-hard, becoming completely covered in resin if they receive good nutrition during flowering. Indoors, growers will be able to harvest 350-540 gr/m2 and only have to wait 8-9 weeks before harvesting. This strain does not lack power as it has THC levels of 17%-22% which usually produces powerful effects that relax and leave users in a state of peace. The flavors that the buds give off are a mix between mint with earthy notes and a lot of sweetness.
Gorilla Glue #4 Fast Version CBD
Now, in this count, a medicinal-type variety such as Gorilla Glue #4 Fast Version CBD cannot be missing. This strain dazzles gardeners who want to make medicinal extracts or who want to have flowers that are rich in CBD and low in THC in order to be able to smoke with peace of mind without getting stuck in the clouds. Gorilla Glue #4 Fast Version CBD delivers outdoor harvests of 1000-1200 gr/plant and can be harvested about 2 weeks earlier than the normal version of Gorilla Glue #4 because this Fast Version has a much shorter flowering period.
If you grow indoors, you should only wait between 42-49 days of flowering to harvest about 500-600 gr/m2 of buds that have CBD levels of 12%-14% with THC percentages that are between 5%-14%. That is to say, it is a variety of practically pure medicine. An important detail is that the effects of this variety are energizing, producing certain states of euphoria and also calming stress and generating relaxation. This is combined with chocolate flavors with earthy and diesel notes which cause a real bomb on your palate.
BC Diesel
BC Diesel is undoubtedly a legendary variety and we add it to this list because it has unique qualities such as its resistance and easy adaptability to outdoor growing. It is able to withstand high temperatures and even slightly colder and more humid climates. A cross between Jack Herer x NyC Diesel, its growth outdoors is explosive due to its sativa predominance. The buds deliver active effects that stimulate creativity with a social style that ends with a bearable relaxation.
Outdoor harvests are 500 gr/m2 and are ready in mid-September, while indoor growers must wait between 65-75 days of flowering to collect their harvests which range from 400-500 gr/m2 of buds that produce high levels of resin. In addition, the potency is 18%-20% THC, guaranteeing high psychoactive power. Bc Diesel is a special variety to be cultivated with SCROG systems because its lateral arms tend to extend around the meshes used for this type of cultivation. Apical pruning can multiply the arms and allow for more leafy plants that will help the plant to increase heavy harvests.
Grape Killer 99
Grape Killer 99 lives up to its last name because it is a true killer with an absolutely relaxing effect that leaves you lying on the sofa at home. It is ideal for relieving pain or falling asleep and avoiding insomnia. This strain is a cross between Killer Grape x Cindirella 99 with a mostly indica tendency and super short flowering as it only needs between 60-65 days. This strain is intended for outdoor growing in places with warm climates and low humidity from the beginning of the season spring to ensure large plants that tend to have a compact structure and produce fat and tight buds.
If you grow outdoors, you will get about 500-600 gr/plant of buds that can be enhanced with fertilizers and stimulants from the beginning of flowering. For example, use solid bat guano in the substrate or molasses in its liquid form to support the microbiotic life of the substrate. Indoors, you can harvest between 400-500 gr/m2 of flowers which have sweet, very fruity grape flavors.
Amnesia x Nicole Kush
Amnesia x Nicole Kush is an incredible cross that brings together Amnesia and also Nicole Kush which is why the plants of this strain are perfect to be grown outdoors because they produce powerful plants with medium internodes and compact and rock-hard buds that are covered with resin during their maturation.
Two super powerful varieties come together to produce THC levels ranging from 17-22% and amazing terpenes that define their flavors that are usually fruity with notes of wood. The effect, typical of hybrid varieties, is mentally active at the beginning of the flight and becomes relaxing at the end.
Now, if you grow this variety outdoors, make sure to check the plants daily to avoid problems with pests or fungi. Cleaning the lower part is ideal for enhancing the upper tips. Using LST and nets to support the lateral arms is essential because the buds are heavy and tend to bend the branches, so the support allows the plant to save energy so that it produces more and better buds.
White Widow x Ak47 Fast Version
White Widow could not be missing from our recommendations. White Widow x AK47 Fast Version is a cross between two cannabis legends that are enhanced in a super fast flowering variety that blooms 2 weeks earlier compared to normal varieties. However, it maintains qualities such as the intense punch that causes intense mental effects at first and ends in a relaxing punch. The buds of this plant give off rich flavors of herbs with notes of wood and touches of earth.
Now, if we talk about the harvests of this variety, we will know that between 300-500 gr/plant can be harvested in outdoor crops. The same amount can be collected if grown indoors which makes it a very attractive variety because it is a good producer for the short flowering time you need. If we refer to the potency, we will know that it has THC levels that range from 16%-20% which is why it is recommended for beginners and novices as both will have great guaranteed flights. Although White Widow x Ak47 is a Fast Version variety, you can also apply cultivation techniques such as LST that will help the colas grow and bloom more uniformly. In addition, you can make a lollipop in case you want to orient the central stem of the plant to develop its lateral arms or to simply keep the heading of the plant under control.
Blueberry x Cream Cheese Auto
With a flowering cycle of 45 to 50 days from seed to harvest, Blueberry x Cream Cheese Auto is a super fast variety that can be grown in monoculture mode. It takes an average of 20 plants to achieve the desired harvests. Therefore, outdoor growers can obtain between 50-120 gr/plant in each crop of this variety, while indoor gardeners will obtain 400-550 gr/m2 for each harvest of compact buds with delicious berry and ice cream flavors.
If you want to enhance the lateral branches of the plants, then perform LST with which you will allow sunlight to better penetrate the plants, ensuring larger, heavier and more compact buds. The potency of this variety ranges from 15%-18% THC and causes some effects such as intense relaxation as well as helping to control pain in medicinal users.
Mendocino Purple Kush Fast Version
Mendocino Purple Kush Fast version is an ultra fast variety that flowers in just 7-8 weeks and delivers great yields of 600 gr/plant outdoors, while indoors, you can harvest up to 450 gr/m2. In addition, this fast version variety maintains qualities such as the narcotic and relaxing effect of the slower version.
Its power is considerable with THC levels between 18%-23% and this added to the terpenes (cedrene, pinene, among others) generate flavors of kush with earthy and obviously sweet and fruity notes. Outdoors, it can be grown in places with shorter summers or with slightly more humid climates because its short flowering time allows it to resist the onslaught of the environment. However, you always have to check the buds. We recommend the use of diatoms to prevent diseases and also some organic fungicide prior to the beginning of flowering to avoid any damage to the crops.
Finally, we want to thank you for reaching the end. We wish you an excellent outdoor crop this season! Remember that you can buy these cannabis seeds here at Blimburn Seeds where you can get the best cannabis strains. Also remember that we have discreet, fast, and safe shipments. If you have any questions, you can write to us and we will answer all of those questions. The advice with the strains is 100% guaranteed as well as the quality.