Nowadays people wake up rolling a joint of Tangie, like who has a cup of coffee in the morning, this is due to the enormous popularity that this variety has garnered among cannabis growers and lovers. Not only have bud stoners fallen in love with this strain, but extract fans are also raving about Tangie because rich extracts like hashish can be obtained due to the delicious terpenes of this genetics.
This strain makes its brand new appearance in the 90s in California with its unmistakable and deep orange aroma as well as its energetic effects that have attracted millions of marijuana fans around the world. Without a doubt, Tangie and her descendants have a place earned in the marijuana hall of fame, be it for its potency and effects, for its great medicinal benefits, for being a perfect strain for extract, and above all, for its incredible taste.
The fame of Tangie crossed the seas until she reached the acclaimed Coffee Shop in the Netherlands where she became a fanatic band that does not stop marveling at her great qualities, this has also led to her genetics being able to win different cannabis cups all over the world. world, placing it in the olympus of marijuana.
Tangie is so loved in the world of cannabis
Lineage
Tangie is a cross between California Orange and a Skunk variety, a mixture that ensures a great harvest and delicious buds with spicy Skunk notes and covered with a great layer of resin. Something similar happens with their incredible descendants such as Tangilope, 24k Gold, Tangie Auto and Cindirella99 x Tangilope.
Aroma
The tangerine aroma is noticeable in this variety and its flavor as well, which you will feel in each smoke on your palate. This aroma is balanced with notes of Skunk that are flying around your nose and that surely help you to wake up and motivate a morning that starts slowly and with some laziness. Also, we want to tell you that vaporizing Tangie at low temperatures highlights its juicy and sour flavors that come from the terpenes that dominate in this variety. Myrcene is the main terpene that dominates in Tangie causing its citric orange flavor and softer sweet tones of skunk notes. Other terpenes that provide unique flavors and aromas are Humulene and beta caryophyllene, despite being a citrus variety, Tangie does not concentrate terpenes like Limonene to a great extent, since it is a secondary terpene for this strain. Therefore, beta-carophyllene can be highlighted as one of the main terpenes because it provides the sweet flavor that people like so much.
Appearance
Tangie buds are remarkable since they concentrate a light green color and their hairs turn orange when ripe, on the other hand, the trichomes take on amber-orange tones when they reach their point, for this, it is recommended to continually check the flowers during maturation to avoid errors and cut early or late and thus obtain the best buds of this strain. Another highlight is its structure that is usually fatter and expanded towards the sides than elongated. This structure allows you to fill every corner with a thick sticky resin that will surely remain impregnated on your fingers when you harvest Tangie or when you trim your buds.
Effects
Tangie punch is intense and fast with a euphoric, cerebral, and mus social character, especially to share with friends on an afternoon at the beach or lake. Another important quality is that it helps lift your spirits and keep people focused. These effects are what have made Tangie popular all over the world, starting with his birthplace, the West Coast of the USA. Attention medicinal cannabis users because next, we are going to talk about the benefits of Tangie for them. This beloved strain of cannabis has good medicinal effects because it can relieve pain, stress, depression, and insomnia, due to its balanced effects between energizing and relaxing. Some users report that it is a great strain to make cannabis edibles as it helps with digestive problems, poor appetite, and nausea.
Tangie
Our Taangie, created together with Nikki and Swami`s, two cannabis gurus directly from California, allows us to bring growers this genetics in a feminized version with all the qualities already described in this article. Now, we want to highlight some fundamental points of this variety from Blimburn seeds bank. We emphasize that Taangie is a great producer of buds, indoors it produces 450gr – 550gr/m2 while outdoor gardeners can harvest the same amounts of buds for each plant. The crops will only take 8-10 weeks to flower indoors and outdoors they can pick their crops in September. Regarding the flavor and aroma, the authentic taste of Taangie is maintained with citrus and sweet touches in addition to the classic lemon touches. The smoke is delicious and fragrant that lifts your spirits with its predominant terpenes of myrcene and limonene.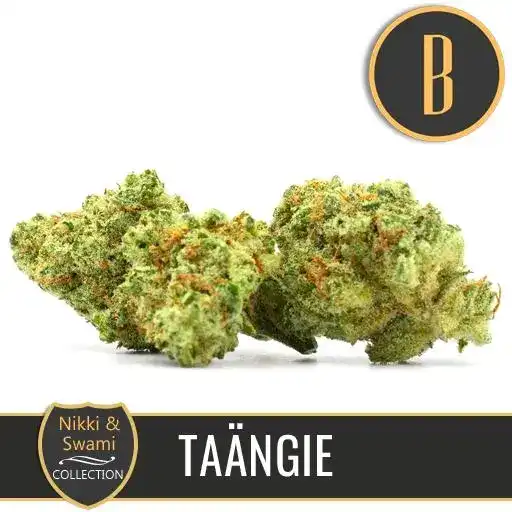 Descendants of Tangie
The descendants of Tangie are many and each one stands out for unique quality, be it for its effects, potency, production, or another characteristic, taking into account as a common point the exquisite flavor and aroma that they have inherited from their original Tangie predecessor. Here we will tell you the details of the top descendants of Tangie in the following lines.
Tangie x Chocolope
This mythical daughter of Tangie called Tangie x Chocolope is colossal genetics that is characterized by maintaining delicious flavors and blunt just like her mother, in addition, the effects are remarkable, since it causes a soft and prolonged high of a mental type, like a good sativa variety. Tangie x Chocolope concentrates citrus flavors, with fruity notes such as orange and sweet aftertastes, because myrcene terpene also dominates. On the other hand, the effect produces feelings of lazy smile with giggly style and a constant social spirit that stimulates conversations and a feeling of unequaled well-being with great happiness.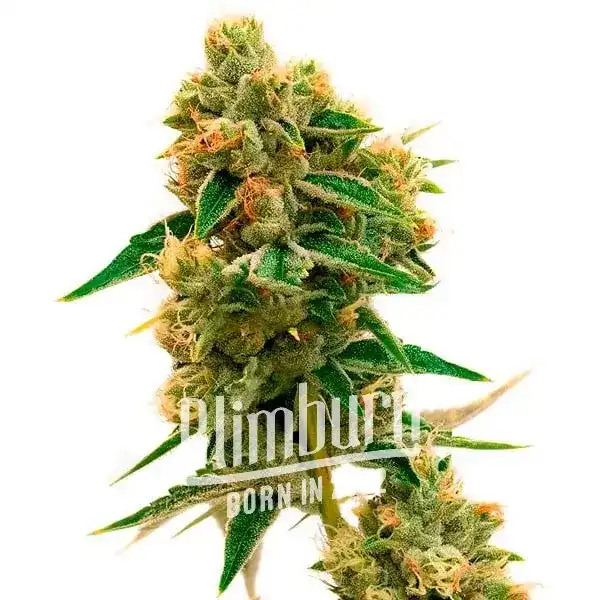 The effects ants described are due to the fact that the potency of this strain is medium because it only concentrates levels of THC ranging from 14% – 15%, therefore, it is unlikely that you will feel sensations of paranoia as occurs with other sativas with levels higher THC, on the contrary, it is a super friendly sativa genetics. Thanks to its energizing power Tangie x Chocolope is ideal for people who suffer from pathologies such as depression, stress, or fatigue, even to this type of people we can recommend it for its medicinal or therapeutic use. Another point in favor of this descendant of Tangie is that you will not feel mostly your dry mouth and heavy or dry eyes as occurs with other strains, on the contrary, you will feel a great freshness, due to the terpenes and delicious flavors and aromas that they will be impregnated on your palate.
24k Gold
The wonderful 24K Gold is an incredible cross of Kosher Kush x Tangie, that is why we put her in this list since she is a faithful representative of her mother, the above because she concentrates the best of Tangie. Unlike its ancestors and thanks to the Kush side, the flavor of 24k Gold is more citric with notes of piney and herbal tones, which makes it a bomb of extreme flavors and delicious aftertastes on the palate of any cannabis connoisseur. The aforementioned is due to the fact that in 24K Gold the terpene limonene predominates, which makes those citrus notes stand out. Now, if we talk about the effect, this variety produces mostly feelings of relaxation with great levels of well-being and gently induces you to sleep.
This makes it a special strain for users who suffer from depression, stress, or anxiety, as it helps them alleviate their bad being in a great way with incalculable amounts of happiness that will spread through their body with mental touches. None of this would be possible if 24k Gold did not concentrate high levels of THC that can exceed 20% and CBG portions that are around 1%, which makes it ideal genetics for recreational and medicinal users.
Tangie Auto
For all the growers who can't wait long, we have Tangie auto at Blimburn seeds bank, these auto-flowering cannabis seeds are unique because they have the qualities of the feminized Tangie but are in record growing time. We say this because in a quick time of 75 to 80 days maximum you will be able to have your Tangie Auto weed plants ready, in addition, you have to use a series of factors that make it unbeatable for growers in a short time, who are looking for good and great harvest delicious buds. This autoflowering version concentrates all the flavors of its original mother, since it is citrus with sweet-fruity notes such as orange and lemon. Terpenes such as myrcene and limonene are maintained in Tangie Auto, highlighting fruity notes that give that fresh touch to your palate in each puff.
For its part, the potency is maintained at levels of 8% – 14% THC which makes each Tangie Auto lover have balanced effects in each smoke without suffering from overwhelming sensations, on the contrary, this version takes you on a flight rather, relaxed and calm, ideal for after a day full of stress or if you want to fall asleep and suffer from insomnia.
Cinderella 99 x Tangilope
This cross is from a combined anthology of two great genetics, on the one hand, Cinderella 99 stands out for its flavor and sweetness and on the other, Tangielope comes from a cross of Chocolope x Tangie. This blend makes Cinderella 99 x Tangielope a unique polo hybrid highly sought after by growers around the world. A characteristic of this strain is that it maintains the orange, citrus, and fruit flavors of its parent Tangie, but also the chocolate tones and obviously the sweetness of its Cinderella 99 side must be added. The combination of genetics is also noticeable in the effects it produces on its users who describe it as follows.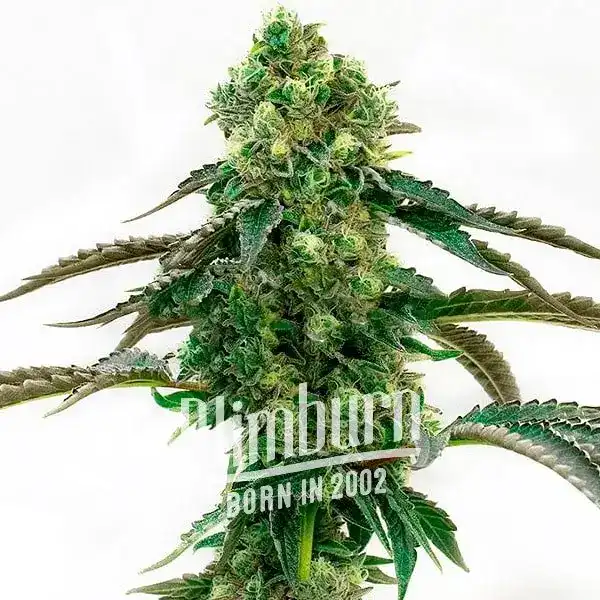 The effect of Cinderella 99 x Tangilope is characterized by having dominance of its parental Cinderella 99, that is, a powerful mental effect with a great high. The above is compensated by the rocking caused by Tangilope, which is more relaxed and calm for the same reason, in the end, people feel a sense of laughter and relaxation, ideal for sharing with friends. You already know all the details of Taangie and her lineage also, you know her descendants with all their details. Now you just have to buy the great cannabis seeds of these incredible genetics, either in feminized or auto-flowering seed format.