WEEK 1 – 2
2 – 10 cm.
11 l.
18 h.
40 cm.
45%
26ºC – 78.8ºF
INFORMATION
During week 1 and 2 the Tangie Auto plant develops slowly. It shows the first pairs of leaves and is well stimulated by light. Plastic cups are used on top of the small seedlings to stimulate humidity and prevent the substrate from drying out in the growing area.
NUTRIENTS
The plants grow well, for the same reason it is only watered with water, in the first 2 weeks. Fertilizers have not been added, since the crop is sought as less fertilized as possible.
WEEK 3 – 4
15 – 20 cm.
11 l.
18 h.
40 cm.
50%
24ºC – 75.2ºF
INFORMATION
It's week 3 and Tangie Auto stands out for its size. It has had a strong and prolonged growth.
Week 4, an LST is applied to the plant. When using this technique in an automatic, you want it to grow with greater power.
NUTRIENTS
During week 3, continue to water only with water. When week 4 arrives, minimum doses of fertilizers are applied for growth. Also, a stimulant is applied to lower stress. And a stimulant of microbiotic life for the soil.
WEEK 5 – 8
30 – 50 cm.
11 l.
18 h.
30 cm.
35%
24ºC – 75.2ºF
INFORMATION
In week 5 Tangie Auto begins flowering. The first pistiles are obvious. Week 6 and the plant has already much more developed the central one, full of pistils that form flowers. Starting week 7, the development of the flowers at the tips is noticeable in a good way. Beginning week 8 and Tangie Auto, start the fattening of the flowers.
NUTRIENTS
When starting flowering in week 5, the plant is flushed with a flush. During week 6 the first minimum doses of fertilizers for floras are applied. It is week 7 and some micro element additives are added to help the flowering plant. Start week 8, adding the fattener to stimulate the flowers, to have greater size and weight.
WEEK 9 – 12
60 cm.
11 l.
18 h.
30 cm.
51% – 64%
22ºC – 71.6ºF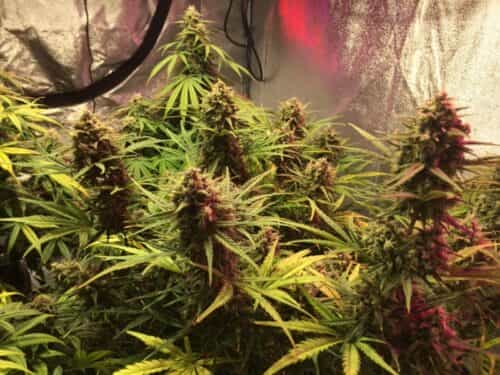 INFORMATION
Arriving at week 9 and Tangie Auto continues to gain weight without problem. It is week 10 and the leaves are starting to turn yellow. The plant begins to mature. Arriving at week 11, the plant looks mature. The trichomes have become more cloudy and the pistils more amber. It is week 12, harvest time has arrived. The plant is ready to be harvested.
NUTRIENTS
For week 9, a stimulant is applied that helps to reduce the stress of the plant, since it is at a crucial moment of flowering. In week 10, watering is continued with standard fertilizers. For week 11, it is watered only with water, as in week 12.