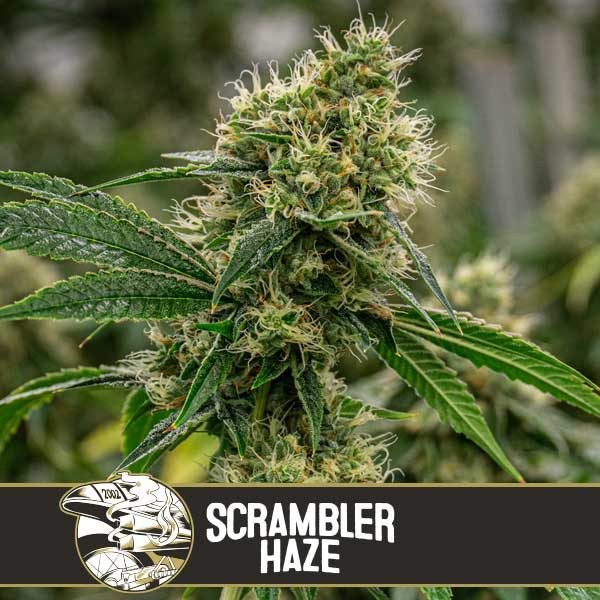 Scrambler Haze Sativa strain resulted from a cross between Cafe Racer and Santa Muerte. It provides Sativa strength with fruity and hashish flavor profile.
| | |
| --- | --- |
| THC | |
| THC % | 28% – 30% |
| CBD | |
| CBD % | 0.2% |
| Lineage | Cafe Racer x Santa Muerte |
| Type of Seed | |
| Genetic | |
| Yield | High Yield |
| Yield Indoor | 2.46 – 2.79 oz/ft² | 750 – 850 gr/m² |
| Yield Outdoor | 21 – 31 oz/plant | 600 – 900 gr/plant |
| Height | 9.84 ft | 3 m |
| Harvest Month | All Season |
| Beginner | For Beginners |
| Medical | |
| Effects | |
| Flavor | |
Scrambler Haze Sativa Marijuana Seeds
Enjoy a unique experience when you purchase Scrambler Haze Sativa marijuana weed seeds, an Sativa strain, from Blimburn Seeds Bank.
Our seeds are fresh and ready to germinate. Follow our Germination guide for best results!
Origins of Scrambler Haze Sativa Cannabis Seeds
Scrambler Haze is the name of a new creation of feminized seeds from Blimburn that represents the most genuine essence of the development of a top quality strain and a universe full of joy brought by its high production and powerful terpene profile.
Our Scrambler Haze feminized seeds originated from the cross between two of our Blimburn strains, Cafe Racer and Santa Muerte. These two strains are mostly Sativa and their lineage drives us crazy.
Our Cafe Racer is a ticking time bomb that rolls on its own from the moment it germinates until we harvest its high production. With the strains Grandaddy Purple and Girl Scout Cookies in its lineage, we can only expect big buds with a powerful citrus flavor accompanied by the sweetness of freshly picked grapes and earthy notes. In addition, this strain is known for its high THC.
We have selected the best strains of our Santa Muerte so that our Scrambler Haze feminized seeds can roll in any environment. It is a mostly sativa weed, crossing Mexican strains and our Original Haze. We have maintained and preserved these weeds for years because the good cannot be lost. Santa Muerte is a cannabis plant that is taller than a Christmas fir tree.
Growing Scrambler Haze Sativa Marijuana Strains
If you are a breeder who likes everything big: high THC, high yield, and a high terpene profile, look no further! Our Scrambler Haze is a cannabis plant that we have been secretly developing over the last few years. It's crazy what our Blimburn team has done by creating feminized seeds and turning them into a plant that can reach an outdoor production of 600 – 900 gr/plant in optimal conditions.
When we grow our Scrambler Haze feminized seeds outdoors under optimal conditions, it can reach 9 feet in height or potentially 10 feet. Although it is an easy plant to grow thanks to its lineage, we recommend paying attention during the transition from the vegetative period to the flowering period. A light pruning will help to enhance the flowers and aerate the growing area.
If you like to grow under led lights in your tent, remember that height matters when we are going to grow this mainly sativa marijuana plant. It is a marijuana plant that adapts to any environment, is easy to grow, and we can increase the dose of nutrients as it develops to get a high production of about 750-850 gr/m² when grown indoors.
Remember that when you buy our Scrambler Haze feminized seeds, you will no longer be discreet with your neighbors. For more information, enjoy our Outdoor Grow Guide.
For an optimal indoor cultivation, Blimburn Seed Bank recommends wide and vertical spaces and the use of the ScrOG method to obtain a uniform plane and to increase the size of the lower flowers.
Scrambler Haze Weed Flavors and Effects
What every breeder wants to get their hands on is a good, big, hard, resinous bud with a powerful flavor. Our Scrambler Haze is a beast when it comes to producing large buds and gives us a powerful fruity aroma with hints of Hashish. This mostly sativa strain gives us high THC of 30%. Its cured buds give off a unique fruity taste of sweet berries and hints of hashish. This strain provides a good dose of euphoria and creativity, but as time passes, a state of sedation takes over our body and passes into a state of absolute relaxation.
This strain delivers what any customer, grower, or collector of great weed desires. Our breeding team has gone to great lengths to deliver buds with an incredible terpene profile that enhances the sweet and fruity flavor of the Cafe Racer lineage with hints of Hashish that caramelize on the palate, allowing us to enjoy its great taste for longer.
This mostly sativa strain will be the queen of parties and gatherings. It is explosive with large doses of euphoria and happiness to help you enjoy a social setting.
Some important terpenes that we can highlight for their uplifting effects are Limonene, Pinene, and Beta-Caryophyllene. Undoubtedly, the king of the road is the terpene Limonene which increases serotonin and dopamine and can improve mood and creativity. This combines with the interaction between high THC cannabinoids and a sativa strain lineage to give us a social mood and more uplifting effects.
Our catalog of cannabis seeds already has more than 950 strains. Enjoy a unique experience when you buy your Scrambler Haze seeds at blimburnseeds.com or choose your seed from a trusted website that will help you in your germination process, cultivation, or choice of strain. We have 24/7 service available for any questions. We accept different payment methods to help you in your marijuana seeds purchase and we ship fast and discreetly. Register now at Blimburnseeds.com and enjoy your BOGO offer.
Final Thoughts
So, you have chosen to grow some Scrambler Haze Sativa marijuana seeds of your own? Stoned Panda Sativa strain resulted from a cross of our Cafe Racer and Santa Muerte. It provides Sativa strength with fruity, citrus and hashish flavor profile. Now, you just need to know where to buy weed seeds online Scrambler Haze Sativa. The answer to that quandary is simple. Blimburn Seeds is the most trusted online resource for the highest-quality weed seeds you'll find anywhere in the world. Our talented pool of seed genetic specialists work day in and day out to bring you the best possible cannabis seeds in nearly every strain known to man. We back all of our seeds with our industry-leading germination guarantee. Our friendly customer care team is just a quick call away or you can visit our online cannabis seed bank by clicking any of the links above. At Blimburn Seeds Bank Store, we are as passionate about home-grown cannabis as you are. We look forward to helping novice growers get started and join experienced cultivators in achieving better crops with better strains!
These were the Free seeds. Great growth. definitely quality.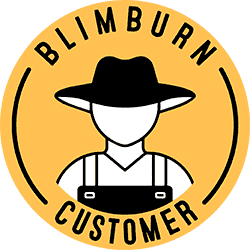 Great seeds excellent quality.. very safe supplier..all is good.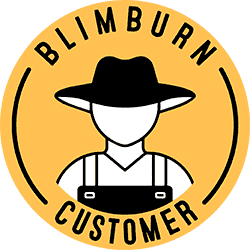 Excellent quality seeds. .all grows were a success. great company all around. Yes very safe to use.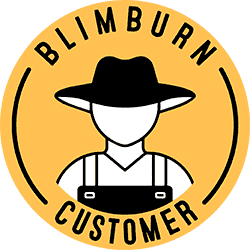 Write a review and get 15 blimcoins