The first generation of autoflowering cannabis seeds was not the best because their production was scarce which has led to many gardeners rejecting the cultivation of this type of cannabis seed. Today, autoflowering weed strains have evolved to such an extent that their yields can be overwhelming. For this reason, we want to share the main advantages of growing autoflowering marijuana seeds so that you have a clear vision of why you should buy autoflowering cannabis seeds for your next crop.
Main Advantages of Growing Autoflowering Seeds
Now, we are going to see what those 9 advantages of growing autoflowering cannabis seeds are. Among all the advantages, we find some that autoflowering weed lovers love such as the speed of the plants, the continuous cultivation of autoflowering weed in the gardens, and the ease of growing autoflowering seeds, among others.
Growing Autoflower
Surely, the first thing that comes to mind is what the level of difficulty of growing autoflowering seeds is. We tell you that automatic cannabis seeds are easy to grow because they do not require technical work such as changing the light cycle to induce the plant to flower because it will begin to flower independently.
When you are growing autoflower cannabis seeds, you only need to take care of the plant, follow the natural process, and enjoy the moment in your tent or grow room because this girl is an automatic pilot.
Continued growth and more harvest every season
With the autoflowering strains of weed, you can obtain up to 2 harvests per season if you grow outdoors because the plants are faster and can be harvested in a shorter time. This gives them a comparative advantage over feminized seeds. or regular cannabis from which you can get weed plants that only deliver one harvest per season.
Second, in North American countries like the USA or Canada which tend to have short summers, similar to northern European countries, cannabis plants that stem from autoflowering seeds will be ready to be harvested in mid-July. For this reason, you can re-sow another plant of autoflowering seeds to harvest in mid or late September, providing two harvests in the same outdoor season.
The Compact Size of the Autoflowering Weed Plant
Cannabis plants that are more compact in size take up less space. In addition, as they do not require a change in the light cycle, they can be grown all together without the need to remove them from the cultivation area. This does not happen with feminized, regular, or fast version strains which do tend to be large in size and require considerable space to grow. An organized grower will obtain the maximum performance of the lighting system that he uses for each m2 when he grows autoflowering plants that will absorb each KW of energy and deliver strong harvests at the end of each cultivation cycle.
More Stealthy Cannabis Crops
The cultivation of autoflowering varieties is super stealthy due to what we have already said about its compact size. Therefore, if you are looking to have an outdoor garden that is not visible to your neighbors, to the police, or even to marijuana plant thieves, autoflowering strains are the ones to go for.
Automatic cannabis seeds develop plants that can even be grown together with vegetables and other types of plants, so if you have a farm with tomatoes and ears of corn, among others, you can surely hide your cannabis crop in the middle of all of that to make for a much more discreet garden. Also, it is possible to have your autoflowering weed plants on balconies or small terraces where they can easily share space with other ornamental plants that will help cover your garden of autoflowering cannabis plants.
Growing Autoflowering Weed
A relevant point is the cost when growing autoflowering cannabis. On the one hand, you will spend much less money on fertilizers because they consume much less than a feminized strain due to their short life cycle. Another relevant issue is that you will use less substrate because an autoflowering plant feels good if it is grown in 10L or 11L pots at most. Therefore, you will not need as much substrate as with a regular strain.
This budget-saving is equated with the cost of electricity because as you know, they need more light hours to be able to grow and flower in relation to a feminized, regular, or fast version. Despite this, you will be able to grow great plants at a slightly lower cost than with other types of cannabis strains.
Resistance to Humidity, Mold, and Fungus
Autoflowering weed plants tend to be more resistant to fungi and humidity because flowering is much shorter. Therefore, if you grow a little past the sowing date during a summer season, you will be able to harvest your plants without fear that the drop in temperatures, the increase in humidity, and the first rains will damage your crop.
In any case, it is always good to prevent and take care of autoflowering cannabis plants by checking their buds and using products such as diatoms and other non-pathogenic and organic fungi to avoid the appearance of harmful fungi and pests.
City lights are not a problem
It is essential to point out that in many cases, the city lights complicate the cultivation of cannabis for outdoor gardeners who prefer feminized or regular strains because these plants cannot begin to flower. This is because street lighting of considerable power inhibit cannabis plants from developing the hormone that allows them to start flowering.
However, with autoflowering genetics, you should not worry because they are not photo dependent, so they do not require a change of light and will begin to flower automatically. When you grow indoors, you have this advantage with autoflowering strains, something that you will not get with other types of cannabis.
Faster flowering
While a regular or feminized strain can take between 8-10 weeks to flower and some of the purest varieties between 12-15 weeks, autoflowering strains do so in record time.
An autoflowering strain will only take between 4-6 weeks in its flowering cycle to be harvested, so if we add that time plus the growth period, we will realize that these varieties are ready in just 12 to 15 weeks which makes them super machines for producing buds due to their high speed.
The Best Autoflowering Strains for Growing 2022
Now that you know what the main advantages of growing autoflowering strains are, we want to recommend some of the best varieties for outdoor cultivation assuming you want to obtain the best harvests in a short time during the outdoor growing season.
Buy Wedding Cake Autoflowering Strain Online
Weeding Cake is one of the top autoflowering strains at the moment, experiencing its moment of glory among gardeners worldwide. It is a mostly Indica variety that is super fast to grow and also very easy to breed. Fans of sweet varieties find Wedding Cake to be an ideal strain because its flavor is a mixture of super sweet vanilla notes with hints of berry and tropical fruit.
If you grow outdoors, it is recommended in places with short summers because it is quick from sowing to harvest. This also helps you avoid problems with humidity, fungi, and the rains that occur at the end of the growing season. In case you grow in a hot and dry climate, you will be able to harvest your plants in record time with succulent buds that will surely leave you very happy.
Buy Gorilla x Zkittlez Autoflowering Strain Online
This crossing of Gorilla x Zkittlez Autoflowering is eccentric because it is a hybrid variety that brings together two of the most popular genetics in the USA and Canada at the moment, Gorilla Glue Auto and Zkittlez Autoflowering, making it a highly desired strain by gardeners. This strain takes only 10-12 weeks for its entire life cycle from sowing to harvest with yields ranging from 80-100gr/plant outdoors and 400-450gr/m2 indoors.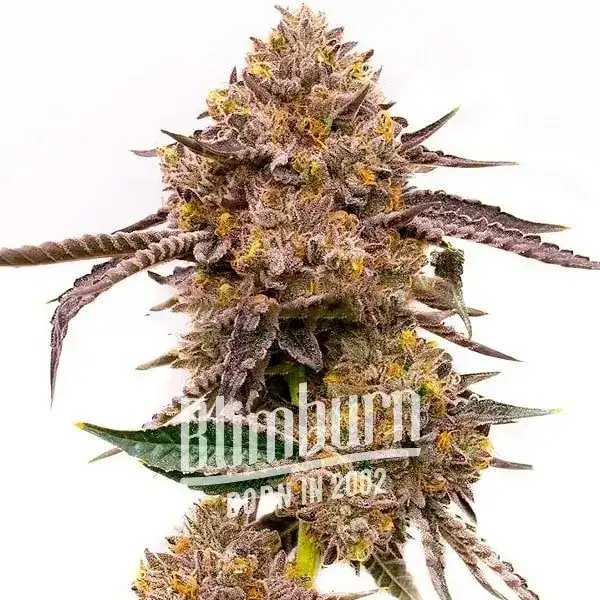 From the first puff, you will feel the intensity of its punch thanks to its THC levels that range from 18%-20%. This is backed by the avalanche of resin that its buds produce when it blooms, turning completely white and full of trichomes. Gorilla x Zkittles Autoflowering is recommended for growing from the end of spring when the days become hotter and sunnier until the first days of summer because it is an auto-flowering variety that needs the maximum hours of sun when growing outdoors.
If you live in a cold and humid climate, it is preferable to wait for the warmer days to better stimulate the growth of the plant. During flowering, make sure they have the right temperatures so you can reap a good harvest.
Buy Blueberry x Big Bud Autoflowering Strain Online
We recommend this cross made by the breeders of Blimburn Seeds that originated from a mixture of Blueberry x Big Bud Autoflowering. It is remarkable and is ideal for outdoor cultivation because it is fast from start to finish and also delivers great harvests thanks to its parents. Just imagine if you have a plant growing Blueberry x Big Bud Autoflowering outdoors, you will be able to harvest between 40-100gr/plant and indoors, about 400-550gr/m2 which makes this variety perfect for a mono-crop.
The full cycle of this auto-flowering strain is 56-63 days and you can harvest beautiful, fat, round buds, covered in thick resin with delicious, sweet berry and fruity aromas that are perfect for extractions like rosin, hash, and others.
It is recommended to cultivate this variety in the most organic way possible and during the time of maximum sun and light outdoors in order to take advantage of the best flavor and taste. On the other hand, if the plant matures when temperatures drop, its buds will multiply the trichomes in good quantity, further enhancing the resin.
Buy Super lemon Haze Autoflowering Strain Online
Called Super Lemon Haze Autoflowering, this mostly sativa beauty is a high-flying autoflower that gently relaxes you with every hit thanks to its sticky buds that pack 16-20% THC. A refreshing taste with citrus and sweet notes will become intense on your palate after a good smoke.
In addition, Super Lemon Haze Autoflowering is fast throughout its cultivation. It will not take more than 9 weeks from sowing to harvest, delivering yields of 550-600gr/m2 indoors and about 80-120gr/plant if you grow outdoors. We guarantee that it is an easy-to-grow strain that loves hot sunny days and also requires a rich dose of nutrients to develop to the fullest. Remember that Blimburn seeds has discreet and fast shipping.
Buy Bubba Kush Autoflowering Strain Online
Bubba Kush Autoflowering inherits the genetics of a cannabis legend, Pre 98 Bubba Kush, which was crossed by a White Widow Autoflowering to give the strain the autoflowering type. We can say that this strain is mostly indica, is compact in size, and allows super fast cultivation, only taking 56-63 days.
Thanks to its structure, it is suitable for outdoor cultivation, whether in a forest, hills, or on urban terraces and balconies. This is because it adapts greatly to small spaces, delivering notable yields of 100-150gr/plant outdoors and about 400gr/m2 indoors. Days of maximum sun are recommended for optimal growth, but if you want the trichomes to explode and cover the entire plant, the best date for its maturation is at the end of summer.
Don't forget to buy your cannabis seeds here at Blimburn Seeds. Here, you will find unique and stable genetics and high quality seeds within our great strain catalog. Keep learning with our blog because we want you to become a better breeder every day.