The distinctive aroma of cannabis can linger long after a smoking session, potentially causing discomfort or inconvenience. Whether you're a seasoned cannabis enthusiast or a casual user, knowing how to effectively eliminate weed odor is a valuable skill. In this guide, we'll explore a variety of methods and techniques to help you discreetly manage and minimize the scent of cannabis.
How to Get Rid of Weed Smell: Understanding the Science of Cannabis Odor
To effectively tackle the issue of weed odor, it's crucial to grasp the underlying science. Cannabis emits a distinctive aroma due to the presence of aromatic compounds known as terpenes. These compounds contribute to the plant's unique scent profile. Knowing this, you can employ targeted strategies in your quest for "How to Get Rid of Weed Smell".
Additionally, various factors influence the intensity and persistence of weed odor. The specific strain's terpene profile, coupled with the method of consumption, play significant roles. By comprehending these elements, you gain valuable insights into tailoring odor control techniques to your unique situation. Armed with this knowledge, you'll be well-equipped to address the challenge of minimizing cannabis scent effectively.
The Chemistry Behind Weed Smell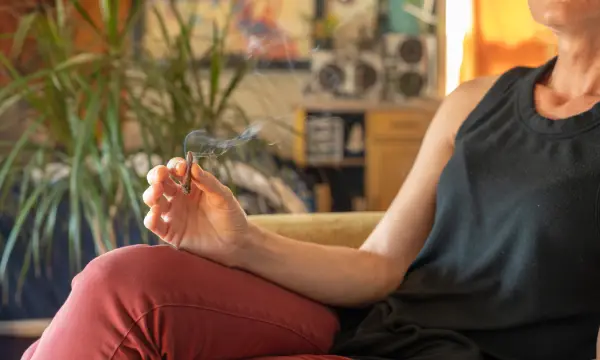 Understanding the distinctive aroma of cannabis begins with delving into its complex chemistry. Cannabis plants are rich in aromatic compounds called terpenes, which are responsible for the wide range of scents associated with different strains. These terpenes, alongside cannabinoids, create a symphony of fragrances unique to each variety.
Terpenes like myrcene, limonene, and pinene contribute to the characteristic scent of cannabis. For example, myrcene offers an earthy, musky note, while limonene brings a citrusy, zesty quality. When cannabis is consumed, these terpenes are released into the air, creating the recognizable weed smell.
In understanding the chemistry, we gain insights into how to get rid of weed smell effectively. By targeting these terpenes, we can employ methods to neutralize or mask the scent. This knowledge allows us to approach odor control with precision, ensuring a discreet and comfortable environment for all.
Remember, the key to managing weed odor lies in a combination of proper ventilation, air purification, and strategic storage. By addressing the chemistry behind the smell, we empower ourselves to enjoy cannabis responsibly while respecting the preferences of those around us.
Factors Influencing Weed Odor
Understanding the factors that contribute to the potency and persistence of cannabis odor is crucial in learning how to get rid of weed smell effectively. The strain's terpene profile plays a significant role, as some varieties are inherently more aromatic than others. Additionally, the method of consumption, such as smoking or vaporizing, can impact the intensity of the scent. Factors like room ventilation and air circulation also influence how far the odor spreads. By comprehending these elements, you'll be better equipped to implement targeted strategies for odor control while enjoying your cannabis discreetly.
Immediate Solutions for Minimizing Weed Smell
How to Get Rid of Weed Smell: Ventilation and Air Circulation
When it comes to how to get rid of weed smell, proper ventilation is a fundamental strategy. Adequate airflow can swiftly disperse the lingering aroma, minimizing its impact. Start by opening windows and doors to create a cross breeze. This allows fresh air to enter and circulate, diluting the scent of cannabis.
Additionally, consider using fans strategically. Place a fan near a window to push stale air outside, while another fan on the opposite side of the room draws in fresh air. This creates a flow that helps carry away the odor.
Furthermore, if possible, position a fan near the source of the smell, such as near where you smoked or stored your cannabis. This targeted airflow can swiftly move the scent out of the area.
By prioritizing ventilation and air circulation as part of your strategy on how to get rid of weed smell, you can effectively disperse and reduce the scent, allowing for a more discreet and comfortable environment. Remember, combining this technique with other odor control methods can lead to even more effective results.
How to Get Rid of Weed Smell: Air Purifiers and Filters
Investing in a high-quality air purifier equipped with activated carbon filters can be a game-changer in combating cannabis odor. We'll discuss the types of purifiers that are most effective and how to strategically place them for optimal results.
How to Get Rid of Weed Smell: DIY Odor Neutralizing Sprays
Creating your own natural odor-neutralizing sprays can be an effective and budget-friendly solution. We'll provide simple recipes using common household ingredients that can help mask or eliminate weed smell.
Long-term Strategies for Weed Odor Control
Odor-Resistant Storage Solutions
Proper storage of cannabis and related paraphernalia can significantly impact odor control. This section will introduce a range of odor-resistant containers and storage methods to keep your cannabis discreetly stowed away.
Cultivating Low-Odor Cannabis Strains
For those growing their own cannabis, selecting strains with lower terpene profiles can be a proactive approach to minimizing weed smell. We'll explore some strains known for their milder aromas.
Odor-Eliminating Accessories
Certain accessories, such as smoke filters and sploofs, can aid in reducing the odor produced during smoking. We'll discuss how these items work and recommend some reliable options.
Tips for Maintaining Discretion and Privacy
Legal Considerations and Local Regulations
Understanding the legal landscape of cannabis in your area is essential. We'll provide guidance on how to navigate local laws and regulations to ensure you're using cannabis responsibly and within legal boundaries.
Online Seed Purchases: A Discreet Option
Buying cannabis seeds online can be a discreet and convenient way to obtain quality products. We'll highlight the benefits of online purchasing and recommend reputable sources, such as Blimburn Seeds, known for their extensive selection and international shipping options.
Enjoying Cannabis Responsibly
Mastering the art of managing weed odor allows you to enjoy cannabis without inconveniencing others or attracting unwanted attention. By applying the techniques outlined in this guide, you'll have the knowledge and tools to effectively control and minimize cannabis scent. Remember, responsible consumption and consideration for others are key to fostering a positive cannabis culture.
Note: While these methods can help minimize weed smell, it's important to be mindful of legal restrictions and always consume cannabis in compliance with local laws and regulations.