In this guide, we are going to show you The 5 Best High-Yield Feminized Marijuana Seeds for outdoor cultivation. Pay attention, because each strain will bring unique qualities and excellent harvests that will make you fill your jars with great buds that are full of resin, exquisite flavors, and smells.
Zombie Death Fuck
First of all, we want to tell you that these mostly sativa genetics create a monster when grown outdoors or in a greenhouse. We say this because gardeners around the world who have grown Zombie Death Fuck send us reports of giant plants and heavy yields.
Zombie Death Fuck is characterized by its fast growth. In addition, its flowering takes average time, so you do not run the risk of your plants being affected by the first autumn rains. Instead, you can expect a big crop with compact, rock-hard flowers that are covered in heavy-gauge, heavy-duty resin.
Zombie Death Fuck growing in a greenhouse in Colombia.
The flowering of this mostly sativa strain ranges from 55 – 65 days indoors and outdoors, it is ready to be harvested in mid to late September. In addition, the yields are incredible with weights of 500gr – 600gr / plant outdoors and 400gr / m2 indoors.
Now, we must clarify that Zombie Death Fuck adapts incredibly to humid and hot climates as well. In warmer and colder climates, it has excellent performance due to the fact that it comes from a cross of Girl Scout Cookies, a strain recognized worldwide for its incredible resistance, and an OG Kush L.A. that gives it the quality of high production and short flowering.
Zombie Death Fuck growing outdoors.
That's not all! We will give you some tips so that you get the most out of your plant. We recommend apical pruning of your Zombie Death Fuck outdoors to multiply the number of arms and also to increase harvests. On the other hand, you can use a mesh to support the lateral arms of the plant. With that, you allow it to focus its energy on the development of the buds.
It is good to note that some gardeners stretch the side arms of their marijuana plants in order to allow the light to penetrate better and the cannabis plant to have better growth and a more abundant flowering. So, if you apply this technique with your Zombie Death Fuck, you will surely increase the harvest significantly, since the plant will be full of incredible, resinous buds that are excellent for extractions.
OG KUSH
First of all, we must say that OG Kush cannot be absent on this list of the 5 best high-yield Feminized marijuana seeds for outdoor cultivation because, without a doubt, it is one of the most classic strains to exist and is an honorary member of the hall of fame of weed.
OG Kush is an emblematic strain when talking about large harvests because its plants deliver heavy yields that can range from 600 – 800 gr / plant outdoors and 450gr – 500 gr / m2 indoors. In addition, the buds of this indica variety are dense, compact, hard as rock, and are also covered with an intense resin with special aromas and citrus and lemon tones. It should be noted that OG Kush is an authentic strain with heavy yields and you can find them in feminized seed format here at Blimburn Seeds Bank.
OG Kush growing in a backyard.
If you are worried about the harvest time, you should not despair because OG Kush is ready to be harvested outdoors in mid October. Indoor gardeners can harvest it after 55-60 days. The short flowering and its heavy yields make this variety a must-have in any breeder's garden. The size of this plant can exceed 2 meters in height and at some point it can get out of control, which is why we recommend tying it when you grow outdoors in order to control its size and shape. Pruning of the apical or fim type is also greatly supported by this variety, providing a more lateral growth as it typically tends to expand towards the sides, especially in flowering, due to its indica genetics.
If you want to maximize the performance of OG Kush weed plants, you have to provide the greatest amount of light and the most complete feeding possible. It uses micro organisms and beneficial bacteria for the development of its roots and their growth. Then, in flowering, try to add some supports or meshes so that the lateral branches do not fall due to the weight of the buds. Finally, always try to use more organic nutrients and fertilizers since organic food fascinates it.
GIRL SCOUT COOKIES
Ever wonder if there is a high powered sativa strain with exotic colors? Well, Girl Scout Cookies is the girl you are looking for because this mostly sativa strain is incredible for outdoor growing, standing out for both its exotic colors and for its abundant and heavy yields.
Now we are going to tell you that with Girl Scout Cookies grown outdoors, you can harvest 400gr – 500gr /plant and 500gr / m2 in indoor gardens. Many farmers may worry about the flowering time, but you should not stress as it only takes 65 – 70 days to flower indoors and is ready to be harvested from mid to end of September for outdoor breeders.
Girl Scout Cookies from Blimburn Seeds Bank growing outdoors in South Africa.
It is important to note that Girl Scout Cookies comes from a cross between Durban Poison, a native variety from the Durban area in South Africa and also from the mythical OG Kush. This genetic combination produces lush plants of great size. This baby can measure up to 2.5m tall and also occupies a large space outdoors when it is grown directly in mother Earth or in 50L or 100L pots.
That's not all! Heavy yields are accompanied by fat flowers with beautiful structures that produce a large volume of resin, making it a unique variety appreciated by lovers of cannabis extracts. On the other hand, the potency of this sativa's buds is incredible with samples registering from 18% to 25% THC. Without a doubt, this is a high-potency strain will hit smokers with a cerebral effect that later becomes relaxed on a body level.
Girl Scout Cookies, green phenotype growing outdoors in South Africa.
We highlight the magical colors of these sativa genetics because she shows two phenotypes to growers who have her in their orchards or gardens. On the one hand, you can find the classic phenotype that most marijuana plants have. On the other hand, you will find the platinum phenotype (first photo) of Girl Scout Cookies, which stands out for having a unique and super sexy color that seduces even the most expert gardeners, claiming that it is the largest producer of trichomes and resin.
CRITICAL DADDY PURPLE
Critical Daddy Purple, a hybrid strain, is a tremendous beast. Its growth outdoors and in a greenhouse is explosive and does not require much care. This strain is easy for beginning gardeners who will be rewarded with large harvests. Outdoor breeders can harvest 500gr – 600gr/plant and indoor farmers can expect 600 gr/m2. First of all, we must point out that the power of Critical Daddy Purple comes from the fact that its parents are two top-level cannabis strains including Critical Mass and Grand Daddy Purple. The first one, Critical Mass, provides characteristics such as growth power, resistance to different types of climates, and also all the recognition of being one of the most respected varieties among weed growers.
For its part, Grand Daddy Purple is known throughout the galaxy as one of the most popular strains in the USA and Canada among marijuana farmers and pot fans. To the above, it must be added that Grand Daddy Purple contributes large bud productions and is recognized as a machine for producing buds.
Critical Daddy Purple growing inside a greenhouse in mother Earth in Colombia.
Critical Daddy Purple brings together a unique and powerful resistance with heavy yields that leave every ganja farmer who grows it amazed. However, that is not all, because the buds of Critical Daddy Purple amaze all marijuana smokers with their rather elongated and compact structure that shines due to the delicious resin it produces.
Now, if you want to cultivate in mother Earth as shown in the photo, we recommend following these steps. First, make a hole large enough to allow the proper development of the plant. You must put the substrate or compost in the hole to fill it. Remember to use a soil that is rich in nutrients. If you are going to use compost, it is ideal to not have excess animal feces because it can raise PH levels and that can affect the growth and flowering of the plant.
Also, it is important to note that before putting the plant directly in the ground, it is recommended to grow it for at least 1.5 months so that its roots are strong and can withstand the transplant and growth in its new environment. Be careful of animals and insects that can affect the plant as they can reduce growth or even kill it. Snails, cats, and other animals tend to eat the leaves of marijuana plants.
MAMBA NEGRA
Surely this strain will make you think of a high production as the indica varieties tend to be incredible producers of buds. Mamba Negra is no exception because she produces heavy yields that both expert and novice growers love. In addition, it is a super easy variety to grow by yourself. Novice breeders should not worry because they can grow them easily in their gardens and will be rewarded by tight, rock-hard buds and fruity and citrus flavors. Outdoor gardeners can harvest 400 – 500 gr/plant, meanwhile indoor gardeners can expect 500 gr/m2. The flowering time is short, only 65 – 70 days indoors. On the other hand, outdoor farmers can harvest in late September and should not have to deal with the first rains of late summer, preventing their harvest. This plant is affected by fungi, humidity, and other types of diseases.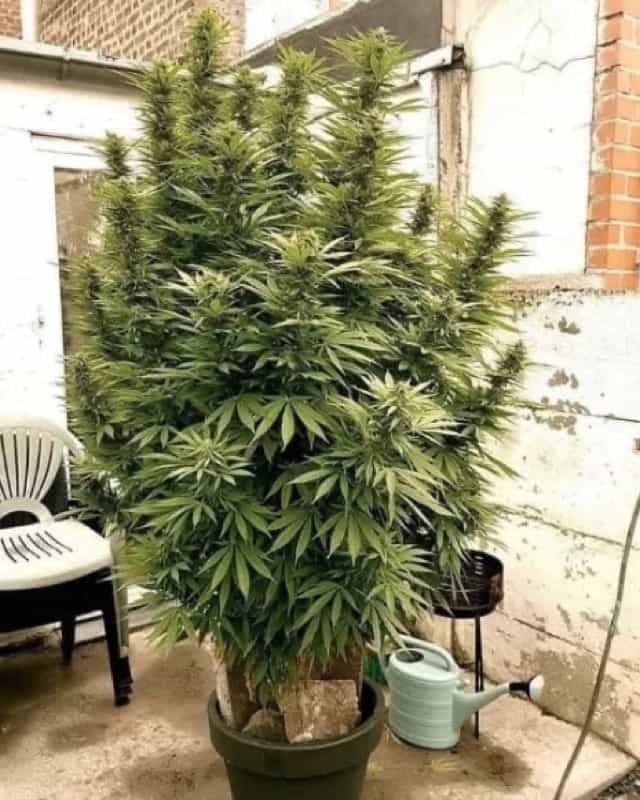 THC-rich Mamba Negra feminized growing outdoors in a 25L pot.
The Mamba Negra tails are robust and dense. For this reason, we advise you to keep the side arms somewhat open to allow efficient air circulation throughout the plant. This variety is available in the form of a high-THC feminized variety as well. Its feminized version is rich in CBD and CBG, making it a completely medicinal edition. On the other hand, for fans of autoflowering strains, Blimburn Seeds Bank has the version that is high in THC and its version that is rich in CBD. Therefore, there are different possibilities for you to have the best harvests of Mamba Negra, collected directly from your yard.
Remember that these genetics are easy to grow without problems, making it perfect for beginner growers to produce a good harvest with buds full of resin. If you like to be screwed to the sofa, Mamba Negra will provide that in each puff. The crops you collect will without a doubt take you on a unique and special trip with its earthy and sweet aromas that amaze gardeners from all over the world.
Want to grow the most productive genetics in your garden? What are you waiting for? Do not forget that a healthy plant from rooting to harvest is a more productive plant and a well manicured, mature and cured bud is a more sticky, intense bud with much more defined aromas and flavors. We share these simple tips with you so that you can put them into practice to achieve great harvests in your next crop. See you on the next blog!