Choosing the right strain is definitely one of the most important aspects and some growers, especially new ones, can get lost among the different cannabis genetics available on the market. For this reason, we are sharing this guide to teach you everything you need to know to choose the best variety for your indoor or outdoor crop.
Also, it is worth noting that according to the taste of each gardener, you can grow strains of weed that are autoflowering, feminized, regular, or fast version. This will depend on the requirements of the cannabis grower and also on the conditions of its cultivation. Thus, we can point out that for gardeners of outdoor crops seeking large harvests, it is best to grow feminized cannabis varieties. If the growing season is short in your area, you can use a Fast Version or Fast Blooming strain with which you can obtain abundant and powerful harvests much faster.
On the other hand, if you are a hunter of marijuana genetics, you can use regular cannabis seeds in which you will observe the birth of female and male plants. You can also extract pollen from the males to be able to make new crosses and obtain other strains of weed that are made with your own hands at home. If you have little space to grow either indoors or outdoors or if the growing season outside is very short and you want super fast harvests, you will have to grow autoflowering genetics which can usually be harvested after a cycle of 8 to 10 weeks of cultivation.
Indoor or outdoor cultivation?
Making the decision to grow indoors or outdoors will depend on the space you have and its conditions. If you are looking for the easiest way, indoor cultivation should be the least complicated because this type of cultivation allows you to have much more control over the environment in which your plants grow. However, it does have its drawbacks such as the initial installation cost that includes fundamental inputs such as ventilation and lighting systems which also face the costs of electricity consumption.
Now, if you decide to grow indoors, you might want to choose a strain with mostly indica genetics because their compact size and ease of cultivation make them much more suitable for novice gardeners and experts appreciate how easy they are to grow. These strains stand out in flowering for how fast they bloom and the heavy harvests they deliver.
On the other side, we tell you that certain strains are better adapted to outdoor cultivation such as genetics originating from areas such as Afghanistan, Pakistan, or from equatorial areas which usually show high resistance for outdoor cultivation. However, we must not forget the modern hybrid varieties that also stand out for their great qualities such as high production, great levels of THC, and good resistance for outdoor cultivation.
Bubba Gift
Bubba's Gift is a perfect weed strain thanks to the crossing of two extremely popular plants: Bubba Kush and God's Gift. This cross delivers THC levels of 17-20%. Its potency produces effects of strong relaxation and a slight body high that acts on the mind, stimulating your creativity. This is combined with its sweet and fruity flavor with notes of diesel and a spicy aftertaste.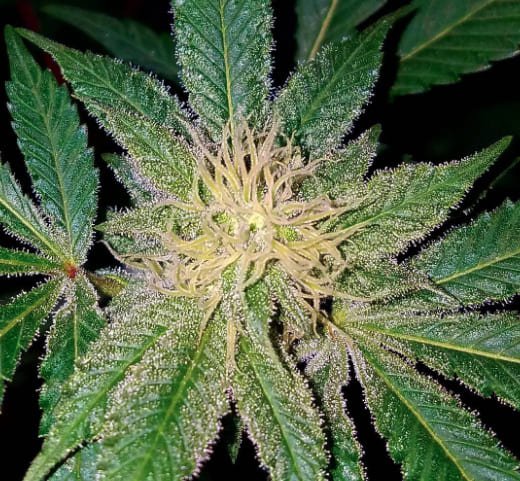 As it matures in flowering which lasts only 7 weeks, the buds are covered with an intense resin. The speed of flowering makes Bubba Gift a perfect cannabis strain for outdoor cultivation in places with short summers. You can grow these genetics in places with very humid climates, but you must be careful with fungi that can damage the harvest which is typically between 1.31-1.97 g/ft2 indoors and for outdoor growers, it delivers 35-105 oz/plant.
Amnesia Blue Headband
Amnesia Blue Head Band are feminized weed seeds with a mostly sativa tendency that you can grow indoors using cultivation techniques such as SCROG. Outdoors, you can use LST and pruning, to multiply its arms and also to control the large size can reach. In terms of yield, between 1.47-1.64 oz/ft2 can be achieved indoors and around 17 oz/plant for outdoor gardeners, producing dense, round, or oval-shaped buds.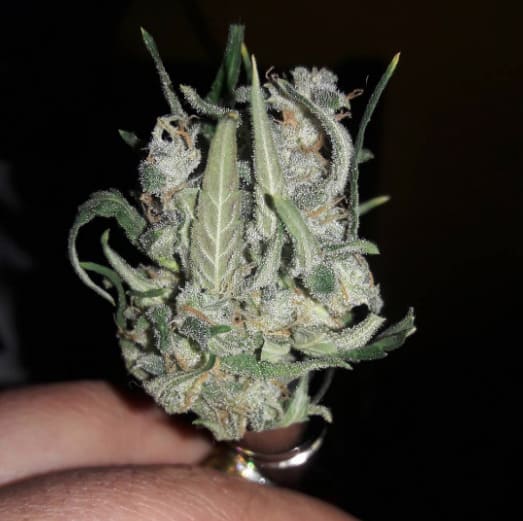 Amnesia Blue Head Band is perfect for outdoor crops in Mediterranean-type climates or rather, with long growing seasons, high temperatures, and low humidity. In addition, the potency of the Amnesia Blue Headband buds is between 17%-20% THC, generating sensations of happiness on a mental level with a soft body relaxation and a lot of calmness. The above is combined with its sweet flavors which have earthy notes and a refreshing lemon aftertaste, standing out in each smoke.
Feminized, Regular, or Fast Version?
Many gardeners also wonder whether to select feminized, regular, or fast version seeds in their crops. Here, we want to clarify that this choice will depend on what each gardener wants. If you want a fast and abundant harvest, the best choice would be the Fast Version varieties. On the other hand, if you have more time to cultivate, you can breed feminized genetics in your garden. If your thing is the selection of parents for the creation of new genetics and you also have extensive growing seasons or an indoor space where you can keep females and males, we recommend regular weed strains because you can develop new and amazing cannabis genetics with them.
Lava Cake
Lava Cake has been one of the most demanded marijuana seeds in the United States because its rich flavor stands out and tastes like vanilla with spicy notes of pepper and a refreshing aftertaste of mint. This strain of weed is mostly indica and produces a powerful and relaxing effect with a smooth and happy trip that is accentuated thanks to its THC levels that are between 20%-22%.
If you want a fast flowering variety both indoors and outdoors, Lava Cake is the one for you as it only takes 8-9 weeks to produce great yields between 1.47-1.64 oz/ft2 for both indoor and outdoor breeders. Sometimes, this is up to 7-17 oz/plant for outdoor gardeners. In addition, Lava Cake is a perfect weed strain for new growers as it does not present major problems or have strict requirements in cultivation.
Triangle Kush Regular
Triangle Kush, sister of OG Kush, is an old school indica cannabis strain from South Florida. Its name comes from the triangle formed by Tampa, Jacksonville, and Miami, the 3 giants of cannabis production in Florida. When you smoke Triangle Kush, its lemon flavor is evident and is combined with earthy notes and aftertastes of pine and herbs.
THC levels range from 21%-23%, producing blissful effects that relax the body and activate the mind with every smoke. Also, she produces incredible yields of 1.31-1.64 oz/ft2 when grown indoors and outdoors, you should expect yields of 15-19 oz/plant which is completely insane.
Jack Herer Fast Version
Jack Herer Fast Version needs no introduction, however, we tell you that it is a plant with a vigorous structure of medium height that will surprise you with abundant buds, delivering harvests of 28-35 oz/plant outdoors and 1.31 oz/ft2 if growing indoors. In addition, the buds are aromatic and tasty, giving off flavors of lemon, pine, and skunk and filled with trichomes.
Due to its rapid flowering of 49 days, you can plant it both indoors and outdoors. However, it is intended for outdoor growers with short growing seasons. The potency of this strain is between 15%-20% THC and it produces energetic effects that leave you focused and full of creativity.
CBD-Rich Cannabis Seeds
We highlight these varieties because CBD has great medicinal value, not only thanks to its multiple properties but also because it allows those who do not tolerate THC well to benefit from cannabis. Today, many studies have shown that this cannabinoid is effective in fighting different diseases such as stress, inflammation, aches and pains, among other health problems. Now, it is our turn to show you some great CBD-rich cannabis seeds that all have THC:CBD ratios with the most common ratios being 1:1 and 1:25.
CBD Cream & Cheese (1:1)
CBD Cream & Cheese (1:1) is a cannabis strain that has a part of CBD that is equal to its part of THC which is called 1:1. This variety is mostly sativa and contains CBD levels of 18%-22% while maintaining the same THC levels. CBD Cream and Cheese (1:1) are cannabis seeds that help medical cannabis users who suffer from arthritis, chronic pain, and also insomnia. This strain produces effects that stimulate your social life and bring feelings of relaxation and states of happiness.
CBD Cream and Cheese (1:1) produces heavy yields in a flowering period of 8-10 weeks with harvests that are between 1.4-2.1 oz/ft2 indoors and 21-28 oz/plant outdoors. In other words, you collect large amounts of buds of a great caliber and very good weight. On the other hand, the flavor of this variety is cheese with sweet notes that permeate your nose and throat with each puff of smoke.
CBD Harlequin (1:25)
CBD Harlequin (1:25) is another type of medicinal weed seed that develop plants that contain a part of THC and 25 of CBD which is why it is widely recommended for users suffering from health problems related to muscle spasms, stress, and fatigue. This medicinal cannabis strain has surprising CBD levels that are between 20%-25% and very low THC ratios that are between 3%-6%. Therefore, it usually causes happy effects that are combined with a delicious relaxation and whet the appetite of users.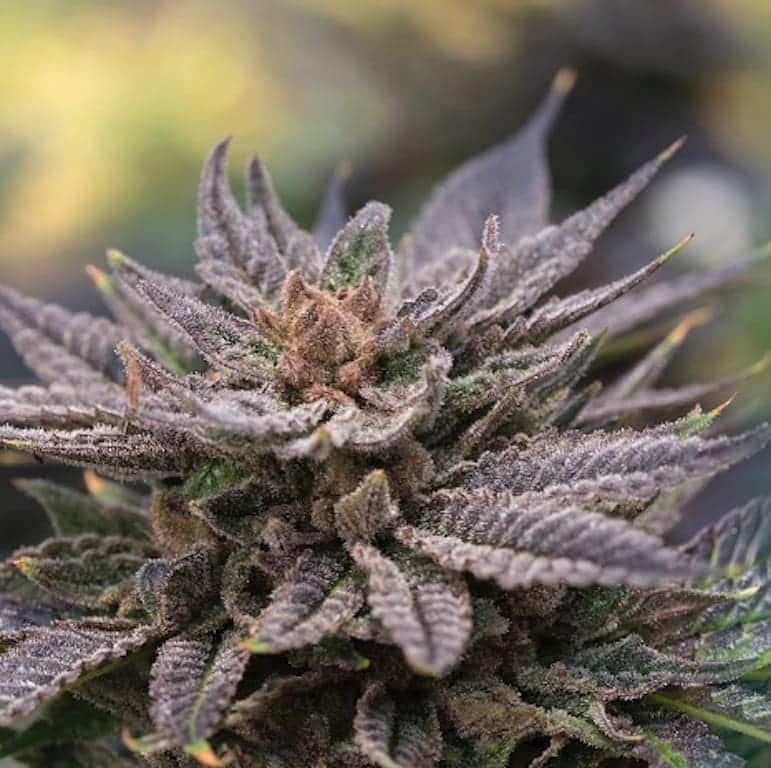 Harlequin CBD plants (1:25) produce 1.31-1.64 oz/ft2 indoors and 17-19 oz/plant outdoors of buds which is considered to be a very heavy harvest in a short flowering time. This strain is very easy to grow, making it suitable for novice breeders. The incredible buds are used by medicinal users to make extracts, oils, and other types of medicines with which they can treat their diseases. These cannabis strains also have the advantage of having exquisite flavors as they give off aftertastes of citrus fruits with notes of orange.
Best autoflowering cannabis seeds
Autoflowering cannabis seeds today are the favorites of many growers because they flower in short periods of time, regardless of the hours of light they receive and their life cycle is between 60 and 80 days from germination to harvest. These weed varieties are ideal for quick harvests outdoors while your photoperiod plants go through their necessary growth and flowering cycles. Therefore, they are recommended for people who grow in places where the season is very short or who use indoor cultivation systems and want to maximize cultivation times.
Now, many cannabis breeders wonder what kind of autoflowering weed seeds to buy for their next crop. For this reason, we are going to show you a few different genetics that we have selected according to their production, size, effects, flavors, and aromas so that you can find what you are looking for in your next crop.
Purple Haze Auto
This strain called Purple Haze Auto is mostly sativa-leaning and has THC levels of 14%-16%. It is powerful enough for novice users and sure to surprise even the most expert growers as it tends to cover itself with an intense white resin and emanates sweet and intense smells. In addition, it is an easy genetic to grow, especially when it has more aerated substrates. For this reason, you can add extra cocoa to the land to ensure that the roots expand well and the plant grows in a healthy way.
Outdoor growers will get up to 5 oz/plant and indoors, you can expect 1.15 to 1.64 oz/ft2 of buds with sweet flavors with hints of berry and earthy, spicy, and tropical aftertastes. If you are looking for extra energy, Purple Haze Auto will give you that share of vitality that you are seeking and make you feel feelings of happiness and joy that will bring a beautiful smile to your face and those of your friends.
Super Skunk Auto
We selected Super Skunk Auto in these recommendations because in addition to being a classic weed genetic, it is also easy to grow which is perfect for novice breeders. Most importantly, it delivers great harvests outdoors, reaching 7 oz/plant and indoors, you can get 1.47 oz/ft2 of buds that give off a strong Skunk aroma, especially when the plant is in its maturation phase.
On the other hand, the potency is between 17%-19% THC and helps people suffering from pain, arthritis, and insomnia. Super Skunk Auto produces effects that keep you calm, relaxed, and at the same time, bring feelings of happiness. This makes it an ideal genetic to use during the day while completing the tasks of the day.
Now you know all of the ways in which you can select cannabis seeds for your next crop. Do not get carried away about the price of the weed seeds you want to buy. It is also important to analyze other factors such as those described in this guide which will surely be of great help to you. We will see you on the next blog and remember that at Blimburn Seeds, you can buy all of these seeds with guaranteed quality from our marijuana seed bank that is 20 years old.