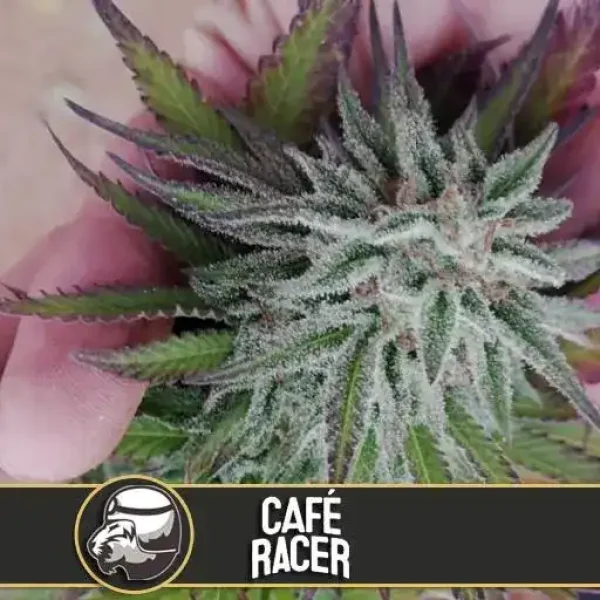 The crossing of two of our selected Best Sellers in Oakland gives us a truly an amazing plant.
| | |
| --- | --- |
| THC | |
| THC % | 25% |
| CBD | |
| CBD % | 0.3% |
| Lineage | Grandaddy Purple x GSC |
| Type of Seed | |
| Genetic | |
| Yield | Medium Yield |
| Yield Indoor | 1.15 – 1.47 oz/ft² | 350 – 450 gr/m² |
| Yield Outdoor | 24 – 28 oz/plant | 700 – 800 gr/plant |
| Height | 6.23 ft | 1.9 m |
| Flowering Time | 8 – 10 weeks |
| Harvest Month | All Season |
| Beginner | For Beginners |
| Medical | |
| Effects | |
| Flavor | |
Cafe Racer Sativa Marijuana Seeds
Enjoy a unique experience when you purchase Cafe Racer Hybrid marijuana weed seeds from Blimburn Seeds Bank. It is one of the best-selling Hybrid strains in the United States. Our seeds are fresh and ready to germinate. Follow our Germination guide for best results! Also, Cafe Racer has a genuine story that honors all those rebellious adventurers who are born with good ideas and who should not stop fighting to achieve their dreams. You can read more about this story in our post Why Cafe Racer Strains Born in Blimburn Seeds Bank
Origins of Cafe Racer Sativa Cannabis Seeds
The origin of Café Racer's feminized seeds comes from a cross between Grandaddy Purple, one of the most popular Indica strains on the West Coast and perhaps the best known purple cannabis strain in the United States, with Girl Scout Cookies, one of California's most popular strains that has won awards from the Cannabis Cup USA for its extraordinary taste, ease of smoking, and long-lasting high on the mind and body.
Growing Cafe Racer Sativa marijuana strains
One look at Café Racer and you will see nothing but trichomes. The buds are a darker green color accompanied by shades of purple and dark orange pistils.
From its first days, it is a plant that grows vigorous and leafy, reaching one meter in height indoors and two meters outdoors. This plant is easy to grow by novice hands.  This strain's harvest will be ready by the end of September.
For optimal indoor cultivation, Blimburn Seeds Bank advises wide, vertical spaces and the use of the ScrOG method to obtain a uniform plane and increase the size of the lower flowers. Our feminized seeds develop perfectly in soils with rich nutrients or hydroponic systems, reaching 20% more production.
If you plan to grow our feminized seeds outdoors, we have developed a grow guide for optimal cultivation in any area of the world.
Cafe Racer Sativa Weed Flavors and Effects
The flavor also resembles that of Grandaddy Purple with a hint of grape comparable to watered down Welch's frozen grape juice to the point where the grape juice has turned pink. There is also a hint of OG Kush in the taste, which is certainly not as overpowering as some varieties, but it can be said that an earthy, yet sweet flavor is especially present.
Its effects are rapid, quickly fading muscle tension and bringing you a slight euphoria and creative energy bursts.
FIND CAFE RACER ON:
Final Thoughts
So, you have chosen to grow some Cafe Racer Sativa marijuana seeds of your own? The crossing of two of our selected Best Sellers in Oakland gives us a truly an amazing plant. Now you just need to know where to buy weed seeds online Cafe Racer Sativa. The answer to that quandary is simple. Blimburn Seeds is the most trusted online resource for the highest-quality weed seeds you'll find anywhere in the world. Our talented pool of seed genetic specialists work day in and day out to bring you the best possible cannabis seeds in nearly every strain known to man. We back all of our seeds with our industry-leading germination guarantee. Our friendly customer care team is just a quick call away or you can visit our online cannabis seed bank by clicking any of the links above. At Blimburn Seeds Bank Store, we are as passionate about home-grown cannabis as you are. We look forward to helping novice growers get started and join experienced cultivators in achieving better crops with better strains!
I have recently planted the cafe racer strain seeds I purchased from you and I found them to be easily germinated and, now they are coming up nicely
! I'm looking forward to harvest time for these plants.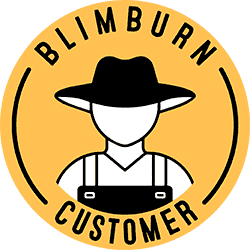 So excited to plant this year.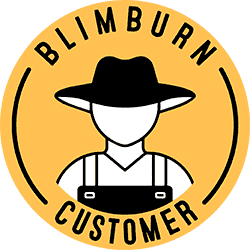 Awesome seeds,every single one germinated!!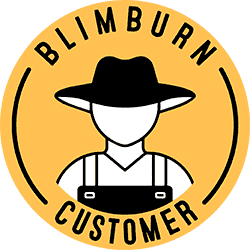 Write a review and get 15 blimcoins