An investigation of longitudinal data from the National Epidemiological Study of Alcohol Use and Related Disorders examined associations between marijuana use, anxiety and mood disorders, and drug-use disorders. After adjustment for several confounding variables, no connection was found between marijuana use and anxiety and mood disorders. The only significant associations were increased risk of alcohol-use disorders, nicotine dependence, marijuana-use disorder, and other drug-use disorders.
As mentioned, marijuana is the most commonly used illicit drug in the world and despite clinical reports on its effect on behavior, the evolution of psychiatric pathology comorbid, and laboratory findings on its effect on the area's brain responsible for the search for substances (craving areas), the perception remains between the general population that the substance is relatively harmless compared to other drugs of abuse. This perception is particularly important among adolescents and young adults.
The importance of the AKT1 gene
Recent research (see "Psychoses and AKT1 Gene Variations") has found that people who use marijuana and have a specific variant of the AKT1 gene (which encodes an enzyme that affects dopamine signaling in the striatum) are at increased risk of developing psychosis. The striatum is the part of the brain that is activated and flooded with dopamine in the presence of certain stimuli. One study found that the risk of psychosis among those with this variant was seven times higher for those who used marijuana daily compared to those who used it sparingly or not at all.
Whether marijuana use during adolescence can contribute to psychosis later in adulthood seems to depend on whether a person already has a genetic predisposition for the disorder. The AKT1 gene governs an enzyme that affects brain signals related to the neurotransmitter dopamine. Altered dopamine signals are known to play a role in schizophrenia. AKT1 can take one of three forms in a specific region of the gene that is involved in predisposing to schizophrenia: T/T, C/T, and C/C. People who use marijuana every day (gray-green bars) and have the C/C variant have a seven times greater risk of suffering from psychosis than those who use the drug infrequently or not at all. The risk of psychosis among those with the T/T variant was not affected by marijuana use.
What is the relationship between cannabis and schizophrenia?
In the study carried out by Alba Uriz Garralda at the Public University of Navarra, Spain, which consists of a bibliographic review, the following conclusions have been obtained regarding this subject.
1) There is a high prevalence of cannabis users among patients diagnosed with schizophrenia. Although, not all people who consume cannabis have schizophrenia and not all people with schizophrenia consume cannabis.
2) It has been shown that cannabis use has a negative impact on the age of the onset of psychosis, bringing it forward. Although, it is not clear whether it is a causal element, precipitant, or even if it is part of the symptoms of prodromal risk of a future schizophrenia spectrum disorder.
3) In people with schizophrenia, cannabis use worsens the prognosis of the disease and exacerbates its positive symptoms, such as hallucinations or delusions.
4) Regarding the negative symptoms of schizophrenia such as apathy, insulation, etc., the general lines point to an improvement with the use of this drug, although this is one of the points that generate the most controversy.
5) It is ruled out that cannabis use is motivated as a palliative method of the secondary effects of the antipsychotic drugs used in the treatment of people with schizophrenia.
6) In the dual patients we are talking about, that is, patients with schizophrenia and cannabis use, the number of relapses and hospital admissions for psychiatric reasons is less, but there is also less therapeutic adherence in this group.
High THC level and psychosis
A study published in "The Lancet Psychiatry" shows that using marijuana frequently and especially using high-potency cannabis increases the chances of having a psychotic episode. The researchers that were a part of the study define high-potency cannabis as products with more than 10 percent tetrahydrocannabinol, or THC, the compound responsible for the drug's psychoactive effects.
Some cities that were part of the study are London, Paris, and Amsterdam where high-potency weed is more commonly available. These places actually have higher rates of new cases of psychosis than the other cities in the study. Psychosis due to continuous use of high-potency cannabis was diagnosed in 901 people between the ages of 18 and 64 between May 2010 and April 2015. Each of these cases were in mental health centers in 11 cities including London, Paris, Amsterdam, Barcelona, ​​other cities in Europe, and one site in Brazil.
The researchers then asked affected people and a control group of more than 1,200 healthy people about their habits, including marijuana use. Marta Di Forti, a psychiatrist and clinical scientist at King's College London and part of the research team, says "we asked people if they used cannabis, when they started using it, and what type of cannabis."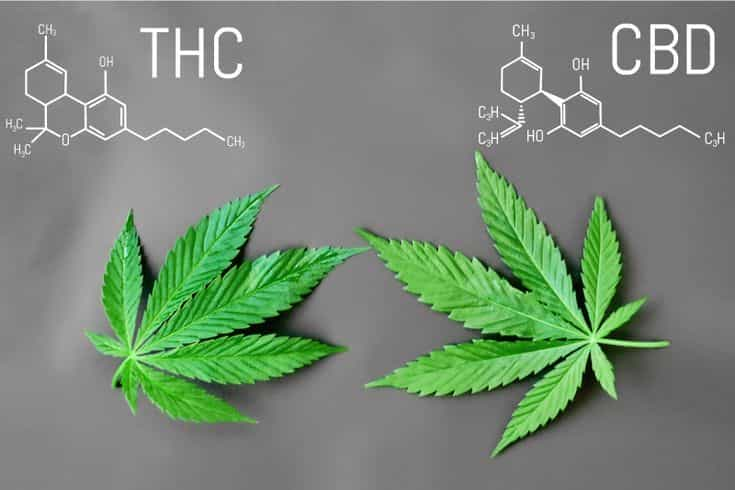 Scientist Di Forti notes that using high-potency weed nearly doubled the odds of having psychosis compared to someone who had never smoked weed. For people who used high-potency marijuana on a daily basis, the risk of psychosis was even higher; four times higher than for those who had never used it.
Despite what we have said here, there are some scientists who are skeptical of these claims. For example, Dr. Diana Martínez, a psychiatrist and addiction researcher at Columbia University, argues that: "It cannot be said that cannabis causes psychosis." "It's just not backed by the data," he says.
In addition, the researcher warns that "in all psychotic disorders, there is this hypothesis of multiple success." Many factors influence whether and how these disorders manifest. Genetics is known to play a role as do a number of environmental factors. For example: "children who are at risk of schizophrenia but grow up in stable homes may not develop schizophrenia," the researcher states.
Alternatives to high potency THC
While recent studies show that high-potency cannabis is increasingly dominating markets, causing the average potency of the herb in Europe and the US in 2017 to double to 17.1 percent compared to 8.9 percent in 2008. Some products can be even more powerful. We can mention that in the Netherlands, cannabis extracts such as the so-called "Dutch resin" have shown samples with up to 67 percent THC.
If you don't want to have problems due to the consumption of high-potency cannabis or you don't even want to expose yourself to this type of mental problem, then pay attention. Here, we are going to recommend the main genetics that contain low levels of THC and will not generate mental damage.
Fruit Auto
First of all, we want to highlight that the THC levels of Fruit Auto are low and only reach between 8%-10%. Also, the CBD ranges are high, between 7%-8%. This is coupled with a super short growing season that only takes 8-9 weeks from seed to harvest.
Other important qualities of this strain are the effects it produces which are characterized as creative and relaxed. We rule out that it is a strain that generates paranoia which is very positive. Also, the flavors of the buds of Fruit Auto weed plants stand out as sweet with fruity notes and tropical touches.
Now, if we talk about the harvests, we guarantee that in a SOG-type indoor crop, you will obtain between 400-600 gr/m2, maximizing the grams harvested in each plant. On the other hand, if you grow outdoors, you will obtain between 100-200 gr/plant and will be able to apply cultivation techniques such as LST or a SOG in your outdoor cultivation of these autoflowering cannabis seeds.
Shiskaberry x Candida Fast Version CBD
This genetic cross that is rich in CBD called Shiskaberry x Candida Fast Version CBD will not cause the psychoactive effects of high THC varieties because the levels of this compound are very low, reaching only between 4%- 8%. On the contrary, the levels of CBD in these cannabis seeds are high, between 12%-16%, producing a smooth relaxation with slight levels of euphoria and improving the mood of its users.
An advantage of this strain of weed is that as a Fast Version, its flowering is shorter and only takes between 6-7 weeks from the appearance of the first pistils to harvest, producing compact and hard buds. The weed plants of this strain appreciate the application of cultivation techniques such as pruning, whether apical or FIM, with which you will be able to increase the number of arms and also the production.
Shishkaberry x Candida Fast Version can be grown both indoors and outdoors and you can get great harvests because they are cannabis plants that are easy to grow. For example, an outdoor grower can obtain between 450-550 gr/plant of buds, the same amount as an indoor grower. Therefore, these plants give you guaranteed heavy yields.
Mamba Negra CBG
This CBG version of our classic Black Mamba is a feminized cannabis seed variety that is photo dependent and has 0% THC. This strain is rich in CBG with levels of 10%-13%, therefore, it is not a variety psychoactive. The effects are cerebral and run through your entire mind, generating a great relaxation that is very bearable and allows you to do everyday things in a very focused way. In addition, it also highlights flavors that are rather earthy.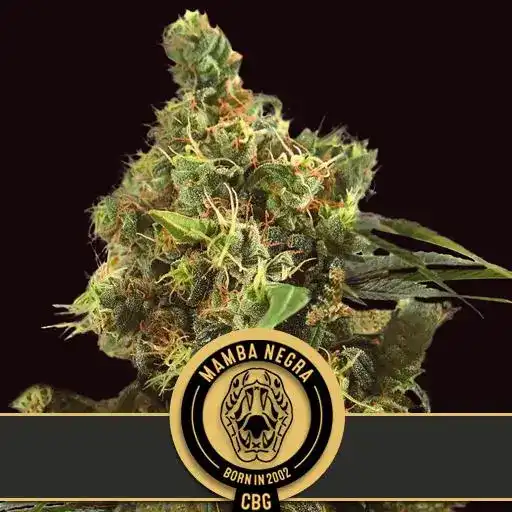 This variety of medical cannabis is easy to grow and its flowering period is very short, only lasting between 50-55 days from pre-flowering to harvest. The weed seed of Mamba Negra CBG is mostly indica, just like its original mother, and delivers huge yields of 300-400 gr/plant for outdoor or greenhouse crops and around 300 gr/m2 for gardeners who grow it indoors.
You can apply apical and FIM pruning to this mostly indica strain. It is recommended to clean the lower part of the plant to remove excess branches and leaves and thus enhance the buds that are produced at the top of the branches. With a good opening of the lateral branches, you can enhance the growth and flowering of the arms, making them fill with buds which will tend to be compact and are covered with resin when they mature.
Tangie Auto
Tangie Auto joins this list as it is a low-THC weed strain that only contains between 8%-14% of the psychoactive component of cannabis, so its effects will not hit you hard as they can with varieties that are high in THC. Another point to highlight is the exquisite flavor of this weed genetics that contains fruity tastes with orange notes and also lemon aftertastes, giving each puff an exquisite experience on the palate.
When we talk about speed, we can say that Tangie Auto takes between 75-80 days from seed to harvest, producing buds full of the very fragrant resin. If you want to stimulate the resin of this cannabis strain, you can expose it to temperatures a little lower than normal. As a defense, it will begin to produce trichomes which will fill the plant in its leaves and mainly in its buds, something that every gardener wants.
Maximize Tangie Auto crops by growing it indoors. You can get good yields of 350-400 gr/m2, especially if you apply cultivation techniques such as 100% organic feeding, enhancing the substrate with nutrients in solid state and with liquid nutrients. If you grow outdoors, you will obtain 80-100 gr/plant and it is ideal to grow Tangie Auto from mid-spring to take advantage of summer with its high temperatures and long days of light for the flowering season when the Cannabis plants require large amounts of sun.