We know that Canada has a long cannabis history and that is why we don't want to miss this opportunity to introduce you to the most popular cannabis strains among growers and users of weed in the northern country. In this selection that we have made by following the main trends in the world of weed in Canada, you will find a wide variety of strains that stand out for different reasons.
Some of those reasons include the following: how easy these plants are to grow, their super fragrant aromas, and the intense or easygoing effects that their buds produce. We also highlight the strains that produce high amounts of resin that you can obtain and use to make extracts such as rosin, hashis, among others. Without further ado, we are going to get to know these cannabis strains that will surely blow your mind.
Blue cheese
Blue Cheese is a mostly indica feminized cannabis strain that growers and smokers in Canada love because it has the main qualities of two weed legends, Bluebber and UK Cheese. If you are thinking of growing Blue Cheese, we tell you that this variety takes between 8-10 weeks to flower, although it can always finish a little earlier, that is, between 8 and 9 weeks. During this time, it produces crops of between 1.64-1.82 oz. /ft2 indoors, meanwhile outdoor gardeners can pick up 21 oz/plant of buds.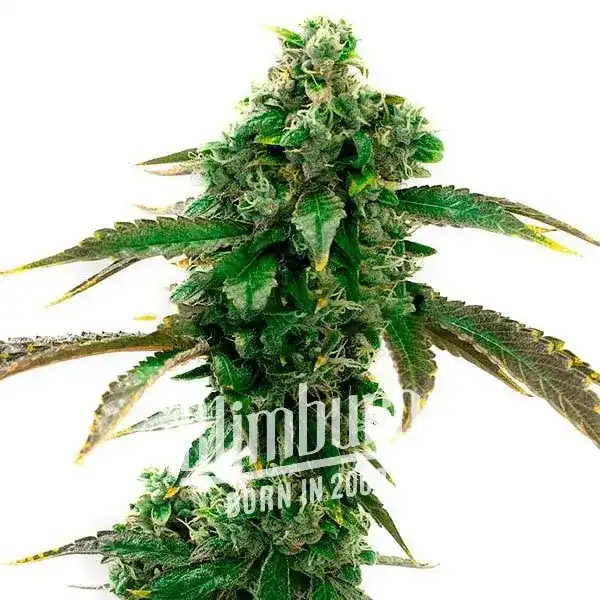 Lovers of powerful strains can be rest assured that Blue Cheese flowers generate between 16%-20% THC with buds that have an unparalleled Berry and Cheese flavor with sweet notes and spicy aftertastes. Also, the aroma of this appreciated strain stands out a few weeks after it begins to flower and it intensifies as the plant matures. This is due to its Cheese parent that has a very intense aroma. The effect is rather relaxing and is felt both in the body and in the mind, therefore, you have to be careful not to exceed the doses you consume because those dense buds that are covered with a thick layer of trichomes can tempt you to go beyond the limits of your body and mind.
Lamb's bread
Lamb's Bread, also known as Lamb's Breath, is much loved by growers in Canada for its sticky, greenish characteristics. These feminized cannabis seeds of this mostly sativa strain, originate from Jamaica and are noted for their potency. Lamb's Bread plants produce THC levels of 16 to 21% and its effects are manifested with a good relaxation and feelings of happiness and some euphoria.
The Lamb's Bread variety is said to have a citrus flavor with herbal notes, earthy aftertastes, and some woody tones. Regarding its aroma, we can tell you that it emits a strong herbal, earthy, and citrus aroma. This weed strain is recognized among users for its anti-inflammatory benefits. Lamb's Bread needs 8-10 weeks to flower and outdoor gardeners should wait until early October to harvest. You will collect 1.31 oz/ft2 of buds indoors, using SCROG and LST to maximize yields. Outdoors, you get between 25-31 oz/plant of amazing and delicious flowers.
Black Cherry Soda
This delicious weed variety that Blimburn Seeds can buy in feminized cannabis seed format is called Black Cherry Soda precisely because of the cherry flavor with deep notes of strawberry. It is a very sweet variety and also evokes those tropical flavors like some of the candy you ate as a child. These weed seeds are of the hybrid type and are characterized by their incredible bud production outdoors that range from 15-21 oz/plant. Indoors, you can get about 25-30g/ft2 in a flowering time of 8- 10 weeks.
The effects of Black Cherry Soda are very special because this weed induces its users into a trance, generating a total fusion of mind and body without intense sedation and with great euphoria and creativity. Therefore, you are not going to stay screwed to the sofa or in your bed because this marijuana is good for day and night use.
The medicinal side of this variety stands out because it can help people who suffer from insomnia and patients who have eating problems because it stimulates the appetite in a good way. For the cultivation of this variety, it is recommended to make SOG or SCROG indoor and outdoors which maximizes the harvest of the plant. You can also apply pruning to multiply the arms and mold the shape of the Black Cherry Soda plant to the taste of the breeder.
Oreoz
The Oreoz marijuana variety is a very popular strain of weed in Canadian dispensaries. It originated from the cross between Cookies x Cream x Secret Weapo, a mixture of genetics that gives life to a mostly indica strain. The flavors of Oreoz are a combination of vanilla notes, a tobacco aftertaste, and hints of diesel with some sweetness. The above, plays perfectly with its large, dark, and hard buds that are like rocks with a whitish appearance and are full of white resin which reminds us of the famous Oreo chocolate cookies.
This variety stands out for its great harvests that are between 1.15-1.47 oz/ft2 indoors and 14-21 oz/ft2 outdoors, producing a good amount of buds that are characterized by their thick, white layer of resin. It is also known for its attractive dark colors, ranging from purple to black and its THC levels that are between 19%-23%. For this reason, it is perfect for making extractions. In addition, the effects it produces are mental, very creative, active, and produce sensations of happiness that will make you touch the clouds with the tip of your fingers.
MK ULTRA
Another of the varieties that cannot be missing from this list is the famous MK ULTRA which has gained worldwide popularity, especially among the Canadian public who can't stop growing and smoking it. This mostly indica variety is a gem of weed with a small size that branches out in a christmas tree shape as it grows. This makes it perfect for growing indoors or in small spaces. We recommended using the SOG technique to maximize your yields.
After a flowering period of 8-10 weeks, you will be rewarded with 40-50g/ft2 of buds if you grow this plant indoors. Outdoors, you will get 28-35oz/plant of very compact flowers that are full of large amounts of resin crystals that permeate the entire plant, giving it a very bright appearance. The power of MK ULTRA flowers is also striking, ranging from 17%-20% THC which, with their relaxing effect, cause a state of absolute calmness and also help control chronic pain in medicinal users. Do not forget that this variety also has the great flavor of its ancestors with notes of earthy-kush and spicy touches.
Apple and Bananas
Apple and Banana is a variety of feminized seeds of the hybrid type that Blimburn Seeds brings to you so you can have it in your garden. This weed strain originated from the crossing of Platinum Cookies x Grandaddy Purple and a Blue Power male, obtaining a result that was crossed again with a Gelatti selection. In this incredible new generation variety of weed, the aromas of sweet fruits and some spices stand out. It tastes like Bananas and Apples with certain sweet and earthy aftertastes.
This variety is highly appreciated in Canada among fans of the sweetest marijuana and also by those looking for large outdoor crops. The harvests range from 17-21 oz/plant, while an indoor gardener collects between 0.82-1.15oz/ft2 of sticky, resin-filled buds after a flowering cycle of 8-10 weeks. Novice users should beware because the potency is very high, between 23%-30% THC, and is not recommended for novice users because the effects they produce are euphoric and very cheerful and happy which can be overwhelming if you are a new user.
Kush Mints
Kush Mints may be one of the most famous cannabis strains on the Canadian and American cannabis scene today, as it is a cross between two of the most powerful genetics of this era, Animal Mints and Bubba Kush. This strain contains high levels of THC that are between 25%-27% with high power effects that are very energetic at the beginning of the flight and then culminate with a great relaxation, landing little by little. Some of the medicinal qualities of this strain include helping people with depression and insomnia.
The exuberant Kush Mint flowers have flavors that include notes of intense mint with hints of pine and wood. The bouquet can be said to smell just like it tastes. Another great thing about this strain is its yields that are between 45-60g/ft2 indoors with outdoor grows delivering between 19-21oz/plant, a completely colossal yield. This variety is ideal for making a great SOG indoors because you will be able to get the maximum oz of buds with this cultivation technique in your garden. If you grow it outdoors, you will obtain a tree with large arms that are full of buds. You can use supports or lateral meshes to support its weight and further improve its production.
Shishkaberry
Shishkaberry is a mostly indica feminized cannabis seed that is characterized by delivering plants that are short in stature with a very resistant and branched structure. Its growth is very vigorous, producing a large central cola that is well protected by numerous branches. This variety is very easy to grow, making it ideal for beginners with little experience. It stands out for its short flowering period of 8 to 10 weeks, although sometimes it only needs 8 weeks to be harvested. To the above, we can add its high resistance to mold which makes this weed strain a must in any garden, especially if you are a lover of indica genetics.
In flowering, Shishkaberry produces harvests of 1.64-1.97oz/ft2 indoors and 24-28 oz/plant outdoors. We must also highlight that the branches of the plants are loaded with tight and dense buds with a delicious and very aromatic resin. If you want to maximize the harvest of this strain, use LST moorings and try to feed it with organic fertilizers. We recommend using anti-odor filters because its fragrance tends to spread throughout the cultivation area. As you can imagine, Shishkaberry has an intense Berry flavor and its effect is rather creative and relaxing at the end of the flight.
LSD
You are here because you are definitely going to grow at least 1 of the most popular Canadian varieties that we have presented to you. Now, we must share the mythical LSD, a weed with mostly indica genetics that was developed through a Mazar Sherif x Skunk #1 cross. This cross generated a variety of cannabis that offers a relaxing effect with great stimulation to the senses, so it is perfect to consume with friends, offering the most crazy and interesting conversations that you can imagine.
LSD can be grown both indoors where you will obtain 1.97oz/ft2 and outdoors where you can pick heavy yields of 21-28 oz/plant. However, you must control its size with ties on the lateral branches and help it by using supports such as a lateral mesh so that the weight of the buds does not carry the silver down. Indoors, it is ideal to make SOG to maximize the yield by enhancing the flowering of the central bud of the plant and maximize the THC levels which range from 19%-24%. All of this is accompanied by some galactic flavors that mix notes of kush with very sweet touches and aftertastes of skunk.