Skunk, Haze, and Kush are three of the most important varieties in the world of modern cannabis that we love and enjoy every day. These three fundamental strains represent quite different genetics within the cannabis seed family. Each of these strains has its own particular qualities and strengths. In addition, all of them are adored by cannabis connoisseurs. Now, we take a closer look at Haze, Skunk, Kush, the three acclaimed strains and tell you how they have influenced the appearance of new genetics.
Haze, Skunk, and Kush are the fundamental "DNA" of the cannabis family tree and the genetic components of most current cannabis strains. You can buy cannabis seeds here at Blimburn Seeds Bank, either from these genetics or from the other hybrid varieties created from them. In addition, they are genetic lines that are rich in THC, although they have very different characteristics.
Current weed breeders have taken individual elite specimens from each of these families and crossed them with other genetics, generating new hybrids. This has given rise to the appearance of new hybrid varieties that show properties of different parental lines. Heavy cannabis connoisseurs often have their own personal preferences on whether to choose a Kush, Haze, or Skunk strain when growing. Each of these genetics has its own characteristics in both growth and flowering, therefore, they can satisfy some growers more than others.
Main characteristics:
Kush
Kush-type ganja seeds deliver compact, short-branching plants with much less stretch during flowering. They are popular with indoor growers, easy to manage, and provide big yields with compact and dense buds. The high can feel slightly less cerebral than a Haze, possibly with strong physical effects. In general, they produce states of relaxation and in the vast majority of cases, they can leave you screwed to the sofa. In addition, they have a good rating for medicinal users because they help control pain and stimulate appetite, among other medicinal benefits.
Another important point is that its leaves are wide, its stems thick, and its cups grow laterally. Therefore, they tend to widen when flowering begins and expand towards the sides. In turn, Kush plants feature pistils that range in color from bright orange to rusty bronze. It is also worth noting that the abundant trichomes of these flowers appear during the flowering phase, producing aromas of grapes, flowers, diesel, earth, and citrus. The terpenes of this variety create delicious flavors as the smoke passes through the palate.
Generally, the predominant terpene in Kush strains is myrcene which occurs in high levels and acts in synergy with the psychoactive cannabinoid to add an additional element of sleepiness. Kush's mix of elements is perfect when smoked, but also offers a wild ride when consumed with a cannabis edible. Cannabis food preparations with Kush have a magnificent flavor and exert an intense high that lasts for several hours.
Grizzly Purple Kush
Grizzly Purple Kush needs no introduction because its popularity has earned it, conquering the hearts of growers with succulent harvests, ranging from 500gr – 600gr/plant outdoors and 550gr/m2 indoors.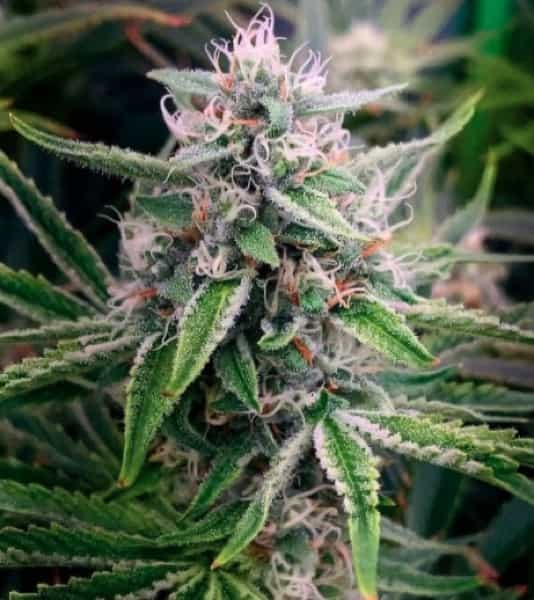 This point is important because the Grizzly Purple Kush buds are compact, hard, and very strong with a dense resin. It must be stated that this variety, due to its sweet flavors and earthy notes are worthy of any strain of the Kush family, is perfect for cannabis extracts such as hashish, wax, or BHO.
Nicole Kush
In recent years, Nicole Kush has stolen the cannabis scene. This mostly indica variety has not left anyone indifferent and has become very popular in a short time, both among novice and experienced gardeners. Also, it is good to mention that this popularity is due to the fact that it is easy to grow and is characterized by its high levels of THC that range from 18% – 25%.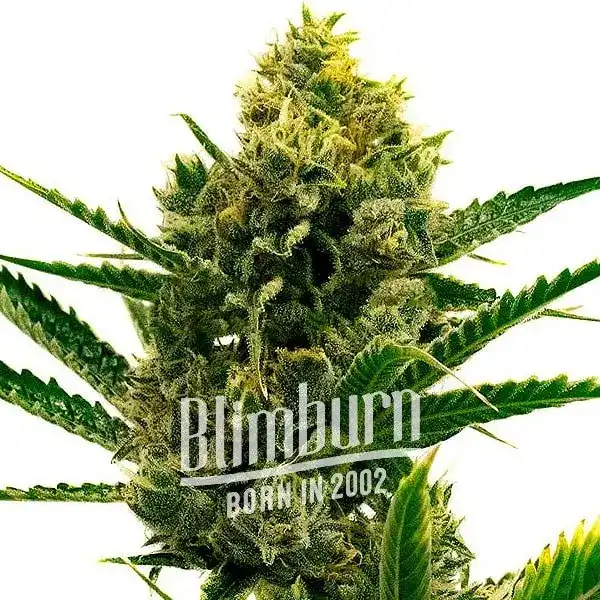 Nicole Kush gives off the classic earthy flavor of Kush genetics and as it is mostly indica, its flowering is short and only takes 7 – 9 weeks indoors. Outdoors, it is ready to be harvested in October.
This strain is extremely resinous and is often used to prepare BHO concentrates and bubble hash. We emphasize that it can be used by medicinal users because the effects of Nicole Kush generate smooth and relaxing sensations of pure magic that help relieve body pain and headaches as well as other diseases, including stress.
Haze
The cannabis seeds of a Haze variety can reach a tall stature and stretch quickly in flowering. This can present certain challenges for the indoor grower and may mean growing methods such as SCROG or SOG are recommended. In addition, the effect of a Haze variety is a high with a psychedelic touch, as it is powerfully psychoactive. For Haze fans, this is the best effect to feel on a big high.
Legend has it that the Haze brothers in California created the Haze hybrid in the 70's, crossing native Mexican and Colombian varieties. After several generations, it is said that they found the "Original Haze", a strain that is characterized by being loaded with sweet terpenes and generating a cerebral and mentally active high which is what its creators were looking for.
That's not all because after that, Sam Skunkman, a friend of the Haze brothers, took some of these seeds of the new genetics to Amsterdam in the 80's and eventually gave them to the famous Australian breeder, Neville Schoenmakers. This grower used them to create the legendary Neville's Haze, famous for its intense high and for the countless awards it has won in different cannabis cups throughout history.
Wombat
An Original Haze x Critical cross gives life to this incredible variety that we have named Wombat because its buds are fat and hairy, just like a Wombat in its natural environment. This variety takes you on a euphoric, cerebral, super social, and energetic trip thanks its mostly sativa tendencies and its flowers that have THC levels between 18% – 20%.
Second, the Critical parent gives all the stability to this strain, allowing the Haze side to be more bearable. For this reason, it is an easy plant to grow. Although it grows tall like a good sativa, it is possible to control it. For outdoor cultivation, we recommend that Wombat be pruned and stretched to prevent its lateral branches from crowding around the central stem and to allow air and light to penetrate effectively.
Neville Haze
As we already told you, Neville Haze is one of the most classic varieties of the Haze family, so it could not be missing from these recommendations. Neville Haze comes from a cross between Northern Lights #5 x Haze with a citrus flavor and Diesel tones. It should be pointed out that its flowering is a little longer, taking up to 100 days indoors. Outdoors, it is ready in mid-November, but you must be careful with autumn rains and low temperatures as well as humidity.
That's not all, because the harvests of this variety reach 1000g/plant outdoors, while indoor gardeners will feel satisfied with the 700g/m2 of buds they can collect. If we talk about the buds, we know that they have super high THC levels that go up to 21%. We do not recommend this strain to novice growers. It is intended for the most expert growers. Be careful with its size and try to always have it under control.
Skunk
Skunk like strains are often noted for their powerful aromas and wonderfully enjoyable highs. Skunk-type plants can stretch a bit more than Kush-type varieties, although they may not be as big as Haze-type plants. Another important feature of Skunk strains is that they have a reputation for being particularly easy to grow and are used for the creation of different genetics due to their great stability and great bud production. As a result, Skunk-type seeds continue to be some of the most popular strains among indoor and outdoor growers as well as greenhouse growers.
Now, if we do a bit of history, we will find that Skunk genetics are usually closely associated with breeder Sam "Skunkman" and a group of Californian gardeners from the 70's who were the pioneers in the creation and preservation of this famous variety that is characterized by its strong aroma and flavor of skunk.
Just like Kush weed and Haze weed, Skunk weed produces a stress-fighting high with its high THC content. Skunk plants, unlike Haze plants, have a shorter flowering time. This makes Skunk feminized seeds particularly popular with home growers looking for an easy grow of fast-flowering, THC-rich weed. Here at Blimburn Seeds, you will find the best feminized, fast version, autoflowering, and regular Skunk cannabis seeds that are ready to be grown in your home, farm, or backyard.
Skunk x Rosetta Stone Fast Version
We present this Skunk x Rosetta Stone x Fast Version cross because it is incredible and should be in every garden both for its flavor and also for the great bud production of the plants. In addition, we tell you that this is a mostly Indica variety that has a compact growth and is characterized by expanding to the sides during the first weeks of flowering.
Due to its compact growth, it is recommended to do some pruning at the ends of the tips in order to stimulate its expansion. On the other hand, it is good to apply some LST technique and stretch its arms. With the LST, you try to open the lateral branches and allow air circulation to avoid the proliferation of pests and help with light penetration to allow more uniform growth.
You can do all of the above with ease since Skunk x Rosetta Stone Fast Version is an easy-to-grow strain that is suitable for novice growers. With this strain, you can harvest 500gr – 550gr/plant outdoors and 400gr – 500gr/m2 indoors of compact, fat, and resinous buds that give off fruity flavors with notes of wood and intense Skunk with 16% – 20% THC.
Mamba Negra
Our Mamba Negra is a real star and gardeners love it because it is easy to grow and produces heavy yields and buds just like the one in the photo. This is due to the fact that it is a Critical x Skunk cross, giving it these characteristics. This beloved strain rewards gardeners with succulent harvests that range from 400gr – 500gr/plant outdoors and reach 500gr/m2 indoors.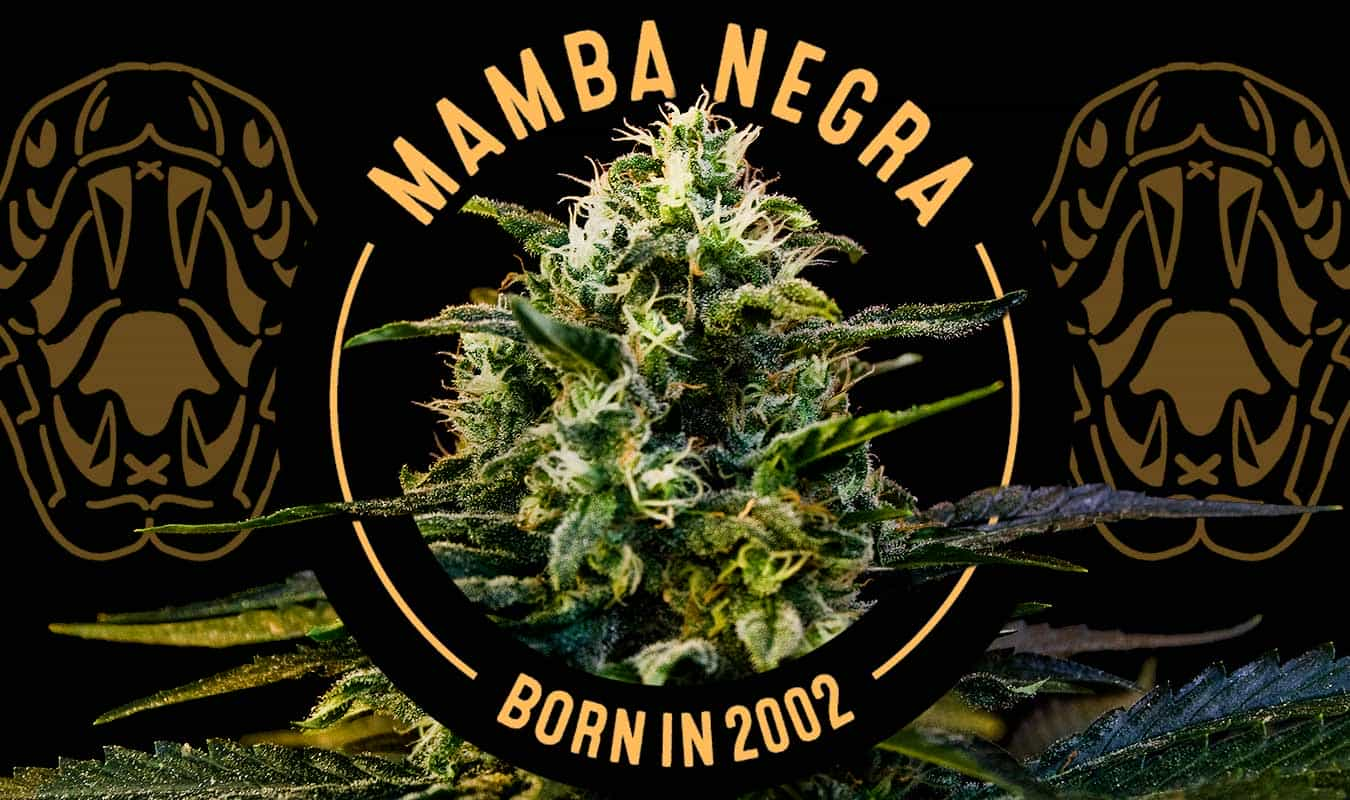 Its short flowering that takes 65 – 70 days indoors stands out. This strain is ready to be harvested outdoors at the end of September. In addition, its effect is cerebral and relaxes your whole body, leaving you glued to the sofa. Do not forget that this girl hits in a good way with the 18% THC that her buds contain. The flavors of her fruits are sweet, fruity, and citrus, creating a great cocktail that leaves a delicious taste in your mouth after each puff.
To grow this strain indoors, you can use 7L to 15L pots to avoid having a plant that occupies all the growing space. However, if you want to have a large crop only of Mamba Negra, cultivation techniques such as SCROG or SOG are the ones intended for this variety because you will be able to maximize your cultivation space and thus obtain the maximum yield with compact, rock-hard buds that are loaded with resin and will surely not let you get up from the couch at home.