Sour Diesel
This classic cannabis strain will undoubtedly push to turn meetings with friends or parties into more epic moments because its energizing and creative effect will make you rise in a big way and will take your ideas to the next level. These results comes from a cross between three mythical genetics, Northern Lights x Skunk x Haze, the union of the holy trinity.
offers great yields of 500gr/m2 indoors and 700gr/plant outdoors with buds that are pure fun and stand out for their citrus, diesel and earthy flavors. This bomb of flavors will explode on your palate!  You can pick the flowers of this sativa after 70 – 75 days of flowering indoors and during October for outdoor gardeners. It is good to note that the potency of Sour Diesel is high with buds ranging from 22% – 25% THC.
Blue Headband
Blue Headband is an indica-dominant strain from a cross between Blueberry x 707 Headband and its THC content ranges from a mild 12% to a potent 18%. It is a variety that acts quickly, first feeling a cerebral high with a great euphoria that is transformed into an intense body relaxation as time passes. This indica strain is known as one of the best mood boosters, which means it should be your favorite weed for parties and get-togethers. However, due to its relaxing body effect, it is best to try small doses to see how you react. If you use too much, the mental euphoria can take over and the bodily relaxation can overwhelm you in the middle of the party.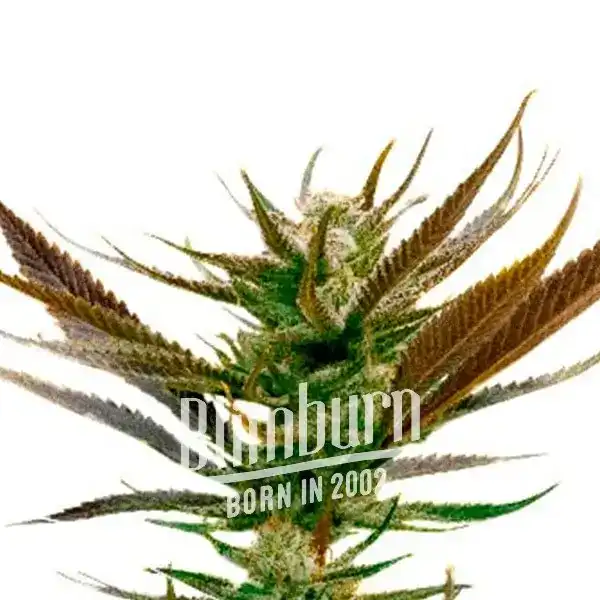 Blue Headband also gives you amazing crops. Outdoors, you can collect 1000gr – 4000gr/plant and indoors, 450gr – 600gr/m2 of incredible buds that will make you float through the air and then leave you lying as if you were on the beach soaking up the sun in absolute relaxation. In addition, you can harvest it in just 9 weeks if it is grown indoors. Outdoor growers only have to wait until October to have those magnificent flowers.
Maracuya
The effects of Maracuya are incredible thanks to its hybrid tendency that is responsible for feelings of happiness, joy, creativity, and relaxation at the end of the trip. That is why we've deemed this variety the queen of the party from beginning to end because it helps you to socialize in an amazing way. In addition, the flavor profile of the buds is remarkable, producing herbal, citrus, and earthy flavors.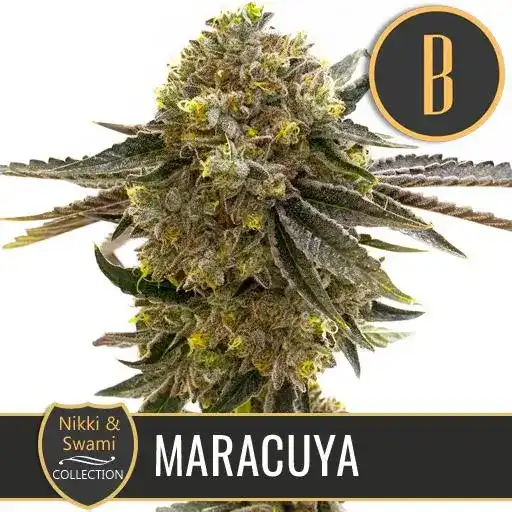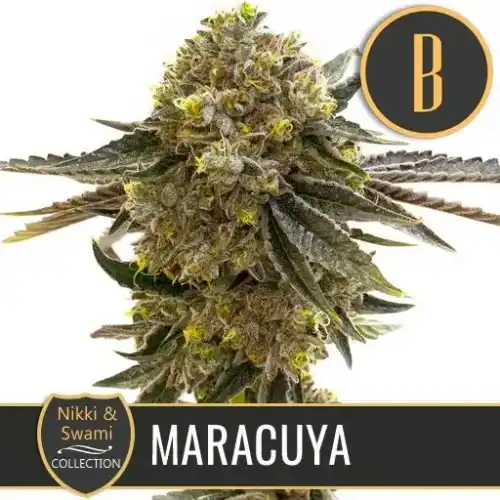 Maracuya is a plant with vigorous and very resistant growth. This strain has been known to lift your spirits and is intended for those who suffer from depression or lack of motivation. The harvests of this hybrid are abundant, producing 600gr/m2 indoors and outdoors for each plant. The harvest can be collected in 8 – 10 weeks of flowering indoors and in October for outdoor gardeners.
Strawberry
Strawberry is an excellent strain for having a good time. Its effect is mental and relaxing, allowing social relationships to flow naturally at events or parties. It is assumed that Strawberry was born in the Netherlands and due to its mostly sativa genetics, it has a THC content between 13% and 18%. This variety stands out for its delicious aroma and flavor. You will feel like you're in a field full of very sweet strawberries because both the aroma and the flavor in each puff will leave sweet fruit in your mouth. Strawberry is also a great strain for those who suffer from anxiety. For the same reason, it is perfect at parties and social gatherings as it will help you to function in a group.
Gardeners looking for premium buds over large production will find this variety to be tremendous. Strawberry delivers crops of 100 – 250 gr/m2 indoors and outdoor breeders will collect 100gr/plant. Flowering is short, lasting 65-70 days indoors, while outdoor farmers should wait only until October.
Chocolopez
Chocolopez is the perfect variety to be the life of the party whether you are the host or a guest. This is a super powerful sativa-dominant strain with 18-20% THC that originated from crossing Cannalope Haze and an exquisite Chocolate Thai. Also, it should be noted that the potency is accompanied by an active and creative cerebral effect that is very stimulating. You can also expect the classic Chocolopez flavors, which are herbal and fruity, providing a mixture of sweetness and refreshing mint.
If you are looking for high production in Chocolopez, you can find it with crops that range from 400gr – 550gr/m2 indoors and 500gr – 600gr/plant outdoors. This plant delivers sensational sativa buds that are ready to be harvested within 65 – 75 days if you grow it indoors, while if you grow it outdoors, you must wait until mid-October to collect its flowers.
Amnesia Fast Version
Amnesia Fast Version is the fast-flowering edition of another mostly sativa and classic strain in the cannabis world that will blow you away at any gathering or party you go to. Its effects are mental and very stimulating, filling you with energy. Those looking for a faster, high-potency plant to accompany them to every party will find just that with Amnesia Fast Version because its THC levels range from 22% – 25%. On the other hand, the production of this variety is incredible because it produces up to 600gr/plant outdoors and between 400gr – 500gr/m2 indoors. You can harvest in September if you grow outdoors and indoors, it only takes 50 – 55 days from flowering.
Green Crack
Creative partygoers and hilarious jokesters should consider Green Crack for their repertoire because this mostly sativa strain is creative, energizing and uplifting. Green Crack produces an intense cerebral high and also a lot of laughs, which is why it is the ideal strain to share with friends at any party or gathering whether you're at the lake or the beach. If you are a fan of big crops, then you should not worry because you can expect between 600gr – 750gr/m2 indoors and 600gr/plant outdoors of buds that will light up your day with that extra energy you need. You can harvest the super fast Green Crack  plants in September if you grow outdoors or in just 50 – 55 days if you grow indoors.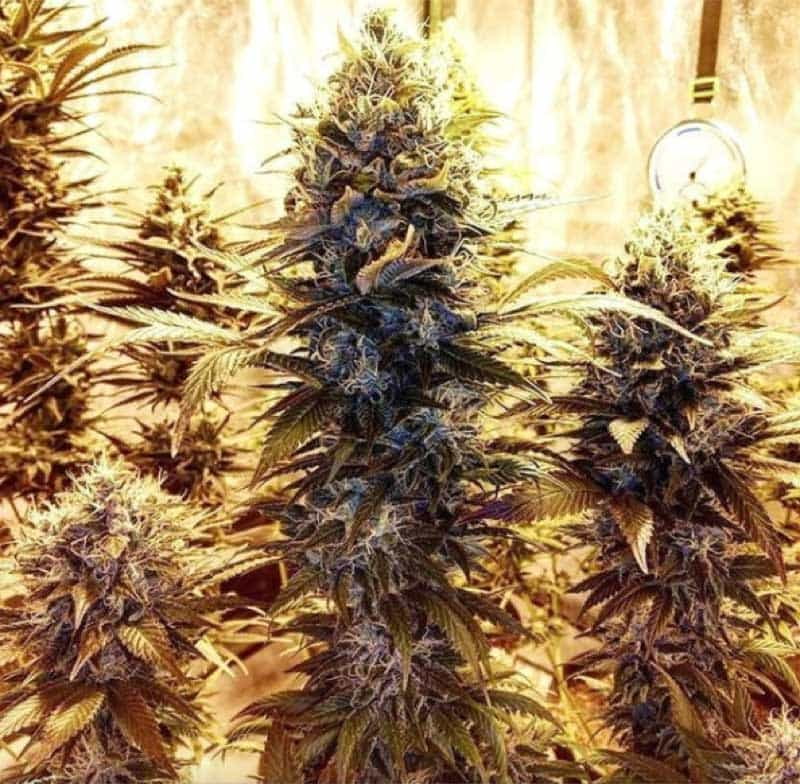 Another highlight of Green Crack is its potency with buds containing 21% THC levels. This strain also comes with delicious flavors such as moist earth and fruits, which give a special touch to each smoke. Do not miss the opportunity and start growing Green Crack! Buy your seeds here at Blimburn Seeds. 
Super Silver Haze Auto
The old school autoflowering version, Super Silver Haze auto, includes a variety of electrical, fast, and stimulating effects that will activate your appetite. We recommend sharing this strain with friends as it can be an energy light at any party or weekend meeting. The Super Silver Haze auto buds grow in good quantities indoors with yields of 250gr – 300gr/plant. On the other hand, if it is grown outdoors, you can expect 120gr – 170gr/m2. The flowers stand out for their flavor of fresh citrus notes with spicy and sweet touches mixed in each puff.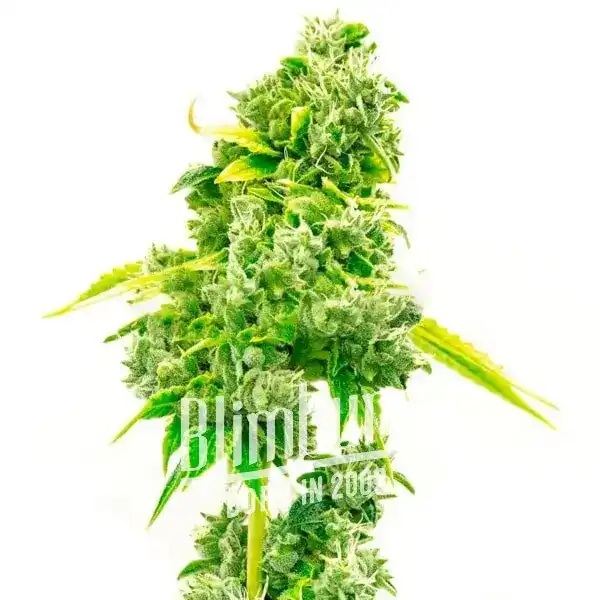 You can harvest Super Silver Haze auto plants after 53 – 63 days of life. It is special to grow in summer in areas with climates that can be cold and humid or cold and hot, since you will not have problems with mold or other types of fungi. Also, you can harvest before the end of the summer season and the fall begins. This plant produces buds that have a potency of 15% – 17% THC, or medium to high potency, which ensures a good high to share with friends.
Tangie Auto
Tangie Auto is the autoflowering version of Tangie, a strain that most partiers fall in love with because its incredible effects help you to make friends. Its effects range from a bearable relaxation to a higher state of mind that encourages a lot of conversation. We highlight that Tangie Auto is easy to grow and produces 350gr – 400gr/m2 indoors, while outdoor growers obtain from 80gr – 100gr/plant. You can pick the buds of Tangie auto after 75 – 80 days. For outdoor gardeners, we recommend growing it in early spring in order to harvest in the middle or late summer.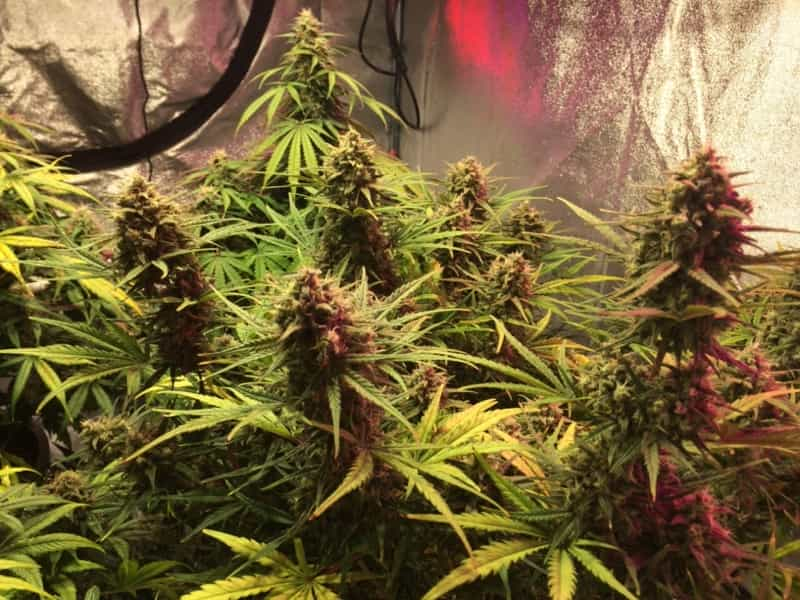 For any event, the flowers of this variety will make you hallucinate due to their incredible orange flavor with notes of lemon and tropical fruit aftertastes. Another important detail is that the potency of Tangie Auto ranges from 8% – 14% THC, making the effects of this variety super bearable and special for unique moments, eliminating worries.
Cinderella99 x Blueberry Fast Version
On days when you feel discouraged or unmotivated and have to meet up with friends or attend a party, you can count on Cinderella99 x Blueberry Fast Version because its effects lift your spirits and motivate you to take on the tasks of the day. As a good Fast Version variety, these genetics are very fast both in growth and in flowering. It only takes 49 days to grow its buds indoors, managing to produce 350gr – 400gr/m2. Outdoor gardeners can harvest it at the end of September or beginning of October, harvesting flowers in quantities of 450gr – 500gr/plant. In addition to its energizing effects and the great harvests of this variety, it should be noted that the potency is 15% – 20% THC and its flowers have delicious, sweet, and berry flavors. In short, this more sativa strain cannot be missing at a party as it will raise the spirits and vibes of the attendees to extra-planetary levels.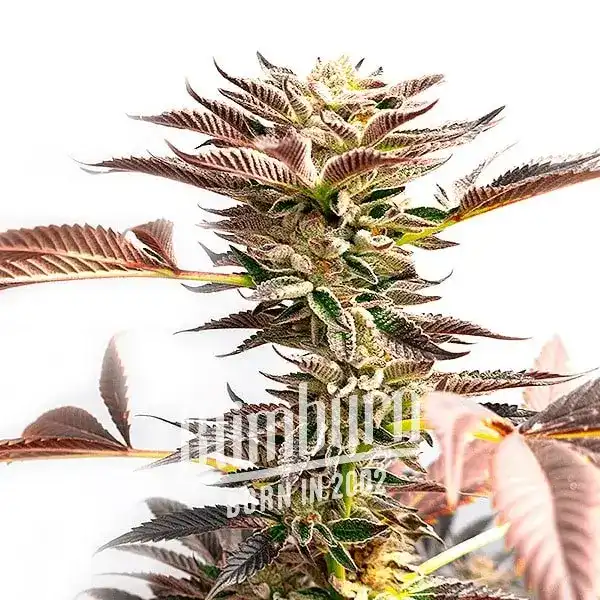 Now that you know the different strains that you can grow to share at a party and to lift your spirits, it is up to you to make the decision of which one you are going to grow. Here we have given you a list of the best genetics from Blimburn Seeds bank and we want you to enjoy each of them in the best way, whether they are indica, sativa, or hybrid, in their feminized, fast version or autoflowering versions.