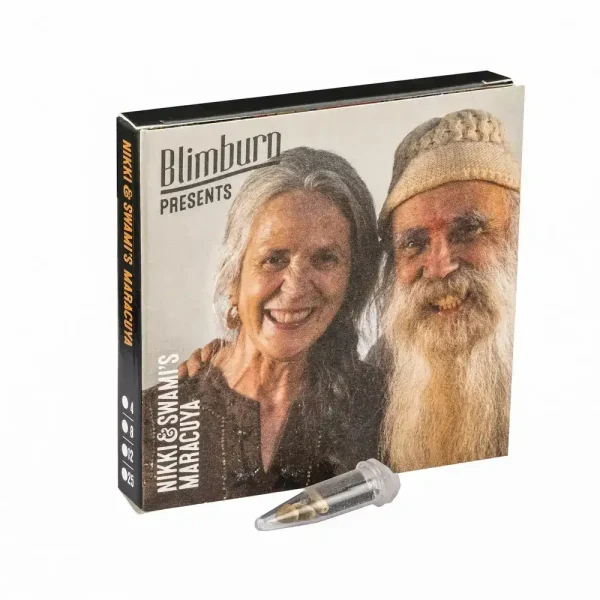 Nikki and Swami's Maracuya Feminized is a high-quality, well-balanced, highly social and fruity hybrid that has been given this name by Swami and his wife, Nikki.
| | |
| --- | --- |
| THC | |
| THC % | 20% |
| CBD | |
| CBD % | 0.3% |
| Lineage | Sweet Pink GrapeFruity x Orange Bud |
| Type of Seed | |
| Genetic | |
| Yield | Medium Yield |
| Yield Indoor | 1.97 oz/ft² | 600 gr/m² |
| Yield Outdoor | 24 – 28 oz/plant | 700 – 800 gr/plant |
| Height | 4.92 ft | 1.5 m |
| Flowering Time | 8 – 10 weeks |
| Harvest Month | All Season |
| Beginner | For Beginners |
| Medical | |
| Effects | |
| Flavor | |
Nikki & Swami's Maracuya Hybrid Marijuana Seeds
Enjoy a unique experience when you purchase Maracuya feminized cannabis seeds from Blimburn Seeds Bank. Nikki and Swami are master growers, marijuana activists and producers of cannabis grown in the sun who recommended this strain to us.
Our seeds are fresh and ready to germinate. Follow our Germination guide for best results!
Origins of Nikki & Swami's Maracuya Hybrid Cannabis Seeds
The origin of this hybrid feminized strain comes from the exotic crossing of Sweet Pink Grapefruit, a variety from the outskirts of Vancouver in Canada. It has been around in cutting form for over 35 years. Although the genetics of this feminized sativa-dominant strain are unknown, it certainly produces a sweet, exotic, and intense flavor that is very rarely found in other strains. On the other hand, we have Orange Bud, a classic from the 80s born from two unknown strains of the iconic Skunk that all breeders fell in love with for its intoxicating effect and indica dominance.
Growing Nikki & Swami's Maracuya Hybrid marijuana strains
Maracuya from Nikki and Swami is a feminized cannabis plant with an indica phenotype. From its first days of growth, it is a vigorous and leafy plant. During its entire growth period, it is a plant that needs to be pruned continuously to avoid excess humidity and thus enhancing flower development.
It is a plant that adapts perfectly to any type of crop as well as to novice hands since it requires few nutrients to achieve strong harvests. In other words, it is an easy cannabis plant to grow, featuring strong branches and a short intermodal zone that supports beautiful, large, hard flowers. This plant thrives most in hot, sunny summers.
This true gem created by two great master growers has a flowering period of 63 to 68 days when grown indoors. In addition, using the ScrOG method to obtain a uniform plane and increase the size of the lower flowers is perfect for this strain of cannabis.
For optimal indoor cultivation, Blimburn Seeds Bank advises germinating the seeds at the end of May in the northern hemisphere and at the end of November in the southern hemisphere. In other words, the best season to cultivate Maracuya for Nikki and Swami is summer, reducing the risk of botritys.
Our feminized seeds develop perfectly in soils with rich nutrients or hydroponic systems reaching 20% more production.
If you plan to grow our feminized seeds outdoors, we have developed a grow guide for optimal cultivation in any area of the world.
Nikki & Swami's Maracuya Hybrid Weed Flavors and Effects
The result of the parental crossing of Sweet Pink Grapefruit, an exotic variety with a strong sativa dominance, with Orange Bud, a classic from the 80s with an indica dominance, could be none other than the perfect explosion of balanced effects that quickly stimulate the senses. Increased mental stimulation can facilitate smooth and fluid conversations in light social settings. Those working on complicated tasks may notice better concentration and improved productivity, at least in the early stages of euphoria.
After an hour or so, there is a noticeable shift towards a more physical stone. At higher doses, some smokers may find themselves sunk into the couch for a long period of introspection and relaxation. While its body effect is palpable and potentially sedating, it is generally not strong enough to dull the cerebral border of the bud.
Maracuya by Nikki and Swami has a robust, sweet and citrus fragrance with hints of spices, herbs and a moist loamy earth. This strain is best enjoyed from late afternoon to evening, preferably after work. This unique experience is meant to be enjoyed in small doses.
Final Thoughts
So, you have chosen to grow some Nikki & Swami's Maracuya Hybrid marijuana seeds of your own? Nikki and Swami's Maracuya Feminized is a high-quality, well-balanced, highly social and fruity hybrid that has been given this name by Swami and his wife, Nikki. Now you just need to know where to buy weed seeds online Nikki & Swami's Maracuya Hybrid. The answer to that quandary is simple. Blimburn Seeds is the most trusted online resource for the highest-quality weed seeds you'll find anywhere in the world. Our talented pool of seed genetic specialists work day in and day out to bring you the best possible cannabis seeds in nearly every strain known to man. We back all of our seeds with our industry-leading germination guarantee. Our friendly customer care team is just a quick call away or you can visit our online cannabis seed bank by clicking any of the links above. At Blimburn Seeds Bank Store, we are as passionate about home-grown cannabis as you are. We look forward to helping novice growers get started and join experienced cultivators in achieving better crops with better strains!
There are no reviews yet. Be the first one to write one.
Write a review and get 15 blimcoins