WEEK 1 – 3
0 – 18 cm.
500 cc.
18 h.
40 – 70 cm.
35%
29ºC – 84.2ºF
INFORMATION
In the first three weeks, the plants are 18 days old. The PH of the crop ranges between 5.6 and 5.8. To feed the plant, mycorrhizae, stimulants and growth fertilizers are used. Besides, a stimulator is used, to avoid the stress of the plants. In the first week, the lamp was 70 cm from the plant, then in the second the distance was increased to 80 cm. Finally, the lamp was at 40 cm.
NUTRIENTS
First of all, mycorrhizae are used in the irrigations to micorizes to the roots and their growth. We use a small dose of 0.65ml/L. Also, the plants are watered with a growth stimulant that complements the nutrition of the first weeks.
Now, in the week 2, a root stimulant is used in an amount of 0.3ml / L and a stimulant to reduce the stress of the plant in an amount of 2ml/L. In the third week, the PH of the nutrients is leveled with a -PH regulator, in a ratio of 0.3ml/l.
This is done, since the plant begins to be nourished with more fertilizers. Mycorrhizae (0.63ml/l), growth fertilizer (1ml/l) and growth stimulator (1.5ml/l) are added.
WEEK 4 – 9
18 – 28 cm.
5.8 L.
18 h.
35 – 40 cm.
45% – 55%
25ºC – 77ºF
INFORMATION
At this time, which is the fifth week of vegetation, the plants are defoliated. The lamp is kept between 40 and 35 cm away from the plants. Bruce Banner #3 grows to 28cm. In week 9 they meet 60 days in growth and in addition, LST is applied to the plant.
In week 8, a 19L pot is transplanted.
NUTRIENTS
In week 5, new fertilizers such as Vitamins are added, until week 9.
Vitamins help the plant to develop in a healthier way and avoid possible diseases. In this period, some fertilizers and stimulants are also removed, according to the plant's need. At this point, it is necessary to say that bacteria are delivered to it that stimulate the absorption of nutrients and help the nutrition of the plant. The PH is kept between 5.6 and 6, regulators are used to raise and lower PH.
In week 8, a 19L pot is transplanted.
WEEK 10 – 14
50 – 90 cm.
19 l.
12/12 h.
25 – 40 cm.
50% – 60%
29ºC – 84.2ºF
INFORMATION
From week 10 to 14, the plants grow from 50cm to 90cm in height.
The plant lamp is brought closer to stimulate flowering and the penetration of light between the nascent leaves and flowers. He also moves away from time to time, to avoid some kind of light stress.
In week 11, the lateral branches are broken to stimulate them to bloom. In addition, defoliation is made, with the latter it is sought to have a much more explosive flowering and help the light to penetrate the plant in a good way.
In week 14, it celebrates 35 days of flowering.
NUTRIENTS
In week 10. It begins to be watered with stimulants and flowering fertilizers. In addition, mycorrhizae are used to help the plant in this new phase. Here too, the plant is watered with a nutrient to avoid deficiencies, which can occur when it starts flowering.
In week 11, vitamins are reoccupied and trichodermas are added. The latter help to keep the plant healthy and avoid pests, fungi or diseases during flowering. Trichodermas are used preventively.
Between weeks 12 to 14, flowering feeders are included with doses of 1 to 1.5ml/l. Flowering fatteners increase their amount of use as flowering progresses.
WEEK 15 – 19
90 cm.
19 l.
12/12 h.
25 cm.
58%
25ºC – 77ºF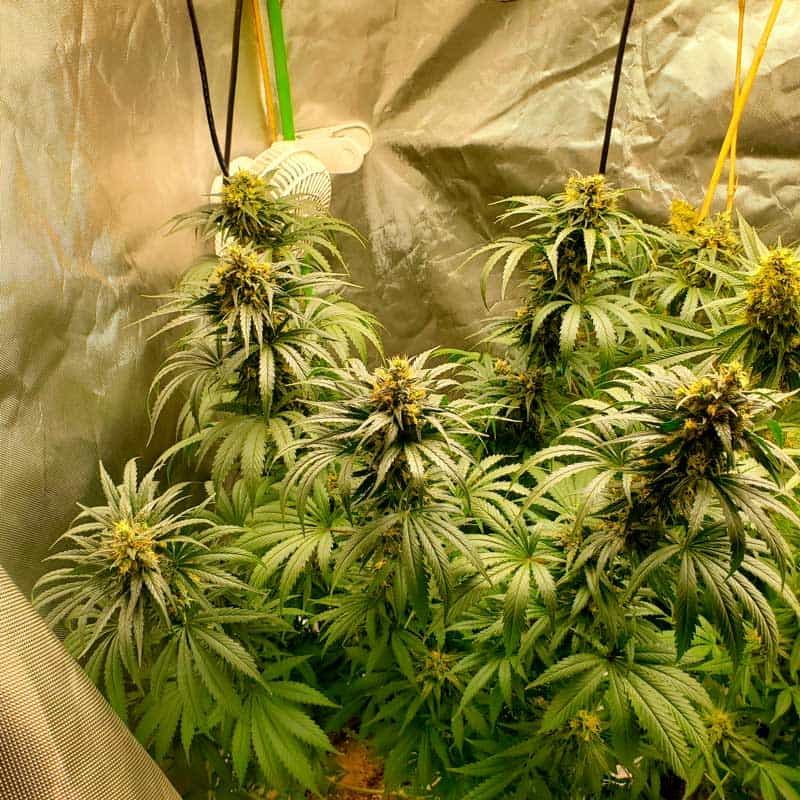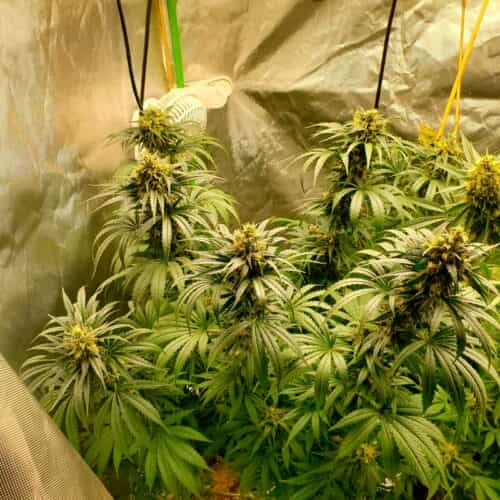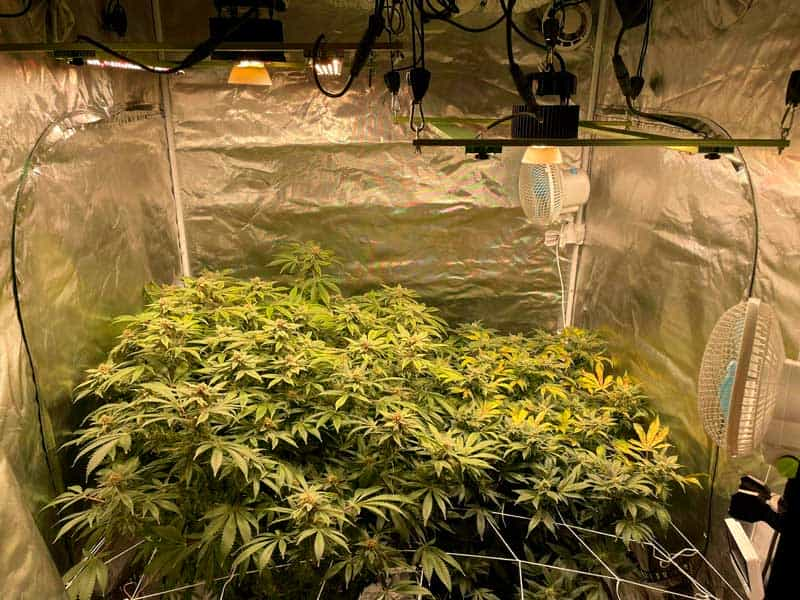 INFORMATION
Week 18 fulfilled the 63rd day of flowering and irrigation was done only with purified water.
For week 19 of flowering and after 60 hours of darkness, so that the trichomes of the plant explode, we proceed to the harvest of Bruce Banner #3.
The PH in week 14 is 6.4, for week 19 it ends in 7.
NUTRIENTS
The + PH and -PH regulators are occupied in this phase, since they help to maintain a plant that absorbs nutrients in a good way.
An important point is that in week 15 a flavor and odor enhancer is used in a dose of 3ml/l.
Then at week 16 and 17 the dose is decreased to 1.5ml/l.
In week 18 the amount of fertilizers and stimulants is decreased to irrigate only with purified water.
At week 19 bacteria are used to help plant roots.