WEEK 1
2 cm.
500 cc.
18 h.
45 cm.
70%
26ºC – 78.8ºF
INFORMATION
Mamba Negra Auto, begins to grow in a 500cc glass. It shows a sustained growth, with its first leaves. Fertilizers have helped him boost himself.
NUTRIENTS
It is week 1, the black mamba is watered with growth fertilizer at a dose of 0.33ml / l. In addition, rooting is applied to enhance its roots. This applies in doses of 0.53ml / l. Also, a stimulant based on micro and macro nutrients is used to help the development of the plant. It is applied in doses of 0.53ml/l.
WEEK 2 – 3
10 – 25 cm.
11 l.
18 h.
76 cm.
40%
24ºC – 75.2ºF
INFORMATION
In week 2, Mamba Negra Auto is transplanted into a 11l pot. It reaches a height of 10cm and remains healthy. It is developed in a compact way with short inter nodes. In week 3, the lighting of the plant is distanced. By separating the light from Mamba Negra Auto, you want the plant to glean a little. In addition, a small LST is made to the plant, to stimulate it a little.
NUTRIENTS
For week 2, continue to feed the plant with the same amount of fertilizers. To this is added that the doses are also maintained. Arriving at week 3, the stimulant is eliminated. However, the doses of the growth fertilizer are increased to 0.98ml / l. The EC is also changed and increased by 400 epm.
WEEK 4 – 8
55 – 70 cm.
5 l.
18 h.
45 – 48 cm.
48%
25ºC – 77ºF
INFORMATION
In week 4, the girl is given an extreme LST.
In week 5, the baby who looks strong and shows potency returns to growth. The plant begins to flower in week 6. It did not stretch too much in the last week. The lighting hours are reduced to 6/18 in week 7. The same height of 55cm is maintained. It is week 8 and the plant already has its flowers developed in a forceful way. The plant is strong when it comes to flowering.
NUTRIENTS
Week 4, the flowering fertilizer is applied for the first time. Doses of 0.33ml / l of the fertilizer are used for flowering.
Week 5, the girl is fed larger doses of fertilizer. Now 1.3ml / l of flower fertilizer water is applied. Being week 6, the fertilizer for growth is eliminated. During week 7, a fertilizer is added for the roots. The objective is to help the roots to remain powerful in bloom. Week 8 arrives, and a stimulant is added, to increase the size of the flowers. Also, it helps to increase the production of resin and the weight of the flowers, this stimulant. Doses of 1ml / l are used.
WEEK 9 – 11
75 cm.
11 l.
18 h.
60 cm.
50%
26ºC – 78.8ºF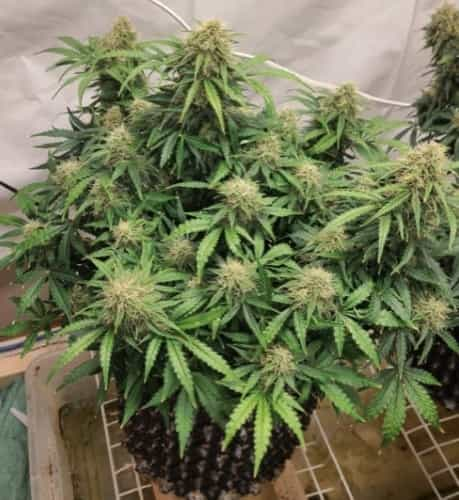 INFORMATION
Week 9, the plant is already fattening its flowers. It looks robust and with a head shape. It is very compact. Entering week 10 and Mamba Negra Auto, it seems like it is 2-3 weeks away from fully maturing. Finishing the cultivation in week 11, with 85 days of life for this auto-flowering plant. It has reached good maturity and is ready to be harvested.
NUTRIENTS
During weeks 9 – 11, the same nutrition is maintained. Standard nutrition is delivered to the plant and it responds greatly.