Growing giant marijuana plants may seem like an almost impossible task, but it is not like that, since a gardener with the essential supplies and maximizing his yield can obtain a monster weed plant like the ones you see in magazines. In this tutorial, we are going to give you general tips so that you have the basic notions of how to grow your monster cannabis plant, either indoors or outdoors.
Never forget that practice makes perfect and if you add study and knowledge to that, well you will get the optimal result you are looking for, for the same reason it is good to emphasize that in addition to reading this guide, look for more sources of information in order to add more knowledge and manage to cultivate that monstrous plant that you want so much.
Select the right cannabis strain for you
First of all, for the cultivation of large cannabis plants both indoors and outdoors, it is necessary to select the right marijuana genetics. For this reason, it is good to point out that the mostly indica cannabis strains and also the hybrids are the strains that produce the heaviest harvests with good-sized and easy-to-grow plants that will not cause you so much trouble.
Here we can highlight easy-to-grow strains such as; Skunk Diesel, mostly indica genetics as well, we find the new generation of strains such as Critical Green Crack which is a hybrid cannabis strain and also other strains that are going to revolutionize the gardens of the world such as the incredible indica called Blue Colombian Kush.
Measure the growing space
It is important to measure the space where it is going to be cultivated because that way you can know the number of plants that can be had in the place, for example; in a space of 1m x 1m, you can have between 2 and 4 plants depending on the size of the pot in which you want to grow. And in the case of outdoor cultivation, you can have cannabis plants in 25 liter pots and per square meter you will have space for 1 plant.
If you are worried about the number of plants, don't worry because in the following tips, we are going to teach you how to maximize the yield of the space with some cultivation techniques. That yes, it is good to make it clear that the larger the pot size, the larger your plant will be and the harvest will also be greater, so we can point out that with 50L pots you can obtain the maximum size with specimens that can exceed 2 meters in height and harvests ranging from 400gr to 600gr or even more, of dried buds.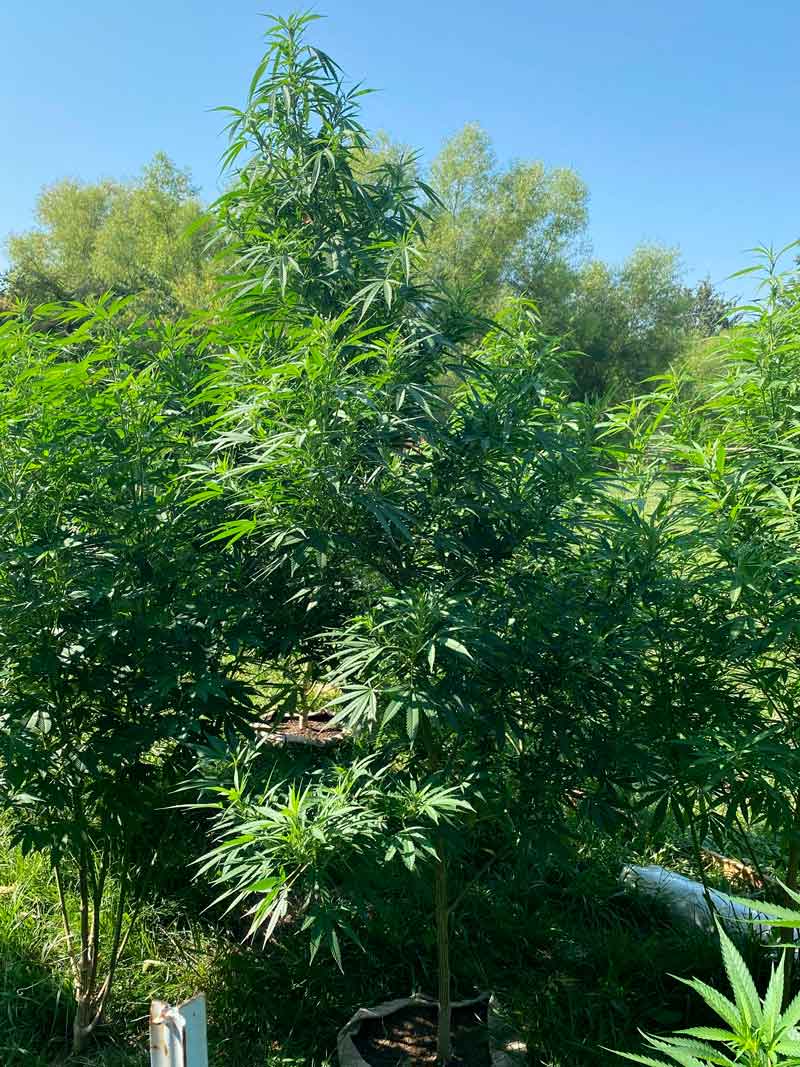 Big Gelato growing outdoor of natural way, not training.
The size of pot
The essential thing for the development of a giant-sized monstrous plant is the size of its roots, that's why, as we already told you, the selection of a large pot is essential. For this reason, we recommend using pots from 20 liters onwards, since with that you make sure you have your giant plant. In case you want to grow in a larger pot such as 25 liters, we tell you that you will be able to grow 5 giant marijuana plants in a space of 5m2 either indoors, greenhouse or outdoors.
If you take a 25 liter pot as an example, you will be able to obtain a considerable harvest from 200gr to 350gr of dry bud, approximately a more than remarkable amount considering that with 5 plants in pots of this size, you will get up to 1 kilo of dry marijuana .
Healthy soil
It is essential to have a good soil for cultivation, so we say that a good substrate must have an aerated texture so that the roots of the plants can develop in a good way and thus the specimens have a good growth. In addition, the substrate must be rich in nutrients and must contain certain non-pathogenic fungi that help protect and enhance the roots of the plant.
You can also make your own compost for cultivation, if you are a cannabis purist, since this way you recycle all the organic waste from your kitchen and help the environment, avoiding contaminating it with more garbage. Good compost is usually made up of organic green matter as well as brown matter. A balanced compost that can meet the nutritional needs of a cannabis plant is composed of between 25%-50% green organic matter and 75%-50% brown organic matter.
Natural Micorrizas fungis, special for the roots of cannabis plant.
Fertilizer and Nutrition
Regarding fertilizers and nutrition, it is good to recommend that minimum or medium doses be used in each irrigation. At the beginning, it is best to promote the growth and strengthening of the roots, to then move on to the nutrition of the plant and the development of its main stem, lateral branches and buds during the flowering season.
In the first phase, a base rooting agent and a stimulant to protect the roots is sufficient, and as the plant progresses, other fertilizers and enhancers are applied. If you want to develop a homemade rooting agent you can do it with the roots of lentils previously macerated in water as well, the roots of beans can be used, in both cases these homemade rooting agents will make the roots of your plants fatten and expand throughout the substrate. remarkable way.
Time of Growing
In general, a giant plant outdoors can take up to 2.5 months of growth and even 3, depending on the genetics and its speed of development. On the other hand, indoors you can grow a cannabis plant in just 4 weeks and then go into flowering, but since you want to grow a giant marijuana plant, it will most likely take up to 2 months of growth, since you will have to apply some techniques that can slow down the development of your girls on the inside.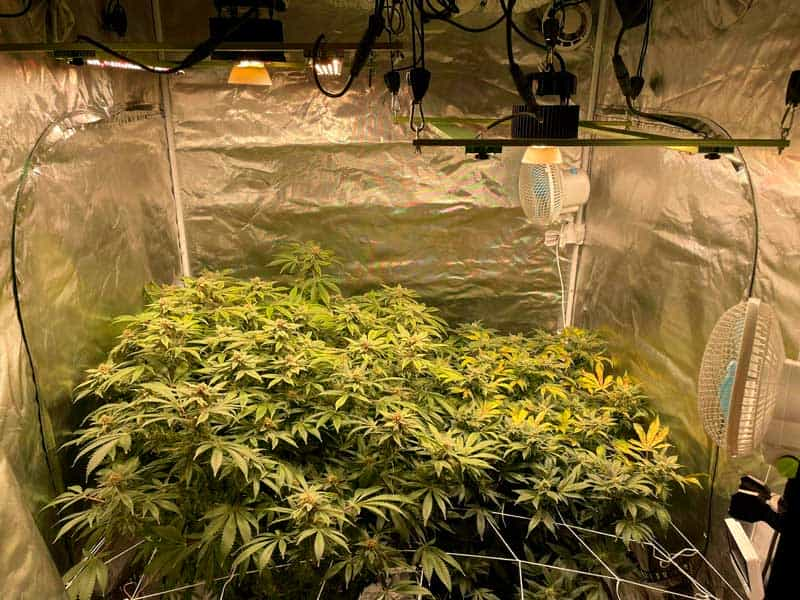 Huge Bruce Banner from Blimburn Seeds growing with Scrog
Many gardeners get impatient when they start to grow, especially the most novice however, it is good to have patience since the growth and flowering of a plant is a waiting process. The growth time of a plant is relative depending on the way in which it is cultivated, since a plant to which cultivation techniques have not been applied will tend to go faster than a plant that has undergone cultivation techniques such as Scrog, LST or some types of pruning.
Techniques of cultivation for the giant cannabis plant
If you want giant, high yielding plants then we recommend growing techniques like LST, Topping, FIM, Lollipopping and the ScrOG method. It is good to combine these techniques to obtain the maximum size possible, whether in an indoor or outdoor grow. Indoors, giant plants are ideal to grow with Scrog techniques, being the mostly sativa or hybrid strains, the ones that best adapt to this method. Also, SCROG is applicable outdoors and many gardeners use it vertically to control the lateral arms of giant plants and thus have maximum performance.
At the same time, with FIM, Apical and topping type pruning you will be able to multiply the arms of the plants with which you will obtain more tips and much more robust and powerful buds in the upper part of the plant. For its part, the lollipoping techniques, it is indicated to occupy it indoors in case you do not scrog and it will help you control the size of the plant as well, you can use it outdoors in case you want a gigantic and discreet plant so that it is not seen outside your area if you have a guerrilla grow.
Lights vs Sun
Indoor lighting and outdoor sun are essential when growing, which is why it is recommended to use proportional lighting with respect to the growing area. So, a person who grows in a 1m2 space can grow with 400w or 600w sodium lighting or its equivalent in LED lighting, in case the space is larger, that is, 3m2 can grow with 1000w lighting. sodium or its equivalent in led.
Regarding outdoor cultivation, it is good to point out that the peak of the plant when it begins to go from growth to flowering, it does so when the natural light cycle goes from 18 hours to 12 hours, that is, at the end of the summer season. Remember that to ensure that your mutant marijuana plant is harvested in optimal conditions outdoors, you must be aware of the climate in your area and carry out a previous study, in order to know when to plant and thus begin the entire cultivation process, until the harvest, without risking the buds that the plant can deliver.
Skunk Diesel
Skunk Diesel is a mostly Indica strain that is born from the crossing of a NYC Diesel x Sensi Skunk, it is characterized by its great outdoor productions where you can harvest up to 550gr/plant. On the other hand, indoor growers who want a giant plant can obtain up to 450gr/m2 of dried buds.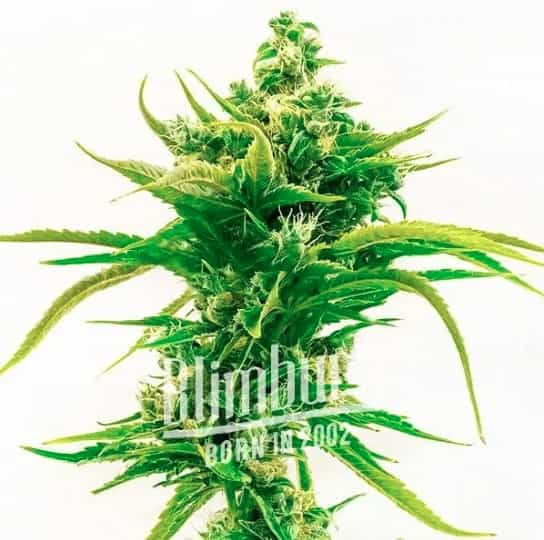 As it is a genetics that has Skunk genetics, it is easier to cultivate for the same reason that gardeners who wish to have an authentic tree of this strain, should not worry excessively about possible complications in the cultivation, since it does not give much work. Another relevant detail is that the effect manifests itself in a relaxing and calm way, especially for a day after a long day of work or to share with friends on a day when nothing is done.
Critical Green Crack
This is another perfect genetics to grow as a monster outdoors or indoors, Critical Green Crack is characterized by its large size that can reach 2 meters outdoors and indoors the best way to control it is with Scrog techniques and so on, you can get a large mutant plant. Without a doubt, this strain is easy to grow and does not give many complications thanks to its Critical parent, which also provides great bud production both indoors with harvests of up to 450gr/m2 and outdoors, reaching up to 700gr/plant.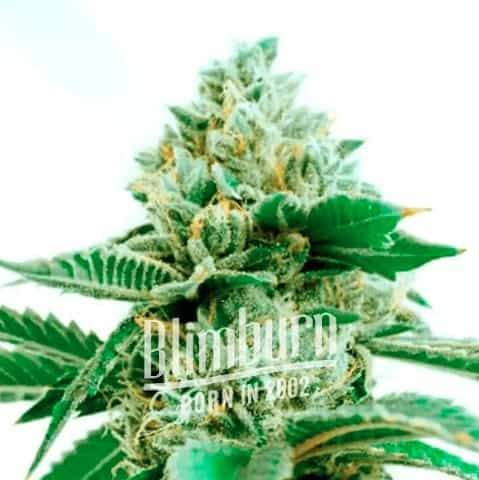 For outdoor growers, it is recommended to use cultivation techniques such as LST to control the lateral branches as well, it is appropriate to apply defoliation in the lower part of the plant so that the upper tips gain strength and the flowers develop in a good way. In this type of strains it is recommended that they have good ventilation and air circulation so that the buds are not affected by humidity or by parasites or harmful fungi, hence the use of diatoms, and non-pathogenic fungi more preventive controls throughout the cycle are essential if you grow your monster plant outdoors.
Blue Colombian Kush
This girl will amaze you if you are a fan of Indica strains because her harvests are gigantic with 500g/m2 indoors and 550g to 600g/plant outdoors in a flowering period of 75-80 days. Despite being a mostly indica strain and having the classic round bushy shape, Blue Colombian Kush can get you there. grow up to 2 meters outdoors for the same reason, we recommend using some cultivation techniques to obtain maximum yield.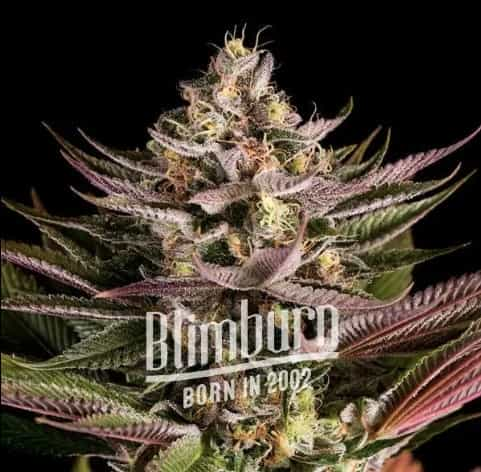 For example; To maximize this strain indoors, you can use cultivation techniques such as Lollypop and obviously, LST stretching so that the light penetrates its leafy foliage better. For outdoor gardeners, it is recommended to use cylindrical lateral mesh as a vertical Scrog where they can hold the lateral branches and thus help the plant allocate its energies to the production of the precious buds that give off flavors and aromas to Kush, lemon and pine.
Continue watching our other tutorials and blogs that will help you continue to grow and level up as a gardener, we hope this guide will help you in your garden. Leave us your comment below and remember to share it with your grower friends. See you in the next blog.