California is the most liberal state in regards to marijuana in the USA because it is one of the promoters of the whole wave. For its part, Michigan stands as one of the most important states on the entire American East Coast. In this article, you will not only see the most popular genetics of each state but you will also learn crop tips that will help you cultivate each of the genetics in a better way. These weed varieties are the top strains because they are the best sellers in dispensaries, the ones that deliver better harvests, or because they are easy to grow.
GMO
GMO is a mostly indica cannabis strain that has an unparalleled flavor because it combines two incredible varieties including Chemdog x Girl Scout Cookies that provide coffee tastes with earthy notes and a sweet and fruity style. In simple words, the effect of GMO is said to be euphoric at the beginning of the trip and then it becomes calm and relaxes both the body and the mind. Some consumers describe flying with GMO as a body high that starts by activating muscles and joints and then relaxes them. The high becomes pleasant and then turns into an exquisite relaxation.
GMO plants flower in a period of 8-10 weeks in a rather compact way with short or medium internodes. Therefore, they are very good for LST which helps air circulate between their branches and buds when they bloom. If you are looking for a good harvest, you will get between 1.31-1.64 oz/ft2 of buds indoors which is an excellent harvest. However, outdoors, you can collect between 28-42 oz/plant, a more than heavy harvest. On the other hand, the power of this variety is destructive because it is between 26%-28% THC and is not suitable for novice consumers.
Slurricane
The wonderful Slurricane has risen in popularity in California as one of the most prized varieties by weed growers and smokers. This mostly indica strain is easy to grow as it comes from a cross between two varieties that are not difficult to grow including Do-Si-Dos and Purple Punch. It is a great option if you are a novice marijuana grower whether you grow indoors or outdoors. You will need 8-10 weeks in your flowering period, during which time you will produce a great harvest of 45-50g/ ft2 when grown indoors.
If you grow this variety outdoors, you will get between 15-17 oz/plant which is a bulky harvest. The potency is perhaps one of the main qualities of this strain with THC levels of 24%-28% and incredible flavors that work with notes of blueberry and grape. This strain ensures sweetness that is expressed in the large amount of trichomes that it produces during flowering in all of its buds. The power is expressed with very strong effects that are euphoric at first and end with a social relaxation, making it ideal to share with friends.
Jealousy
This variety, baptized as Jelaousy, is a unique cross between Sherbet BX1 x Gelato 41. It has unique characteristics because it contains an exquisite flavor with intense nutty notes and aftertastes of pepper. Another quality of this variety that is highlighted by expert weed growers is its high potency which is between 20%-30% THC. This is combined with its aroma which has shades of cream and candy, making an amazing mixture of the high THC levels and the unique flavors for the palate of any user.
Jealousy has been steadily gaining popularity until becoming a beloved and popular variety in California, thanks to the fact that one of its parents is the famous Sherbet, a strain that cannabis users in that part of the USA have fallen in love with. However, this strain which is mostly indica, has reached the top level on its own merits because its yields are incredible. Indoors, it produces 1.31-1.47 oz/ft2 and outdoors, it is a monster that delivers 15-19 oz/plant of great harvests. The effects that this indica plant produces are surprising because it takes you to a euphoric state with great moments of creativity and also provides the energy that you are looking for to get through an intense day full of work.
Ice Cream Cake
Ice Cream Cake are feminized, indica-dominant marijuana seeds. This strain was achieved by crossing Gelato 33 with a Wedding Cake which generated a very powerful variety with THC levels of 22%-25%. In addition, it has a sweet taste with hints of pine and fragrant citrus. Ice Cream Cake is a champion of the Cannabis Cups and stands out for the compactness of its buds that are filled with resin. It is also noted for the production of flowers that is 1.47 oz/ft2 indoors, an amount that you can maximize if you grow in SOG format. Now, if you grow outdoors, you get a great harvest of 21-31 oz/plant of buds that will send you flying into space.
Fans of indica strains love Ice Cream Cake because it produces an incredible euphoric effect when you start smoking, but then winds you down into a deep state of relaxed sedation. Therefore, it is great for medical users who suffer from insomnia or stress as it frees them from those burdens. For the most gourmet consumers, they claim that the flavor of this variety is perfect and that its aroma is ideal, thanks to the predominance of terpenes such as Beta Pinene, Alpha Humelene, and Alpha Phellendrene, among others.
Purple Punch
Purple Punch are feminized weed seeds that descended from the cross between a Larry OG x Granddaddy Purple and come from the west coast of California, USA. This is one of the many reasons why it has earned great popularity in California and is preferred by breeders for cultivation. The plants of this strain are rather compact in size with a short internode. During flowering, we can see how the buds are compacted and filled with resin. In addition, intense purple tones can be seen in their flowers and leaves (darker in their leaves).
The flowering of this variety is only 8-10 weeks in which it produces 1.8-2.14 oz/ft2 of buds for indoor cultivation. Instead, if you grow it outdoors, you will get about 28 oz/plant. The THC in Purple Punch is between 15%-20% and produces relaxing effects that sedate people by inducing sleep. Therefore, it is recommended for medical use in people suffering from insomnia. On the other hand, its flavors which tend to be herbal with very sweet and fruity notes of berry, are the perfect complement for such a glamorous strain as Purple Punch.
Stardawg
Stardawg is a variety that produces crystallized and brilliant trichomes that dazzle even the most expert grower. This is a mostly sativa strain, originating from a cross between Chemdawg 4 x Tres Dawg. On the other hand, the smell is spectacular with a marked lemon hue and its flavor is citrus with hints of wood. This sativa variety increases creativity and gives you a high feeling of happiness and ends with a relaxation that leaves you in the clouds. It can also produce psychedelic effects in some cases.
Outdoors is the perfect place to grow Stardawg because you can get a 28 oz/plant harvest that stands out as above average. On the other hand, if you grow these feminized weed plants indoors, you will reap around 28g/ft2 of incredible resin-coated buds that are highly potent, producing between 17%-25% THC. We recommend using supports such as meshes for the lateral arms as they are loaded with heavy buds. It is also possible to practice pruning to multiply their arms and maximize the harvest outdoors. On the other hand, indoors, you can apply SCROG to achieve long and uniform colas that give you great harvests.
Cookies and Cream
Cookies and Cream marijuana seeds have an intense vanilla flavor and are extra sweet. THC levels are between 17%-22% and can help induce feelings of euphoria with happiness plastered on your face, ending with a great kick. This strain is a hybrid variety and was one of the top varieties in Michigan in 2022. This is possibly due to ease of cultivation that makes this strain perfect for beginners. Without a doubt, expert gardeners will be able to extract those flavors and smells that we love so much.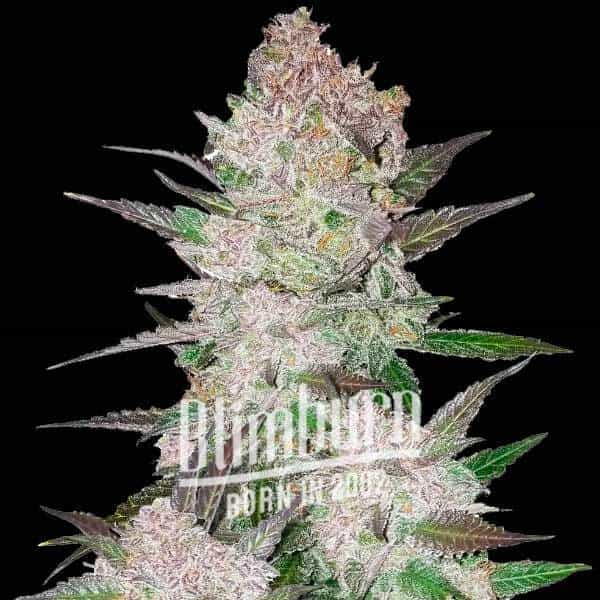 This hybrid Cookies and Cream variety is fast in flowering and with it, you get about 1.31-45g/ft2 indoors and outdoors, 15-19oz/plant of buds that help people who suffer from depression or insomnia. All of these qualities are due to the fact that this weed strain is a great cross between Girl Scout Cookies x Star Fighter, both of which are essential parents to produce genetics that are so beloved in Michigan.
Runtz
Runtz has become an inevitable part of all of the rankings. Why is this variety so popular? Well, because ever since she won the award at the 2021 People's Choice Michigan Cannabis Cup, she hasn't stopped gaining recognition. This is not only in Michigan where gardeners love her, but throughout the cannabis world, especially among true connoisseurs. Runtz is a cross between Gelato x Zkittlez, hence it is a mostly sativa cannabis strain that stands out for its incredible flavor that is a mix between sweet tastes with earthy notes and an absolutely sweet background.
With its huge potency that is between 19%-22% of THC, Runtz can make your head explode with effects that produce a practically uncontrollable euphoria and then leave you in a super pleasant high state and finish with a delicious relaxation that is perfect for chilling with friends at the beach, the park, or the lake. On the other hand, the harvests are 1.37-41 oz/ft2 indoors and outdoors, you get phenomenal plants that can provide between 17-21 oz/plant of buds that give off aromas that are somewhere between sweet and acidic and are very fragrant.
Aurora Indica
For lovers of the old school, Aurora Indica is variety that is always in the garden because it is a powerful hybrid that originates from the crossing of Afghan x Northern Lights. It is considered to be a practically pure indica. The effects of this strain are powerful and super sedative and can leave you screwed to the armchair. These are combined with an intense earthy flavor that permeates the palate and takes you to a deep state of relaxation.
The Aurora Indica produces plants of compact size, therefore, they can be grown in small spaces. Growers are able to apply techniques such as SOG in order to maximize harvests and increase the yield of buds in their crop. Indoor yields can reach up to 1.47 oz/ft2 with flowering times of 8-10 weeks. Outdoors, harvests are 17-23 oz/plant, achieving robust and heavy plants with buds that have a potency of 15%-20% THC which is more than respectable. You can buy Aurora Indica seeds here at Blimburn. They are intended for novice growers because of how easy they are to grow and because they do not present major complications in each cycle.
True OG
True OG is one of the most popular varieties in Detroit, Michigan at the moment and users highlight its high THC levels that are between 23%-27%. This mostly indica cannabis strain has won many different cannabis cups. This variety is super strong and induces an effect that is felt in the body and mind, perfect for relaxing on those intense days. Plus, the massive yields of 1.31 to 1.64 oz/ft2 are perfect for growers who want buds packed with glistening resin.
When buying feminized seeds online at Blimburn Seeds, we guarantee you the highest quality in each strain with stabilized genetics so you won't have any problems in your crop. Also, we guarantee discreet, safe, and fast shipping with the best offers for you.