Some marijuana users say that it helps stimulate their creativity. However, you must not push your limits or your mind can start to wander towards other types of activities that are not a good use of that creativity.
As we all know, the best strains to stimulate creativity, positive feelings, laughter and social activity are usually sativa-dominant. Although these effects are incredible, it is necessary to remain present enough to do something productive with that creativity.
For example, if you smoke a very indica marijuana, your body and head will feel heavy, making it difficult to emerge from your bed or couch. On the other hand, sometimes that creativity can also come with a clouded brain. This is unpleasant because you may feel like your brain cannot work at different rates or with multiple ideas at once. Therefore, we have made a list of strains that are great for stimulating creativity without leading to the unpleasant symptoms previously mentioned.
Green Crack
Green Crack is considered one of the most energizing varieties in existence thanks to its mostly sativa tendency and the worldwide recognition and great popularity it has obtained. However, it is important to bear in mind that it is only necessary to consume in small doses in order to fully enjoy its effects because of its high THC values that produce a psychoactive experience.
Green Crack from Blimburn Seeds contains up to 21% THC, making it one of the most powerful marijuana seeds in our catalog. It is not recommended for beginner users or for people with low resistance to THC. This strain causes users to feel a pleasant sense of euphoria and temporary distortions in the perception of time and memory. Also, this pot can inspire new perspectives on space and movement. It can enhance inclusive experiences, making them sensory while providing a new point of view on situations and the world.
Be careful! Some users experience faster heartbeats, anxiety symptoms, or even headaches after consuming this plant. Therefore, we do not recommend it to novice smokers or those who do not have a high tolerance for THC. The rest of the experience includes moments of happiness and relaxation, interspersed with lots of hilarious laughter and creativity, elevating the trip to the maximum.
Jack Herer
As we all know, Jack Herer is a strongly sativa strain that creates a happy high that activates your creativity and leaves you wide awake. Part of its popularity comes from its ability to make you feel great without overwhelming you.
Plus, you can easily find yourself focused and relaxed after just a few puffs. Jack Herer, being a mostly sativa strain, generates an energetic buzz that will blow your mind. Users can also feel a sense of euphoria when smoking this strain. Therefore, we highly recommend this creatively uplifting variety for a good social night.
This strain, in addition to stimulating your creativity, can be a great option for generating incredibly deep and engaging conversations as well as fun, hysterical, and joyful talks. You don't have to worry about losing consciousness while consuming Jack Herer weed as these buds will keep you alert and focused on the activities at hand.
The euphoric effect will make you feel like you're in the clouds. When the high effect starts to diminish, you begin to feel all of those creative and high-activity sensations elevating you. Please note that we do not recommend Jack Herer before bed because it will leave you tossing and turning all night, trying to fall asleep.
Sweet Island
Sweet Island a Canadian strain, will also take you through the skies, full of creativity, during the day as you seek inspiration to accomplish daily tasks. This mostly sativa strain produces motivational effects that are special for those suffering from depression or just looking for a little more energy to get out of bed in the morning or to keep up in the middle of the afternoon.
With Sweet Island, you will be in an incredible state of well-being, feeling happiness that will not stop rising through the air. It must be added that this strain can also be used as an analgesic. If you feel body aches, you can trust Sweet Island and its remarkable medicinal power.
We want to emphasize that along with feelings of creativity, you will experience a 420 hit in your brain. The cerebral effect can also be accompanied by body relaxation that is parallel to brain activity. You will experience all of these effects plus the delicious flavors of Sweet Island, which are sweet and grape with marked hues of Skunk. Without a doubt, this strain provides an explosive mix of flavors.
Durban Poison
Among all sativa strains, Durban Poison is a true legend from the Durban area of ​​South Africa. We rank this strain as one of the most creative, because it can stimulate these qualities and also produce other effects for those who dare to try it.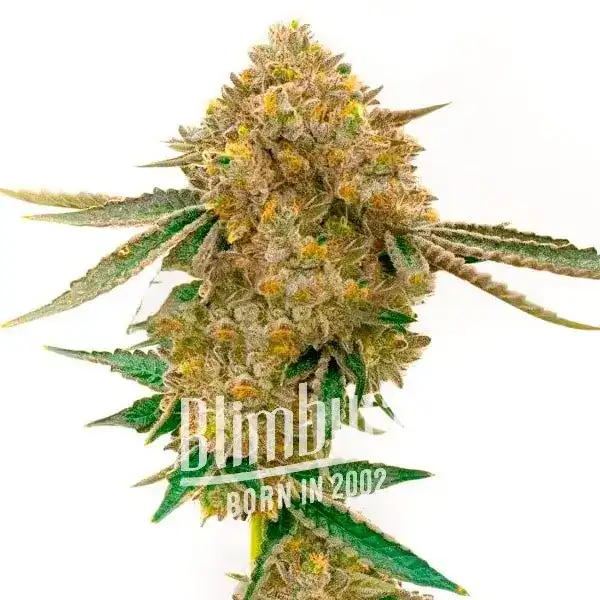 First of all, Durban Poison is a good sativa that will activate you and lift your spirits. For these reasons, it is recommended for those who suffer from depression, stress, or demotivation as it will help make each day more bearable. This sativa will produce an incredible state of well-being that is accompanied by a bearable high due to its 13% to 16% THC levels, making it quite friendly in its effects.
This strain will activate your creative side, stimulating conversations and laughter in a great way. When you're alone and start to feel this strain's effects, you have to let yourself go with the flow and listen to the feelings that you carry inside. Blimburn Seeds Bank recommends having a glass of water by your side while consuming Durban Poison to avoid the sensation of dryness in your mouth. You will likely also experience dry eyes while smoking this variety.
Alien OG
This strain that we developed with our friend Steve`s De Angelo , called Alien OG, tends to be mentally stimulating with a great cerebral effect and deeply relaxing at the body level. Therefore, this strain benefits those who suffer from hyper activity or difficulty focusing because their body must be in constant motion. When the rise of Alien OG begins to decrease, your whole body begins to relax while keeping your brain very alert and creative.
Some consumers of the acclaimed Alien OG say that this strain is perfect for doing work at home as it helps maintain a constant state of joy and happiness with a good feeling of body relaxation. These genetics free you from physical tension and stress while transporting the mind to a productive, creative and clear mental space that is necessary for focusing on the pending tasks of the day.
Now, if we talk about the potency of Alien OG and how it can affect a person, as with the previous strain, we recommend that you use small doses to avoid any negative effect. Alien OG contains extreme levels of THC that range between 22% and 28%, which does not make it advisable for beginners. If you're looking for another form of consumption besides a joint, this strain can be vaporized. With this, you will only need small vapes (2 or 3; nothing more) and you will be completely high, focused and creative 100% while avoiding a bad blow.
Critical+
Critical + is another variety that activates creativity thanks to its tremendous qualities that make it a wonderful companion for those days when you lack the energy to live. These mostly-indica genetics generate feelings of happiness and slight laughter that are accompanied by a body relaxation that can trap you.
With its potency ranging from 20% to 22%, Critical +'s THC does not catch you. It is better that you use microdoses or small amounts of pot so you will not get stuck on the sofa at home and instead do the tasks of the day full of creativity and motivation. The main flavors of this variety are citrus and sweet, making the trip a sweet and refreshing experience.
Like other Critical + strains, it is recommended for users who suffer from stress or depression because it makes the days more bearable and motivates you without the dry mouth or eyes. We add that it has good analgesic qualities because it controls pain without producing the typical paranoia that some cannabis genetics generate, which is remarkable and will not cause you to go into moments of psychosis.
Cherry Ak
Cherry Ak is a great strain that we made with our friend Kyle`s Kushman, who collaborated with us in the development of this strain. First of all, this variety is remarkable because it motivates creativity and improves mood in a great way.
If you suffer from any pathology that you need to eliminate or soften, Cherry AK will help you get rid of stress, demotivation, and symptoms of depression. Other more common side effects of this strain include dry mouth or dry eyes and it is recommended to consume it in minimal doses. It is remarkable that this strain will encourage you to talk with your friends and will makes you feel happy and full of positive energy. Cherry AK also has delicious flavors that include a mixture of sweet fruits such as cherry and citrus notes that explode in your mouth with each puff. This variety will elevate your senses thanks to the great power of its 15% – 25% THC range.
Gorilla Glue #4 Fast Blooming
Our Fast blooming version of the magnificent Gorilla G#4 is unique because it maintains the original traits of its mother with faster growth and flowering. Most importantly, this strain stimulates your creativity to unthinkable levels.
In addition to creativity, euphoria and happiness will flood your mind because the effect of these genetics is mainly mental. For the same reason, you will be high and active for all your activities of the day. However, you must be careful because the potency of Gorilla G #4 Fast Blooming is high. Therefore, it is better if you use small doses so as not to lose the magical high.
Also, it is good to say that earthy flavors remain in these genetics. It is the perfect strain for feeling creativity. At the end of the flight, you will feel a good body relaxation that relieves you of pain or body problems. Therefore, it is recommended for medicinal users who require a little extra help.
Now that you know the best genetics of our seeds bank to stimulate your creativity and help to alleviate certain pathologies and diseases, don't look any further! Buy your marijuna seeds here at Blimburn Seeds. These varieties of weed will reward you with great yields that produce remarkable effects and amaze you with their flavors and aromas.