In Germany the law allows to carry cannabis legally and there is also a program for legal marijuana users, however, self-cultivation is illegal and obviously, the purchase and sale are penalized by the law. Now, the candidates who are running for the next German government have made a pact to regulate the distribution and sale of recreational cannabis. This means that Europe's largest economy is taking a step towards the legalization and regulation of marijuana, setting a precedent within the old continent.
The foregoing also seeks that drug policies, such as the creation of drug control services, a place where people can have the illicit drugs they possess, analyzed in search of contaminants and other harmful substances without fear of facing sanctions criminal. This new drug policy around marijuana, introduces the controlled distribution of cannabis to adults for recreational purposes and its sale in authorized stores, this allows to control the quality of the weed, avoids the contamination of the buds and guarantees the protection of the minors to marijuana and other illegal drugs or substances.
Despite the optimism of German and European activists for the message of the coalition that intends to reach the government, we must make it clear that the proposal is still an ambiguous one, since it does not make anything clear with certainty because it does not provide further details in depth.
Despite the unknown which is the plan for the legalization of cannabis in Germany, this country has managed to position itself as one of the main countries within the European weed market in relation to its growth. This is important since in 2020 the "The Green" movement already presented a project known as CannKG, which was intended to allow legal access to marijuana for adults, however, the German Parliament rejected the project the same year of your presentation.
On the other hand, in the country various consultations have been developed to find out the opinion of citizens regarding the legalization of weed, for example, the German Hemp Association carried out a survey where people were consulted, if they agree with the legalization of the pot, with the result that 49% of those surveyed said they were in favor of the legalization of cannabis, this survey was collected and disseminated by Bloomberg.
It should be noted that these advances, Alemani has been making since about four years ago, when the medicinal use of cannabis was legalized, an issue that was strange for the citizens of that country. However, this has not been inconvenient so that today the medicinal cannabis market has more than 100,000 patients.
Now can you grow marijuana in Germany?
If you want to grow cannabis at home, you can be detained, as it is completely illegal and they judge you as if you were a drug dealer or dealer, even if you only grow for your personal use. Despite the above, and as the medical cannabis market is regulated, you can apply with your company for a medical license to grow industrial-type cannabis for the pharmaceutical industry.
What about medical cannabis?
In 2017, the marking of medicinal cannabis was regularized in Germany and today it is the most powerful and organized on the European continent. In 2017 there were more than 1000 licenses for medicinal weed patients, this number grew to 40,000 in 2018 and as we said today, the market has more than 100,000 patients in addition, it must be added that more than 2/3 of the insurance companies of Germany today offer services and insurance for medicinal cannabis users.
Obstacles for medicinal cannabis users
Doctors do not believe in the power of medicinal cannabis and are suspicious for the same, they write few prescriptions, since they are skeptical about the medicinal effects of pot, and they still believe that there is a great taboo related to its use. Also, it should be considered that there are still insurers that do not consider the use of medicinal cannabis in their plans, which is why many patients do not have coverage for their treatment with medicinal marijuana. In addition, the high cost of accessing medicinal cannabis must be considered because the German Health Fund only ensures access to drugs in general and to weed buds, therefore its cost is high.
A possible legalization of cannabis for adult use could solve this problem and that would eliminate the existing obstacles, especially the high cost for medicinal users that make it practically impossible to use. This has been demanded for a long time for the same reason, it was hoped that the 2017 law would better solve these types of problems, however, the years have passed and many patients still do not see a solution for their treatments.
What about hemp in Germany?
First we must say that this is another story within Germany because, in 1982 hemp was declared completely illegal. Then in 1996 hemp was allowed to grow legally again, due to protests from local farmers, activists and enthusiasts. This has caused that since 1996 hemp crops have fluctuated, for example, in that year 3,500 hectares were cultivated. On the other hand, in 2011 production fell radically, however, in recent years the market managed to rebound, placing Germany in a promising fifth place, among the most important producers in all of Europe.
Benefits of the legalization of cannabis
Returning to the new policy that would allow the legalization of cannabis, this one also brings changes to other markets such as alcohol and nicotine because, it is intended to generate a stricter legalization for these two legal and socially adopted drugs in addition to a consumption prevention plan both in children, adolescents and pregnant women thinking about the well-being and health of the German population.
It is pointed out, by the politicians who promote the legalization of marijuana, that this drug policy was adopted not with the purpose of generating more income for the country's fiscal coffers, although this will be one of the great effects. On the contrary, it seeks to legalize weed for purposes rather of public health of German citizens and to protect them from other scourges such as drug trafficking, that is, to promote public safety within the nation.
What do the German authorities say and what happens in Europe?
Despite how positive this new regulation sounds, there are detractors within Germany, who refuse to legalize the pot, among them are the different police unions in Germany.  This rejection is based on fears and ignorance, such as that drivers could get high while driving their car through the streets of Germany, generating a wave of accidents throughout the country.
For its part, the neighboring country of Luxembourg also joins the green fever of the weed since, the ministers of Justice and National Security released last month a legalization proposal, which will still require a vote in Parliament, but is expected that is approved. At this time, reform is being promoted to legalize self-cultivation at home, regarding deeper legalization, it should be expected that a vote will be taken at the beginning of 2022, having as endorsements the ruling politicians who are close to this possible new regulation.
Which strain of marijuana is the best to grow in Germany and what is the best season?
First of all, point out that it is necessary to know some fundamental information before recommending an ideal strain for cultivation in Germany so that you have an incredible experience with heavy yields.
The ideal season for growing marijuana outdoors is summer, because the days tend to be longer and warmer, with temperatures averaging between 22ºC – 26ºC. The perfect months are from May to September, where the plants reach large sizes and also produce heavy yields. During the summer growing months, the rains in each area of ​​Germany should be taken into account, especially in June, for the same reason, it is good that you protect your plants from possible rainfall.
Advancing with the cultivation in August you will realize that the plants receive less light since they are reduced, for the same reason you can make defoliation to remove the unwanted leaves and thus help the plant receive the most amount of light.
When September arrives, it is necessary that you be careful with the smell of your plants because they will begin to release the exquisite and strong aromas that also characterize them, the buds become heavier for the same reason, it is likely that you need to put some support for the side branches , as some branches can be very heavy. Another important point is that autumn begins to arrive and with that some rains, therefore you must occupy some tarp or plastic to cover the plants and thus, you will prevent the water from affecting the final harvest.
Arriving at the end of September and beginning October, the harvest season of your weed plants begins, because most of the genetics finish their flowering process in these months. Those longer flowering cannabis plants can take until the end of October or even the beginning of November, for this reason pay attention and carefully write down the dates in notes on your cell phone or in a notebook, so that you know when the flora is already there. mature. Here we recommend 3 of the best and fastest cannabis genetics for the German climate so that you can harvest large and productive plants.
1- Grizzly Purple Kush 
Grizzly Purple kush is one of our genetic stars and it is characterized by being a robust plant with heavy yields as well as its high production outdoors you can harvest from 500gr – 600gr/plant and indoors 550gr/m2. This hybrid variety has sweet and floral flavors, highlighting an aftertaste of humid earth.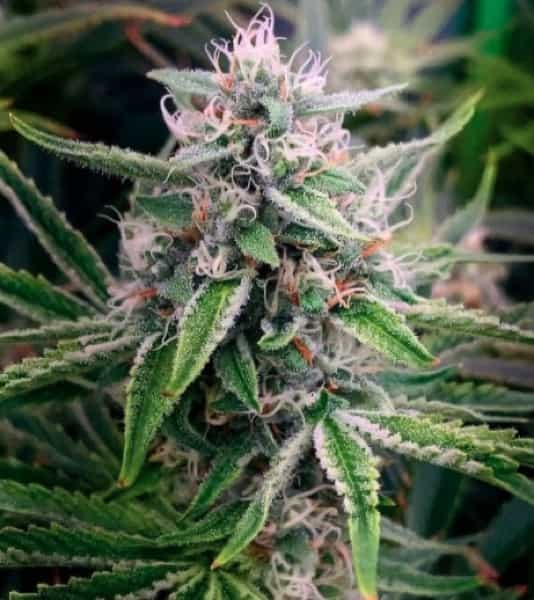 We want to highlight that the flowering of Grizzly Purple Kush is super fast and indoors it will only take 55 – 65 days of flowering. For their part, outdoor farmers can harvest from mid to late September, therefore, if you live in Germany you will have your plants ready to harvest before autumn begins.
2- Santa Muerte Fast Blooming.
Santa Muerte Fast Blooming is our fast version of the mythical Santa Muerte. This variety concentrates all the qualities of its mother and also adds a unique speed in flowering, being possible to harvest it at the end of September, with which gardeners avoid damaging or losing their harvest with the first autumn rains.
This Fast Blooming version can be harvested outdoors after 50 – 55 days of flowering, which makes it one of the fastest sativa genetics and ensures harvests of 500 – 550 gr/plant for outdoor gardener. The punch is still Euphoric, mental and social as in the classic feminized version with THC levels of 17% – 20% with fruity, herbal and woody flavors.
3- Power Plant Fast Version.
Power Plant Fast Version is our unique version of this classic cannabis strain, having as a sale that its flowering is super short, since indoors it takes 6 – 8 weeks of flowering and for outdoor gardeners it is ready to be harvested in mid to end of September.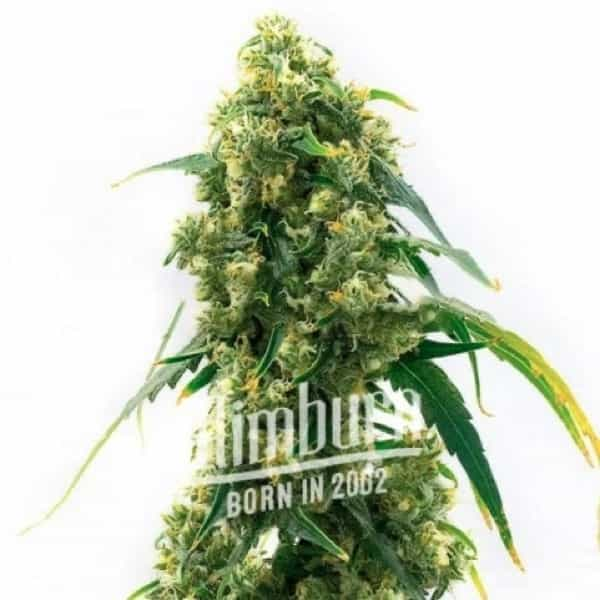 Another important detail is that the harvests are great and range from 400gr – 600gr / plant outdoors and 400gr – 550gr / m2 for indoor breeders, therefore, production and speed is assured to avoid problems with humidity, fungi and some plants.
So, it seems that everything will become greener in Germany, so start looking for the best cannabis seeds in Blimburn seeds, remember that we have shipments to all of Europe and also the USA and Canada. See you soon in your garden, have beautiful harvests.