According to the New York Government Department of Health website, it is currently legal for adults over the age of 21 to possess up to three ounces of cannabis and up to 24 grams of concentrated cannabis for personal use in New York. In addition, the new rule stipulates that "adults may smoke or vape cannabis anywhere tobacco smoking is permitted under smoke-free air laws with some exceptions."
"Use of cannabis in motorized vehicles (even if parked) or in outdoor dining areas at restaurants remains prohibited. Smoking or vaping cannabis in prohibited areas may result in a civil citation and fine". Also, the new regulations stipulate that "it is still illegal for persons under the age of 21 to possess, sell, or use any amount of cannabis. In addition, no one may legally possess more than three ounces of cannabis and 24 grams of cannabis concentrate (extract), sell any amount without a license, or drive under the influence of cannabis.
Regarding the purchase and sale of cannabis and its derivatives, it is estimated that "adults will be able to purchase cannabis products at authorized retailers such as government-approved dispensaries".
Is it legal to grow weed at home?
Adults will be able to grow three cannabis plants at home and in the event that more than one adult lives in the household, six plants (three mature and three immature plants) can be grown. Another important point is that adults can store up to five pounds of cannabis in their home. But that's not all, because this new regulation allows cities and towns to have consumption areas (determined autonomously) where people can consume cannabis.
Medical marijuana in New York
Since 2014, medical marijuana has been available to the people of New York who require medical cannabis to treat an illness or disease. Now, patients who require medical cannabis need to be eligible to use medical cannabis to treat their health condition if a state-registered health care provider certifies that medical cannabis is clinically appropriate. Patients must also register with the state in order to purchase medical cannabis.
A positive point of the new regulation is that it expands the eligibility of medical cannabis, increases the number of caregivers allowed per patient, allows prescriptions of up to 60 days (instead of 30), and allows the purchase of smokeable cannabis in medical cannabis dispensaries. For patients who use medical cannabis to treat their ailments or health problems, once the regulations are finalized, patients of the Certified Medical Cannabis Program will also be able to grow up to six plants at a time at home.
Legal Cannabis farms in New York
In the month of March, applications were opened for farmers who want to grow marijuana in New York. According to the law, cannabis producers with a conditional license must meet certain requirements such as safe, sustainable, and environmentally friendly cultivation practices. environment, participation in a social equity mentoring program, and adherence to a labor peace agreement with a legitimate labor organization.
Now, this measure has been taken advantage of by 203 weed farmers who have obtained licenses for the cultivation of marijuana that is rich in CBD in New York and will be able to start marketing the pot in December 2022. This type of licensed weed breeder can grow up to 1 acre of non-psychoactive cannabis plants outdoors or in greenhouses and their licenses last for 2 years, a time that can be extended with a new cultivation license.
All of this new legislation also brings other benefits, for instance: the Hemp Cannabinoid Program which establishes protections for the public and provisions to help New York CBD companies compete. Also, it greatly expands access to the Medical Cannabis Program (as outlined earlier in this article), including empowering health care providers to determine if medical cannabis can help their patients, lowering costs by permanently waiving patient fees, the authorization of the sale of the whole flower, and the increase in the list of providers that can certify patients. And finally, its first series of community outreach events has been launched with 11 regional events, including one in Spanish which has already gathered more than 5,000 attendees.
What happened to the weed at the US OPEN?
Nick Kyrgios put the US Open on blast by stating that in his second-round match, the public in the stands was smoking marijuana. Given this fact, the tennis player of Australian origin pointed out, "people don't know that I'm a heavy asthmatic, so when I'm running side to side and struggling to breathe already, it's probably not something I want to be breathing in between points."
The Czech player, Barbora Krejcikova, complained to the chair umpire that during her semifinal match of the US Open doubles tournament, she smelled marijuana at the back of the court. The chair umpire Kader Nouni, with a clear hand gesture making him smoke and smell, had to ask the public present in the stands of Flushing Meadows to control themselves.
The best marijuana strains for growing in New York
First, we will say that in New York, the climate is cold in relation to other places in the USA. For example, Miami, Florida stands out for its more tropical climate of constant heat and humidity. When the weather is colder, it means that the cannabis growing season is shorter, therefore it is necessary to cultivate strains that meet the requirements of the growing medium to avoid failures in the process.
So, as we already know, the beginning of spring is the first signal to start cultivating. You should start fully in the middle of this time because summer is too hot to start a crop and winter is too cold. If you grow indoors, remember to have your cultivation system well configured so as not to have problems with climatic changes that can affect your weed plants.
Lemon Haze Fast Version
Lemon Haze Fast Version cannabis plants are mostly indica and have THC levels of 16%-23%. You can harvest between 15-19 oz/ft2 indoors using special cultivation methods such as SOG and stretching of its lateral branches with LST to maximize yields and have more uniform weed plants that receive better lighting. Now, it is outdoors where you get the full potential of this weed strain as you can harvest 24-31 oz/plant of buds that are bathed in resin, ideal for extractions such as Rosin or Hash.
Among the qualities of Lemon Haze Fast Version, its medicinal potential stands out as it helps to calm chronic pain among its users. In addition, the effect is relaxing which combines with its authentically sweet and citrus flavor thanks to the Limonene and Mircene terpenes that predominate in this cannabis strain. Most importantly, this indica variety takes between 8-10 weeks to flower which is why it is perfect for cultivation in early spring. Later, take it outdoors and finish flowering in mid/end-summer, preventing the first autumn rains from damaging the harvest.
Blueberry x Caramel Cheese Auto
It is impossible to leave out of these recommendations a variety like Blueberry x Cream Cheese Auto because it has the perfect combination of two incredible cannabis varieties that all growers fall in love with for its delicious flavor that mixes notes of berries and aftertastes of Kush that stand out in each puff. But that's not all, because its power which ranges from 15%-19% THC hits even the most experienced smoker with powerful and relaxing effects that can leave you glued to the sofa at home.
Yields are also bountiful, especially indoors where you can use growing techniques like SOG to achieve maximum yields of 14-19 oz/ft2. On the other hand, if you are an outdoor grower, you can get between 1.7-4.2 oz/plant of buds that are tight and rock hard and dazzle with their trichome crystals if cured correctly. We recommend growing this variety from mid-spring so you can take better advantage of the summer season. This wil provide your cannabis plants with more hours of light and a warm climate so that they produce more and better buds.
Red Skunk Kush Auto
Red Skunk Kush Auto variety comes from autoflowering weed seeds that give life to plants that have a complete growing cycle between 6-8 weeks of life from sowing to harvest. For climates like New York, this cannabis strain is ideal because it plays perfectly with the summers that tend to be short on the East Coast of the USA. Also, you can harvest between 3.52-14 oz/plant outdoors. Indoors is where you will get the best harvests with 12-15 oz/ft2.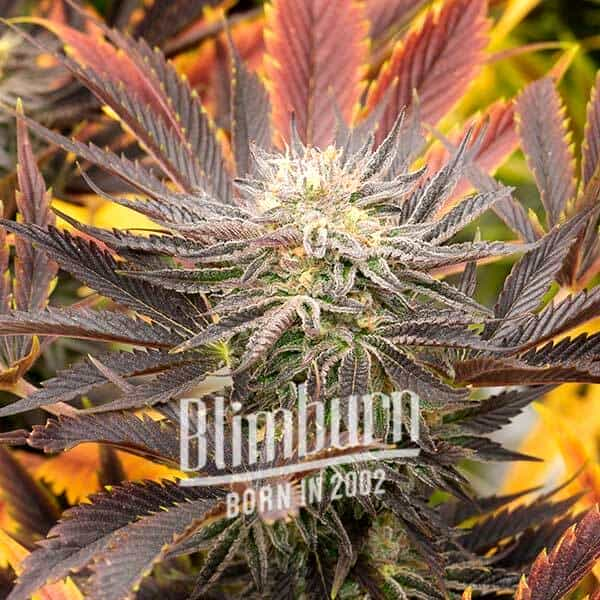 When we talk about good potency, we tell you that Red Skunk Kush auto has THC levels that are between 12%-16%, producing very bearable, relaxing effects at the end of the flight. At the beginning of the trip, you can feel a euphoric state of high power and potency which will surely surprise you. Its flavors also have a classic touch as they are sweet with earthy aftertastes, typical of Kush strains. This strain should also be highlighted for its medicinal value that is a huge help for people who suffer from insomnia.
Amnesia x Ak47
Amnesia x Ak47 is a mainly sativa variety that is high in THC with levels of 17%-20%. It is perfect for growing indoors or outdoors because it only requires 8-10 weeks of flowering which a short time despite being a feminized seed. It also stands out for being easy to grow. Cultivation techniques such as SCROG are recommended to produce colas full of buds that grow homogeneously in a robust way and with compact flowers.
Buy these feminized cannabis seeds here and discover the wonderful harvests that they will give you in each crop. You can get between 1.15-1.64 oz/ft2 indoors and on the other hand, if you grow these weed plants outdoors, you can collect between 15-19 oz/plant of buds that give off diesel flavors with citrus notes thanks to its terpenes that are mainly pinene, caryophyllene, and limonene, among others.
Purple Gelato
These mostly Indica weed seeds deliver a beautiful plant that goes by the name of Purple Gelato, a cannabis strain that can be harvested after 8-10 weeks of flowering with great yields of 18-21 oz/ft2 indoors. If you grow outdoors, you can get between 14-21 oz/plant. You can apply LST to stretch its lateral branches and thus allow air to circulate through the plant and prevent the proliferation of fungi.
If you want to grow Purple Gelato outdoors, you can start the cannabis plants indoors in early spring and then take them outside, creating a robust and strong plant that can withstand the heat of the big city. When it comes to delicious flavors, this strain has everything to deliver buds with berry flavors, sweet citrus notes, and earthy hints. For medicinal users, it can help control anxiety, depression, and chronic pain. In addition, it produces energizing effects, raising levels of euphoria with creative tendencies for the mind that re ideal if you enjoy artistic activities.
Do not forget to consult with your grower friends in your area in case you want more advice and recommendations while we share this information with those who are in New York and its surrounding areas. You can also buy these weed seeds if you live in other areas of the USA and even in Canada as they are easy-to-grow cannabis strains that adapt to different types of climates.
If you want to ask any questions or have any doubts, consult our team of specialists who will assist you and answer each of the concerns you have. Now we say goodbye and wish you a great harvest! Do not forget that at Blimburn Seeds, you will find cannabis seeds of guaranteed quality in fast, discreet, and safe shipments.