Maybe you still don't think that cannabis can stimulate your creativity, but look at how many artists use cannabis in different methods or forms, and get good results. There are different literary and musical geniuses who tell of the special powers that smoking marijuana gives them when it comes to creativity.
Using cannabis can stimulate certain parts of the brain that are connected to the world of ideas and creation, and it is from this place that artists bring us their creations. This article is a recognition of the authors who smoke marijuana and who left us their works, be they books, plays, series, among others, as a great legacy.
Stephen King
In his biography, Stephen King says that he spent much of the 1980s using cocaine, alcohol and marijuana. Despite that, he is not proud of his past drug addictions. Although there is no doubt that weed must have been a great fuel for his stories, which are usually interesting and twisted. But, that is not the great reason why we like Stephen King so much, on the contrary, his encouragement for the legalization of pot perhaps , be the main reason why I love him.
Pierre Berton
This icon originally from Canada called Pierre Berton is for the northern country, what Mark Twain is for the United States. Berton's classic works such as The National Dream, The Last Spike or Vimy, are undoubtedly the ones that fill the bookstores in his native country and you can find them in any Canadian home. Rolling a joint on TV was the last time the late author could be seen, on the show, "Rick Mercer Report." Rolling a joint in those years was an authentic act of rebellion for the time, since at that time weed was still legal throughout Canada.
In the same program they asked her. And is it real marijuana?
Then Berton said: "I'm not going to go to CBC and shoot oregano, I'll look like a fool."
Maya Angelou
Maya Angelou was introduced to marijuana by two lesbian sex workers. From that first time, the writer began to use weed strategically. In her work called "I Know Why the Caged Bird Sings" you can appreciate Angelou's relationship with the pot that helped her overcome her childhood trauma and abuse and reach a point in her life where she was able to thrive.
Quentin Tarantino Writer and film director that love the weed
We all know Tarantino for his films, which without the great dialogues loaded with satire, black humor and that author's own touch, are unique. When you want to read any of Tarantino's works, keep in mind that the movie "Once Upon a Time in Hollywood" was initially written as a novel.
In an interview Tarantino gave at the time he was shooting the movie Django Unchained, he told the journalist: "You smoke a joint, you put on music, you listen to it and you come up with some good ideas… I don't need marijuana to write, but it's great".
Norman Mailer
This is where you should stay if you think that "marijuana has a charming quality, to remove outdated habits from the mind so that one perceives a little better. It looks a little better and sounds a little better" as Norman Mailer, famous American writer and open friend of weed, used to say.
This writer, essayist and journalist also wrote about political issues. Before his death, Norman shared his passion for marijuana during many interviews. In fact, he said that marijuana had given him a unique relationship which he had never had with a human being.
Hunter S. Thompson
First, we must say that Hunter S. Thompson is considered the gonzo guru and is also recognized for writing the book "Fear and Loathing in Las Vegas", a work in which its argument revolves around the failed war against drugs in the United States. There is no doubt that Thompson used marijuana and he definitely liked it. Although, it is not clear which were the other drugs that he has consumed despite the fact that the same author has indicated that he has used almost all intoxicating drugs known to man.
Ken Kesey
Kesey is recognized as one of the most drug-addled writers on the records of great writers. In the 1960s, Kesey toured the Pacific coast in a bus full of fans they dubbed the "Merry Pranksters," in an old school bus they lived psychedelic adventures taking acid and also smoking weed.
This psychedelic writer is remembered for his most recognized work called, "One Flew Over the Cuckoo's Nest" He wrote "Someone Flew Over the Cuckoo's Nest, with which he reflected the non-conformist spirit of the 60s. As a writer and also as a contributor, he contributed to ending the war on drugs and also to the legalization of cannabis, although he died in 1997, just a year after California voters embraced medical marijuana.
Alice B. Toklas
Surely, you have ever tried a marijuana brownies. Well, Alice Alice B. Toklas is the creator of the first cannabis-infused brownie recipe. A true queen of edible weed! The Alice B. Toklas Cookbook was one of the most popular cookbooks of the 1950s, which was published thanks to Gertrude Stein, Alice's lifelong companion, after the writer's death.
For this reason, people had access to Toklas's most secret recipes including the Weed Brownie, then known as "Hash Fudge". It's safe to say that Toklas' notoriety and cultural contributions live on to this day.
Susan Sontag
We will start by saying that in a widespread. In a 1973 interview for High Times magazine, Sontag says: "I think that a society that is addicted to a very destructive and unhealthy drug, namely alcohol, certainly has no right to censor the use of a drug like Cannabis." which is much less damaging."
However, Susan's activism is not limited to that, since references to weed are also made in her literature. In addition to Sontag, she became known for writing on everything from politics to pornography, and pursued a career as a cultural critic and essayist.
In addition, she was critical of themes that other writers did not dare to address. Among his works that also enjoy great value are his essays on the Vietnam War and the AIDS epidemic, in which he expressed the opinions of those who have no voice. Sontag was a long-standing and vocal advocate for the benefits of cannabis, often even denouncing other drugs such as alcohol.
The best 5 strain to stimulate your artistic spirit
So if you want to cultivate those genetics that make your imagination fly, without interfering with your brain and also stimulating your social side, you must pay attention. From Blimburn seeds we are going to recommend great cannabis seeds available in our online store, which you can use for those purposes that you want to achieve so much. Let's get started!
AK 48 strain for writers
First, we tell you that the AK-48 lineage is a beautiful mix of Colombian, Thai, Mexican and Afghan varieties. This indica trending weed is famous for its great effect that stimulates creativity and makes you feel amazing, very gratifying, because when smoked, it induces a cerebral effect accompanied by a relaxing body stoned, which is very useful to combat depression. anxiety and chronic pain.
So if you want to grow genetics that will help you do some kind of artistic activity or just read a book or watch an app, AK 48 is the one for you. On the other hand, its flavor is penetrating, with herbal notes, and marked fruit intensity.
If you want to get the 17 oz/plant of buds in your outdoor crops, you can do it by growing the plants in large pots with a lot of organic soil and starting the cultivation indoors and later when spring is late, moving them outdoors. This is perfect since AK 48 also has a super short flowering time that is between 8-9 weeks indoors, when you can harvest up to 1.67 oz/ft2.
Acapulco Gold Autoflower for writers
Acapulco Gold Auto, will make you feel on the famous beach of Acapulco, Mexico because its energetic punch leaves you in a cloud and also greatly stimulates your creativity because, in this variety, terpenes such as Pinene predominate and it is also complemented by terpenes Mircene and Linalool.
Its effects are notorious, due to the THC levels that are very high and are between 20%-24%, making it suitable for people who suffer from stress, who feel heartburn or depression. From the sowing of Acapulco Gold Auto, until the harvest, the plant only needs 9 weeks in the entire life cycle, for this reason, it is recommended in places where the growing seasons are short, since good yields can be obtained outdoors in a short time.
Up to 21 oz/plant you can get in an outdoor grow and up to 1.47 oz/ft2 if you grow indoors. Both the aroma and the flavor have a mostly earthy tendency with hints of pine that is also due to the terpenes that are concentrated in the genetics. You can apply LST to Acapulco Gold Auto plants to allow light to better penetrate the buds during flowering to help the plant maximize yield.
Green Crack x Core strain for writers
This variety of weed is indicated for novice growers and users because it is very easy to grow and does not require much care during cultivation. Also, Green Crack x Core is a very fast flowering genetic, it only needs 7-9 weeks of flowering, therefore, if the area where you grow is usually high humidity and even cold, you can trust that this weed strain will withstand that climate and that you will be able to harvest it without problems when its cultivation is finished.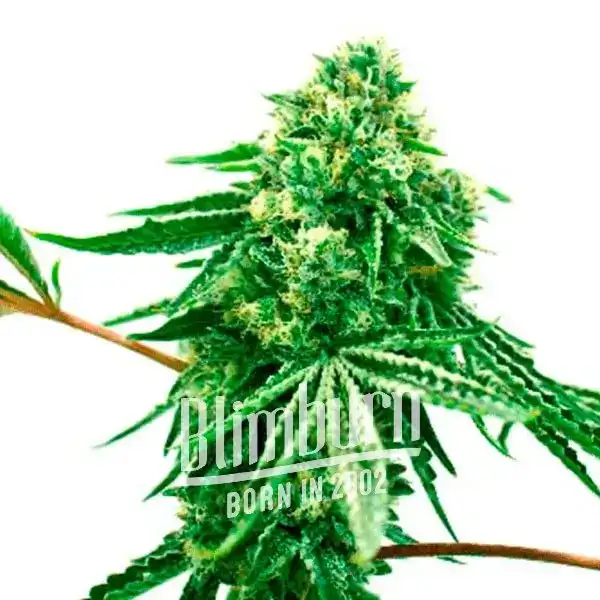 On the other hand, the potency of Green Crack x Core is not ultra strong since it is between 15%-18% THC and among the effects it causes are mental stimulation that will make you feel very happy and also your creativity goes to fly through the clouds, perfect for writing your next bestseller.
Between the intense citrus flavors and the piney aftertastes with earthy notes, your palate will float with each puff of Green Crack x Core. This plant will reward you with very heavy yields as outdoors you can get up to 28 oz/plant and for indoor grows you can expect up to 1.64 oz/ft2 of heavy buds and an intense creative fragrance.
Apple Fritter Fast Version strain for writers
Surely you also like caramel flavored genetics, which have that subtle earthy touch and are very fruity. Well, Apple Fritter Fast Version is all that and much more, since it also has an amazing power that is between 20%-24% THC, causing you to feel on a cloud and your energy to explode fully charged with a immense creativity. Besides, if you suffer from diseases such as arthritis, chronic pain or insomnia, rest assured that this mostly indica genetics will help you overcome all those ailments.
With this super fast flowering girl, you will only need between 8-10 weeks of flowering to get a brutal yield of 22 oz/plant outdoors or 1.47 oz/ft2 indoors. Attention! Because, to get the best yields indoors with Apple Fritter Fast Version, we recommend growing SOG-type crops and thus, you will boost growth and maximize the yields of each of your plants, getting more and better quality buds.
It may sound obvious, but in outdoor crops you must use supports to help the plant and its lateral arms that are filled with buds. Also, it is good to mention that you can grow it from the beginning of spring so that it can be harvested before autumn begins or the first rains fall.
Now that you know the most fanatical cannabis writers and you know which are the genetics that will stimulate you creatively, to make your next work art, we invite you to get down to work. Do not forget that in our store you can buy each of the seeds that we recommend and that in our blog you can continue learning more topics of your interest about the magical weed plant.